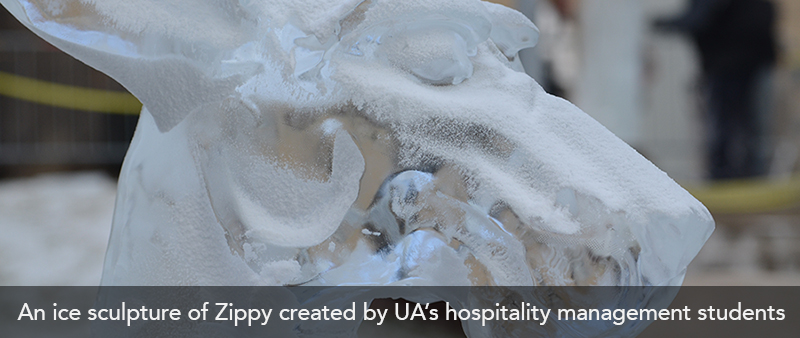 Letter to parents
Academic degree programs under review

As you know, the University offers hundreds of bachelor's and associate degree programs and tracks. These extensive, high quality offerings provide our students with significant opportunities to be successful in a variety of career paths.

Recently, there has been news media coverage about some academic degree programs or specialty tracks that are currently under review for possible suspension, meaning that admission to them may be closed to incoming students this fall. This kind of review is a normal process at all universities.

We want to assure you that decisions soon to be made about any of these programs should not impact your student's ability to succeed.

Even if admission into a program or specialty track is suspended, students currently active in those programs will be given the opportunity to complete a degree. For example, courses in their program of study will continue to be made available for a reasonable period of time, as appropriate, and faculty and advisors will work with them to assist in meeting their academic degree requirements.

If you have any questions, please review this quick-facts document or ask your son or daughter to contact his or her advisor.

Cordially,
Mike Sherman
Provost, The University of Akron

---

Greetings!

As we progress through spring semester, I hope that you understand that you have allies here at The University of Akron who have your student's best interest at heart. As we partner to create a wonderful educational experience for our students we appreciate your support to encourage your child to engage with the resources available for him or her.

One important advocate and guide for your student is his or her academic advisor. Our goal is for your student over time to learn to make informed decisions, set and achieve personal and career goals, participate in campus life, and engage with faculty and others on campus. As they become their own individuals we will advise them and assist them toward success..

With that in mind, I offer these suggestions:

Encourage your student to make an appointment with his or her academic advisor to discuss this past fall semester and any steps needed to have an outstanding spring semester. Also, the advisor may discuss summer course options to get ahead or catch up in the curriculum.
If your student is expressing frustration or shares an academic or personal problem, encourage him or her to meet with an academic advisor who will advocate on your student's behalf and will make the appropriate referral to campus resources. We want to help our students with immediate problems as well as encourage them to develop problem-solving skills — all with the goal of being successful in college and in life.
Spring semester on our campus is busy with special events, speakers, performances and lectures. Encourage your student to participate and attend events, which will enhance and enrich the educational experience.

Best wishes,
Nancy Roadruck
Assistant Vice President for Student Success
pfa@uakron.edu
uakron.edu/pfa


---

Why the FAFSA is important

We keep reminding you about the Free Application for Federal Student Aid (FAFSA), but why is it so important?

First, most students forget they must reapply for federal aid every spring for the coming academic year. Help us remind them!

The FAFSA can be completed online, and should be submitted before March 1 every year. This application looks at a number of factors, such as income, then determines what type(s) of aid your student qualifies for, like Federal Work Study, and for how many dollars.

Even if your student does not plan on accepting any aid, it is very important to complete and submit the FAFSA. Should you or your student's financial situation change after March 1, federal funds become extremely limited. As the saying goes, it's better to have it and not need it (awarded to the student, but unaccepted and just sitting there), than to need it later on and not have it.

If you have already filed 2013 federal taxes, or your student has filed, you may qualify to use the IRS Data Retrieval Tool, which pulls information from your electronically filed IRS tax return into the FAFSA. Learn more about this tool and to see if you qualify.


---

Assistance for students who are struggling

UA has an array of services available to help students who are struggling academically or with the adjustment to college life.

We try to be as proactive as possible. We encourage faculty, staff and others to let us know early on if they are aware of a student struggling with academic or personal issues.

We also survey first-year students to help us identify who is at risk. The MAP-Works survey asks questions about students' academic and social habits. Once the survey is completed, students can see a report that identifies their strengths and weaknesses by comparing their responses to general averages of what's required to succeed in college. For instance, a first-year nursing student may discover that she is not putting in enough hours studying to succeed in what is a very rigorous program.

The report also lists resources and support services for your student to take advantage of on-campus. Advisors and faculty will also have access to your student's survey results, so they can recommend specific strategies and resources to meet your student's individual needs.

All first-year students are asked to complete the survey before Friday, Feb. 21. The link has been sent to their University e-mail address.

Please remind your student to take advantage of this opportunity!


---

For students, many options for housing

Students are beginning to consider where they will live next year.

On-campus housing provides secure, hassle-free living close to classes and our modern dining facilities. Our award-winning Residence Life staff provides an array of programs — both academic and social — nearly every night of the week. Visit UA's Residence Life and Housing.

For some students, off-campus housing meets their needs, and for them, our Office of Off-campus Student Services will hold an off-campus housing fair from 11 a.m. to 2 p.m. Thursday, March 6, on the second floor of the Student Union.

Students can compare multiple properties, amenities and prices. Students and faculty from UA's School of Law will be on hand to address questions concerning leases.

Any parent can contact Off-campus Student Services if they have questions about safety in the neighborhoods in the Akron area where their student may be looking to rent off-campus. Call 330-972-5500 during normal business hours.


---

Reminder: Sibs Saturday is March 1 - sign up by Monday, Feb. 24

Sib's Saturday is an opportunity for students, both commuter and on-campus, to bring their siblings to campus for a day jam packed with events ranging from bingo, an ice cream social, Kids Karnival, and an amazing magic performance by Mat Franco. Learn more or sign up online no later than Monday, Feb. 24.


---

Career Center makes it easier for students to find jobs and internships

UA has a professionally staffed Career Center that guides students through the process of finding internships and full-time employment.

Located in the Student Union, the center recently acquired new software that makes it easy for students to search for jobs online. About 15 new opportunities, many of them based in Northeast Ohio, are posted to the site daily.

Every student has free access to the site at all hours. Though parents are unable to access the site, we are providing the link with the hope that you will join us in encouraging students to visit it regularly: collegecentral.com/uakron

In addition, the Career Center professional staff is available to help students prepare for interviews (resume review, mock interview) and develop a plan for career success, including internships.

It's never too early for a student to get involved at the Career Center. All majors are assisted. Walk-ins are welcome!

We also have a number of events we are promoting heavily to students:

Etiquette Dinner, Wednesday, Feb. 26. Learn how to interview professionally in a social and business environment.
All-Campus Career Fair, Wednesday, March 5. About 100 employers will be on hand. Students must wear business attire. Free and open to all majors.
Engineering Career Fair, Tuesday, March 4. Open to science, engineering and technology students with prior registration.
Related:

---

Learn about your student's achievements on Merit

UA subscribes to a service called Merit that creates an online profile for your student when they do something outstanding, like make the Dean's List or take on a leadership role.

Students can also add in additional involvement, such as student groups, awards and work experience. This helps build a positive online presence for prospective employers. Learn more about Merit.

Later this week you may get an e-mail saying your student made the Dean's List for fall 2013. Congratulations! If your student has created a Merit profile, you can subscribe to his or her profile and get a notification of future achievements, and then share the great news through Facebook, Twitter, LinkedIn or others.


---

Free tax filing assistance available

The College of Business Administration will serve as a preparation site for the free electronic filing of tax returns. Those who qualify must:

earn $50,000 or less, and
be eligible for the earned income tax credit or are full-time students

Those who do not satisfy all eligibility requirements cannot be helped through this program. Learn more.

The site is open Saturdays through April 12 from 9 a.m. to 5 p.m. (last appointment at 4 p.m.) and can be found in the College of Business Administration at 259 S. Broadway in the computer lab, Room 102. The site will be closed Saturday, March 29.

Appointments are not required, although preference will be given to those who have made appointments. Learn more about what to bring and sign up for an appointment.

Coordinated by the George W. Daverio School of Accountancy, tax instructor Andrew Bernat, JD/MTax is the program director at the CBA site. Mr. Bernat is also a fully employed tax professional. Accounting students serve as volunteers and undergo special training and certification in order to be approved by the Internal Revenue Service to assist filers.




​