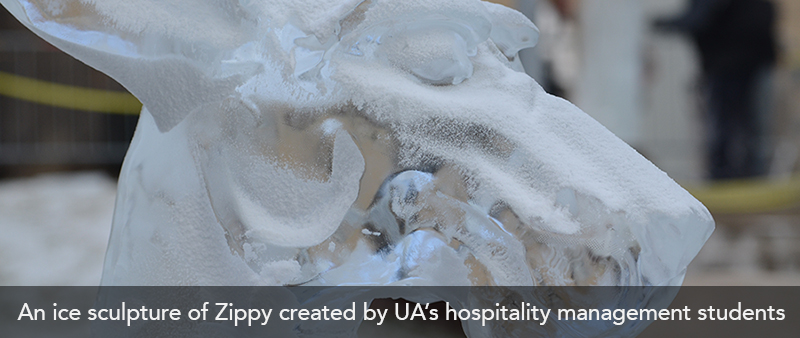 Letter to parents
Happy New Year to parents and families of UA freshmen! And also a big welcome is extended to the families of the new spring freshmen class.
This is a monthly newsletter to provide pertinent and timely information for families of students attending the University. We try to keep you informed and will work together for your student's success. In addition to this newsletter, there is a Parent and Family Association website and the new Facebook page, which I encourage you to view and "like" for important updates.
Many freshmen have mandatory advising requirements that will continue for several semesters. Even without that requirement, please encourage your student to make an appointment with his or her academic advisor to discuss classes, study strategies, the intended major, internships, undergraduate research projects, education abroad and other opportunities to encourage academic progress.
Some information that you may not have:
Please remind your student to check his or her UA e-mail daily. Important and sometimes critical information is sent to students through the University e-mail system regularly.
UA does not mail grades to the student. Grades are viewed on the My Akron student account. See how you can help your student and you view his or her grades from fall semester.
The University academic calendar provides information about last day to add a class and the last day to drop a class without a withdrawal notation (WD) on the transcript. It also gives holiday and spring break information for the semester. See the calendar.
Another important event is the Education Abroad Forum to be hosted by UA's Office of International Programs on Wednesday, Jan. 29 from 2–4 p.m. in the Student Union 335. See the details.
We look forward to partnering with you as our students pursue academic and career goals!
Warm wishes,
Nancy Roadruck
Assistant Vice President for Student Success
pfa@uakron.edu
uakron.edu/pfa
---
Oh, the weather outside is frightful – UA closing procedures
With the winter months here, inclement weather can occasionally require the University to partially or completely close. To help communicate closures, UA uses text messaging, television, radio, social media and more to keep you and your student informed. Learn more on our closing procedures webpage.
---
Gather, support, have fun
The University of Akron's Parent and Family Association is now on Facebook! "Like" us to stay up-to-date on the latest happenings in between newsletters. This is a great way to ask questions and have discussions with other Zip parents and family members. We'll be sharing new content not found in the newsletter, so check it out!
---
It's time to complete the FAFSA
As soon as possible, complete and submit the Free Application for Federal Student Aid (FAFSA). You can complete the FAFSA online at www.fafsa.gov or on paper, but completing the application online is faster and easier. You should submit your FAFSA no later than March 1 as certain programs like the Federal College Work Study program have limited funding.
It is not necessary to file your 2013 federal income taxes before you complete the FAFSA, simply estimate your 2013 income and change the income information on your saved FAFSA after you've filed your federal income taxes. The first date your FAFSA is received by the federal processor is the date that counts.
The University of Akron will host College Goal Sunday Feb. 9, at 2 p.m. at three locations:
The University of Akron main campus
Simmons Hall
305 Buchtel Common
Akron, OH 44325-6211

University of Akron Medina County University Center
6300 Technology Lane
Medina, OH 44256

Wayne College Holmes County Higher Education Center
located at 88-B East Jackson St., Millersburg.
College Goal Sunday is a national program designed to assist students and families in completing the Free Application for Federal Student Aid. Details and registration.
---
UA Rethinking Race strives to educate and entertain
In 1997, President Clinton chose The University of Akron to host his first Town Hall Meeting on Race. Each February, UA provides a forum in which race and race-related issues can be discussed, examined and hopefully, better understood.
This year's speakers include:
Tim Wise speaking on "The Pathology of Privilege"
NPR's Michele Norris on Eavesdropping on America's Conversation on Race
Alumna and actress Yvette Nicole Brown will present "From UA to LA"
Ernest Green on being one of the Little Rock Nine to integrate Central High in Arkansas
Learn more at uakron.edu/race
---
Protect new tech toys and valuables
Theft occurs on all campuses. Before students return to campus with their new electronics and other valuables, we recommend taking an inventory of makes/models and serial numbers. Consider engraving a driver's license number inside a battery compartment or in an inconspicuous location. Police will look at any recovered stolen property and recognize the unique ID and be able to contact the owner. University Police has a simple form you can use.
Consider a simple renter's insurance policy to complement your homeowner's policy to lower deductibles on small electronics and laptops, should they be stolen.
Many insurance providers offer students low cost insurance plans that cover items such as cell phones, computers, books, clothes, TVs, musical instruments, electronics, bicycles, and more. Covered losses include theft, vandalism, fire, accidental damage, among others. The plans offer low deductibles and an annual payment option, and the plan offers payment in full for the replacement of covered items.
---
Sibs Saturday and residence hall employment opportunities
The Department of Residence Life and Housing and Residence Hall Council student organization is excited to welcome siblings of current residence hall students to Sibs Saturday on March 1. Registration information and additional details will be available on the RHC Facebook Page as the event nears.
As students begin to plan for the upcoming school year they will be thinking about what classes they will take, where they will live and where they will work. On-campus employment is a great option for many students and is worth considering. Opportunities serving a resident assistant working in the residence halls are available for some lucky students. Resident assistants receive free room and board as part of their compensation. Applications are available on the RLH website and will be due in early February.
---
Tips on ordering and renting textbooks
As we close in on the start of the Spring 2014 semester, remember that students can order their textbooks online. They can be shipped to you or held at the bookstore for pick up. Don't forget that renting textbooks is a great, more-affordable option that allows your student to rent, learn and return.
​