College of Applied Science and Technology
Practical Skills. In-Demand Careers.
More success stories about graduates from The College of Applied Science and Technology
---
Dr. Stacy Willett interviewed by WAKR about recent Hawaii emergency notification
Dr. Stacy Willett, Professor and Director in the Emergency Management and Homeland Security program was interviewed on WAKR's Jasen Sokal Show regarding the recent emergency notification in Hawaii. Listen to the interview here.
---
Feerasta delivers guest lecturers in China
Over Winter Break, Dr. Jamal Feerasta was invited by Xian International University and SIAS International University in China, to deliver lectures to their hotel and tourism majors. Read more.
Cracking the code of college: Cybersecurity student rewrites and unlocks himself at UA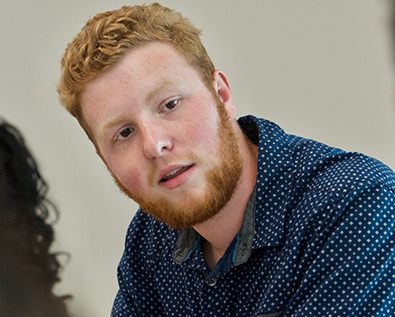 "Hackers" — those who delight in solving technological problems — spend a lot of time looking at computer code, often long repeating strings of 1s and 0s.
"Another number" is what Spencer Csaky, a self-described "hacker" (not to be confused with a cyber criminal), feared he would be if he enrolled at The University of Akron: one anonymous face among more than 22,000 students, streaming through campus like lines of impersonal code.
But there was a bug in the system — a surprise. Read more.
---
Surveying program again maps out a path to success
Our Surveying and Mapping Program has received its second consecutive Surveying Education Award from the National Council of Examiners for Engineering and Surveying. The award — presented Thursday — also came with a check for $10,000.
UA is one of only five schools in the nation to have won the award twice. Read more.
---
EMHS student in UA TV spot
---
Your Degree. Your Way.
We're making it easier for you to earn a degree or certificate by providing more evening, weekend, online, and combined programs that fit your schedule. Learn about our in-demand degrees available evenings, weekends and online.