College of Applied Science and Technology
Practical Skills. In-Demand Careers.
More success stories about graduates from The College of Applied Science and Technology
---
2018 CAST Outstanding Student Awards

The College of Applied Science and Technology held its annual Outstanding Student Awards ceremony on Thursday, April 26, 2018, to recognize its outstanding students and faculty members for 2017-2018 academic year.
The ceremony, held in the Jacobson Common Room in the Honors Complex Building, was hosted this year by Assistant Dean of Student Success, Dee Dee Pitts.
Visit the CAST Awards web page for a complete list of this year's winners.
---
Ice carvers place second in overall points in national competition
Our ice carving team placed second in total points last weekend in this year's U.S. National Collegiate Ice Carving Competition, missing a first-place finish by only 1.67 points. The annual event, held in Frankenmuth, Mich., has been one of the top snow sculpting events in North America for the past 26 years. (Pictured above in the bottom row, from left are Nicole Heilman, Crystal Constable and Hannah Hall. In the top row, from left, are Brandon Hartel and Team Coach Brad Smith.) Read more.
---
Engineering Technology students invited to 2018 Detroit Auto Show
Students in the Mechanical Engineering Technology (MET) and Electronic Engineering Technology (EET) programs were invited by the Schaeffler Group USA Inc., a global company that provides precision technologies for the automotive and aerospace industries, to attend the 2018 Detroit Auto Show last week as their guests. The University of Akron was one of only two universities whose students were invited by Schaeffler to attend.
The MET and EET programs are offered through the Department of Engineering and Science Technology in the College of Applied Science and Technology. "Many of our students in both programs," stated MET Program Director Scott Dilling, "are offered intern employment at Schaeffler/LuK, and we enjoy a great relationship with them."
Back row: Scott Dilling (MET Program Director), Michael Gabriel, Joe Phillip, Timothy Miller, Makaila Woessner, Sasathorn Tunyalukmara, Megan O'Brien. Front row: John Elliott, Jeremy Mason, Christopher Sauder. Also attending the auto show but not pictured are Greg Harstine (EET Program Director) and students Austin Kaufman and Justin Graber.
---
Dr. Stacy Willett interviewed by WAKR about recent Hawaii emergency notification
Dr. Stacy Willett, Professor and Director in the Emergency Management and Homeland Security program was interviewed on WAKR's Jasen Sokal Show regarding the recent emergency notification in Hawaii. Listen to the interview here.
---
Surveying program again maps out a path to success
Our Surveying and Mapping Program has received its second consecutive Surveying Education Award from the National Council of Examiners for Engineering and Surveying. The award — presented Thursday — also came with a check for $10,000.
UA is one of only five schools in the nation to have won the award twice. Read more.
---
Kathy Shaffer receives February Ziptastic Award
Kathy Shaffer, Department Safety and Program Specialist in the Department of Disaster Science and Emergency Services (DSES), has been selected to receive the February Ziptastic Award. The award was created in Fall 2016 to raise awareness of the contributions of staff members at The University of Akron (UA) through continued commitment to UA and the community.
Dr. Stacy Willett, Professor of Emergency Management and Homeland Security, nominated Shaffer for the award, which will be presented on Thursday, February 15, in the Student Union room 314 at 1:15 p.m. DSES is a department in the College of Applied Science and Technology. Read More
Feerasta delivers guest lecturers in China
Over Winter Break, Dr. Jamal Feerasta was invited by Xian International University and SIAS International University in China, to deliver lectures to their hotel and tourism majors. Read more.
---
Cracking the code of college: Cybersecurity student rewrites and unlocks himself at UA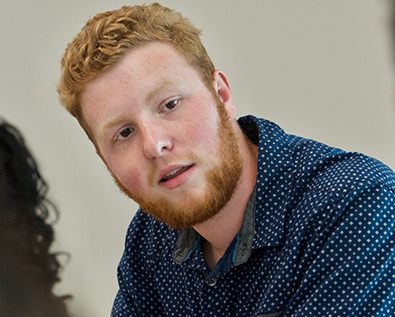 "Hackers" — those who delight in solving technological problems — spend a lot of time looking at computer code, often long repeating strings of 1s and 0s.
"Another number" is what Spencer Csaky, a self-described "hacker" (not to be confused with a cyber criminal), feared he would be if he enrolled at The University of Akron: one anonymous face among more than 22,000 students, streaming through campus like lines of impersonal code.
But there was a bug in the system — a surprise. Read more.
---
EMHS student in UA TV spot
---
Your Degree. Your Way.
We're making it easier for you to earn a degree or certificate by providing more evening, weekend, online, and combined programs that fit your schedule. Learn about our in-demand degrees available evenings, weekends and online.