The College of Business Administration (CBA) helps students get ready to make a difference through rigorous coursework and developmental opportunities that range from classroom consulting projects, internships, and professional networking, to leadership and business communication training.


What's Happening at the CBA

Hitting the ground running.
Heading into his final year at The University of Akron, Integrated Marketing and Communications major Joseph Mario Micale already has a full-time job waiting for him at a local company – his own. In April 2017, Mario officially launched Narrative Digital Media with the goal of authentically sharing companies' stories.

"When I decided to come to the University of Akron, I was excited, nervous and hopeful, all at the same time. I got here and I almost immediately fell in love," explained Kelsey Vaughn.

In their article "Predictable Sport Sentiment and Local Trading" in the Summer 2017 volume of Financial Management, to be released on June 2, CBA faculty members Aigbe Akhigbe (left) and Melinda Newman (right), along with their University of Central Florida colleague Ann Marie Whyte, find increased trading in the stocks of firms headquartered in the local regions of the competing teams.
Laura Culp, CBA alum and a partner at Sikich LLP, has been selected as this year's recipient of Leadership Akron's Lieberth Community Vision Award. Leadership Akron notes that Culp was chosen because of her significant contributions to the community through leadership roles in several nonprofit organizations.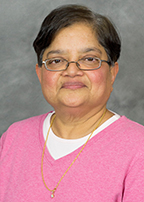 A team of CBA students-- Michael Moore, Kenan Sprague, Jeff Kelbach and Jacob Ruocchio‐Cole--placed first at the nationwide 2017 Community Bank Case Study Competition. Dr. Bhanu Balasubramnian served as the team's faculty advisor and Peoples Bank of Marietta, Ohio served as the team's bank partner. As first place winner, The University of Akron team will receive a $1,000 CSBS scholarship per student, an opportunity to present their case study in St. Louis at the CSBS‐Federal Reserve Community Banking Research and Policy Conference, and the team will have their work published in the Journal of Community Bank Case Studies.