The College of Business Administration (CBA) helps students get ready to make a difference through rigorous coursework and developmental opportunities that range from classroom consulting projects, internships, and professional networking, to leadership and business communication training.


What's Happening at the CBA

The Northeast Ohio Student Venture Fund (NEOSVF), which employs three UA student interns, received the "Coolest Internship" award at the 2018 Expys – an event held April 11 by the Northeast Ohio Council on Higher Education (NOCHE) to honor excellence in experiential learning. Pictured accepting the 2018 Expy are, (from left) Jaya Sai Varre, a joint degree candidate in our MBA program and at Northeast Ohio Medical University; Alex Gingrich, an MBA candidate; and Alizeh Khalifa, a marketing management undergraduate, alongside their supervisor, Daniel Hampu, executive director of NEOSVF.

Congratulations to the student team of Shelby Amatangelo (Accounting and Financial Planning double major), Gabrielle Mollick (Financial Planning major), and Kevin Kerka (Master of Taxation graduate student), who took first place at the 2018 Financial Service Professionals (FSP) Industry Issues Competition. As one of three finalists, the UA team presented their original research in an oral competition held during the FSP's unique Financial ConNEXTion Educational Cruise through Key West, Florida and Cozumel, Mexico. This marks the second year The University of Akron finished as a top 3 finalist. (Pictured from l., Shelby, Gabrielle, and Kevin. At far left is Dr. Barry Mulholland, visiting professor of practice and faculty advisor.)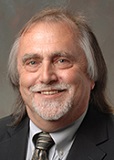 The CBA's Part-Time MBA program in the College of Business Administration continues to be recognized among the best MBA programs, both nationally and globally. This past week, the college received word from both U.S. News & World Report and CEO Magazine about our exceptional rankings.

Listening to Sales Management and Marketing Management double major, Hannah Bryan, describe the last year and a half, it's hard to believe that she is only in her sophomore year. From student organizations and volunteer activities, to multiple internships, Hannah's list of activities and experiences reads more like that of a graduating senior. "I wanted to get some experience and get my feet wet in the business world to find what I'm interested in," Hannah shared when asked what inspired her to dive into so many activities as a freshman. "Sales is so broad. I wanted to see what it was like."

Senior sales management major, Matthew Musci, has received the 2018 Collegiate Award from the National Sales & Marketing Executives (NSME) Akron / Canton Chapter. The NSME is the premier professional organization for sales and marketing practitioners in the Akron / Canton area.