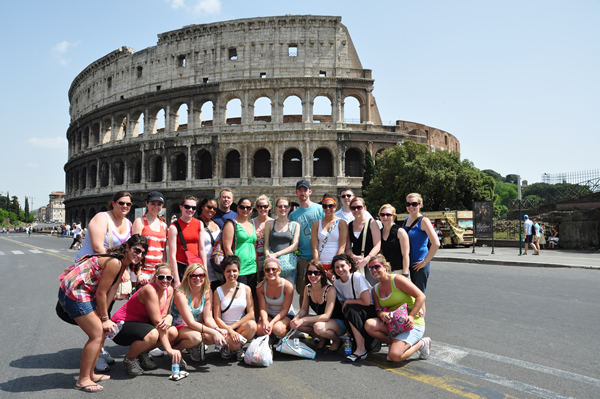 Greece and Italy
The study abroad trip to Italy and Greece is an opportunity for students to make new life-long friends, develop entirely new appreciations for different cultures, and better understand the world in which we live.

"Going to Greece was an amazing experience. It was a great opportunity to open my eyes to the rest of the world. After going, I take more interest in what events are occurring internationally, rather than just the US. I would strongly encourage anyone who is considering taking a trip abroad to do so as soon as possible. You may never get another chance."
- Kim Saviers
Chelsea Kunkel's Greece/Italy Study Abroad Experience
---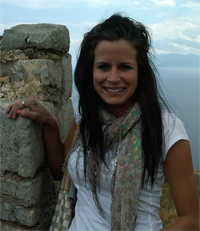 On another scorching day in Athens, Greece, a rugged classroom awaited the arrival of two groups of students and their professors. The first crowd was one who sauntered through the University of Piraeus hallways daily, made up of the Greek students themselves. The second was a collection of students from The University of Akron, spending a month of their summer studying abroad in Italy and Greece. The two professors joined the class and an immersion of cultural viewpoints emerged, leaving each student with vivid new perspectives.
As the UA students travelled, a theme began to surface. Every new encounter was unique; it was never right or wrong, but only special to the culture that the students lived and breathed in. The month long journey to the countries of Greece and Italy held an amalgam of new cultural understandings for the seventeen students and their professor.
The journey included travelling throughout southern Italy, across the Aegean Sea, into Greece, and finishing with the Greek Islands. Among many other experiences, the students tossed coins into the elegant Trevi Fountain in Rome, hiked to the top of Aphrodite's temple, looked into the eyes of a Pompeii skeleton, shouted hopa while Greek dancing in Athens, dove from the cliffs of Hydra Island, and swam in the hot springs of a Greek Island volcano.
Read More...
2010 Pictures