The Economy 2013:
'Rebuilding the Economy to Last Beyond 2013'
The University of Akron College of Business Administration
Department of Finance, along with the Finance Advisory Board
present a breakfast panel discussion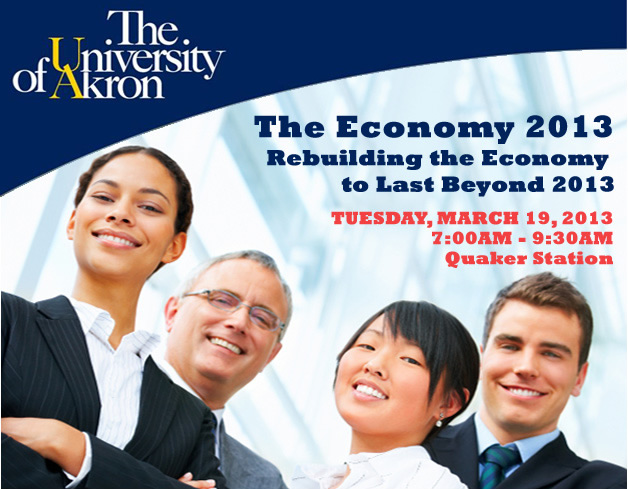 Rebuilding the economy is on the forefront for 2013. Hear experts talk about low Interest rates, high deficits and opportunities of growth on the horizon. You won't want to miss what they have to say!
Panelists
Richard A. Ciccarone
Managing Director & Chief Research Officer
McDonnell Investment Management , LLC


Barry R. James, CFA, CIC
President and Portfolio Manager, James Investment Research
President, James Advantage Funds


Stuart Lichter
President and Chairman of the Board
Industrial Realty Group, LLC
Moderator
James B. Thomson, Ph.D.
Chair, Professor of Finance, Department of Finance, The University of Akron
College of Business Administration
Agenda
7 – 7:50 a.m. - Registration & Breakfast Buffet
7:50 - 8 a.m. - Welcome
8 - 9:20 a.m. - Panel Discussion and Q & A
9:20 - 9:30 a.m. - Award Presentation
9:30 a.m. - Adjourn
College of Business Administration
The CBA is accredited by AACSB International at the highest attainable levels for both undergraduate and graduate programs, with additional accreditation of our accounting programs. Both Bloomberg Businessweek and U. S. News & World Report have ranked our graduate and undergraduate programs among the best in the nation. Businessweek ranked the part-time MBA program No. 1 in Northeast Ohio, 6th in the Midwest, and 34th in the U.S. The magazine also ranked the undergraduate program among the top 100 undergraduate business programs in the nation. U. S. News & World Report ranked the part-time MBA program the highest of any public university in Northern Ohio. In addition, our graduate program has been included in The Princeton Review's list of Best Business Schools every year since 2005.
The Finance Department of The University of Akron
The mission of the Department of Finance is to provide students with a quality education that will prepare them for leadership positions within the finance profession. The department's curriculum offers students the opportunity to pursue one of two majors: Corporate Financial Management and Financial Services. Faculty specialties include corporate financial management, investments and investment management, international finance, and banking and financial institutions. Two members of the finance faculty, Dr. Aigbe Akhigbe and Dr. Raj Aggarwal have been ranked in the top 10% for publication quality and quantity among all finance professors worldwide.