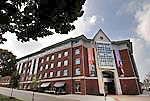 Residence Life and Housing
Our residence halls, home to more than 3,000 students, are among the best in Ohio. For students, you will find that residence hall life enriches your learning and social opportunities.
Safety is always a priority. We have a highly trained staff in each of the residence halls on duty around the clock to help ensure student safety and well-being. All doors to our residence halls are secured at all hours, and card access is required to enter.
See also:
---

We believe you will be pleasantly surprised by the quality of food and the variety of restaurants and cafes available on campus. Our menu and meal plans are designed to be flexible. Whether you are a vegetarian or not, whether you live on campus or off, whether you eat lightly throughout the day or stick to the traditional breakfast, lunch, dinner routine — we can meet your needs.
Our staff is highly trained to provide you with excellent service and a variety of nutritious meals throughout the day. And you will find that in many instances, we can make your food to-order — just the way you like it.
Have a question about UA's Dining Services? Call 330-972-7185.
See also:
The Zip Card: Your key to so much on campus!
Use your Zip Card to:
Check out circulation materials at Bierce and the Law Libraries
Gain access to the Rec Center and Ocasek Natatorium
Present your Zip Card for free admission to athletic events, including soccer, basketball, football games
Use as a "key card" if authorized to enter select buildings on campus
Zip Card office locations
There are three Zip Card offices on campus:
The Student Union, Room 106
Simmons Hall, Room 103
The Polsky Building, third-floor atrium
Also, you can visit the Zip Card office on the Web. Phone: 330-972-2687.
The Zip Card is also a debit card. Simply add money to your All Campus Account and you can:
purchase food at Rob's Café, Ohio Burger Co., Einstein Bros Bagels in Bierce Library, Martin University Center, the Crystal Room and many more dining locations;
purchase convenience items as well as snacks and ready-to-go foods at the Zee's Convenience Stores;
purchase books and supplies at the campus bookstores and Custom Apparel; and
use it in select vending machines on campus.