Programming & Leadership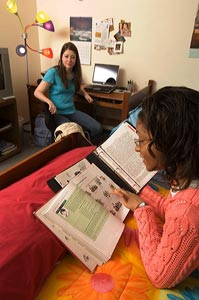 Programming
There's more to living in our residence halls than you might think.
A student organization called the Residence Hall Program Board plans and coordinates such activities as Welcome Weekend, Sibs Weekend, the 7:17 Coffeehouse Series, the 9:09 Entertainment Series, Residence Life Cinema, road trips and HallFest. The students on the program board also bring to campus comedians and entertainers, and they plan special lectures, social programs, movie nights, and events at the Rec Center, E.J. Thomas Hall and the Student Union.
Since 1997, Residence Life and Housing has received more than 30 national and regional awards for its programming and service excellence. Most recently, RHPB earned Campus Activities magazine's National Campus of the Year Award.
Leadership
Residence Life and Housing offers ample opportunities for students to build leadership skills.
Living-Learning Communities - Students with a common academic interest live together on a floor or in a section of a residence hall. The students have access to specialized programs related to their interest, and they often can take advantage of on-site classes, focused advising and referral services, tutors and special opportunities to interact with faculty. The arrangement helps promote collaboration among students and faculty, and it sets the foundation for lifelong friendships.


Residence Hall Program Board - Students on the board set up, organize and promote a diverse range of events on campus: comedians, dances, social get-togethers, Rec Center activities and special events like Welcome Weekend, sibs weekend and Hall Fest.


Residence Hall Council - The council is the chief legislative body of student government in the residence halls. It provides a governmental forum to increase communication among students, staff, faculty and administration. RHC also provides recreational, educational and service programs to meet the needs of residence hall students.


The National Residence Hall Honorary - Membership to this prestigious student organization is limited to only 1 percent of the residence hall population. The honorary recognizes the commitment and leadership of residence hall students who have made a substantial contribution to the residence hall program.