Education faculty participating in upcoming town hall
Sen. Vernon Sykes of Ohio Senate District 28 and Rep. Tavia Galonski of Ohio House District 35, will hold a Barberton Education Town Hall open to the public on Thursday, Oct. 26, from 5:30 to 7 p.m. at Barberton High School, 555 Barber Road.
The LeBron James Family Foundation will do a presentation on our college's "lived-in" model to teacher education in Barberton City Schools. Our LeBron James Family Foundation College of Education team will share examples of the innovation and work being done by UA faculty, students and our alumni in schools and in our communities. Their goal is to give the legislators stories shared by Barberton students, parents, teachers, administrators, UA pre-service teachers and faculty that they will take the back to Columbus to defend and strengthen public education and university-based teacher education in Ohio.
"We, and our allies, need to share our stories and research that showcases the benefits of university-based teacher education and the value we bring to communities, schools and students," says Dr. Brad Maguth, an associate professor in the Department of Curricular and Instructional Studies.
For questions, or to join in support, contact Maguth at bmaguth@uakron.edu.
Liar's Bingo!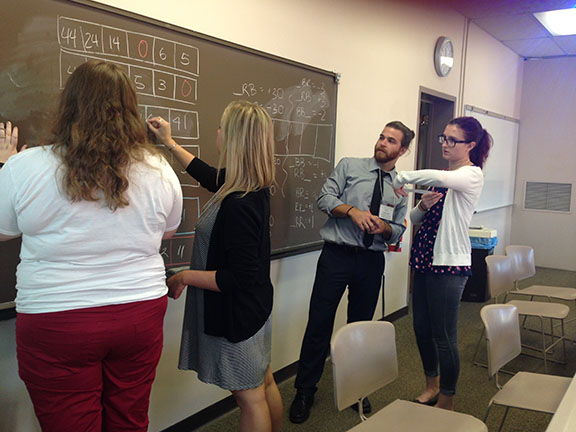 Recently, a number of math education majors from the LeBron James Family Foundation College of Education attended a workshop for preservice and RESA math teachers offered by the Great Cleveland Council of Teachers of Mathematics at Baldwin Wallace University.
In the photo, Sophia Demjanjuk, Chris Greenlee, and Brittany Zeock (the three on the right) are working on a Math Teacher Circle problem called "Liar's Bingo," which requires participants to recognize patterns and search for underlying structure, number theory, numeration, and potentially binary arithmetic.
Quick links
---