Community engagement
at The University of Akron
Since our founding in 1870, we have committed to be in partnership with our community, region and beyond as part of our mission of teaching, learning and service. We have pursued engagement that brings together intellectual, cultural, economic, social, political and physical interests for a common purpose, while transforming people and institutions for the better.
UA earns prestigious community-engagement recognition for a second time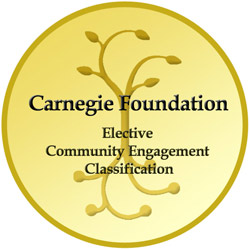 The Carnegie Foundation for the Advancement of Teaching has awarded UA its 2015 Community Engagement Classification.
UA is the only Northeast Ohio public university to have earned both the Curricular Engagement and Outreach and Partnerships classifications for Community Engagement.
Full story and photos: UA receives national recognition for community engagement
---
Classification application documents:
Application
Letter from President Proenza to the Carnegie Foundation
Grid showing 15 representative partnerships
---
See also:
2013 Report to the Community, which describes the strengthened ties between UA and our community, and it looks back at the last 15 years of progress.
---
---
More about engagement at UA:
---
Examples of community engagement at UA
---