Preserving the oral history of a significant Lithuanian drama festival
11/05/2015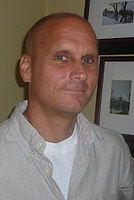 Dr. Patrick Chura
---
The Siauliai Povilas Visinskas Library, in cooperation with University of Akron professor of English, Dr. Patrick Chura, is initiating an oral history project about the Lithuanian Drama Festival "Atgaiva," which took place from December 12-22, 1988 in Siauliai, Lithuania. This cultural event contributed significantly to the demise of the USSR.
Chura received a grant from the Ministry of Science and Education of the Republic of Lithuania to lecture for two weeks in the city of Siauliai at Siauliai University, November 14-29, 2015. During the trip, Chura will continue research and capture memories of the festival, which will contribute to his next book, and create an oral history of this period of Lithuanian cultural rebirth. The archive will also be available on the library website.
Original funding for this research came from a summer faculty research grant from UA.