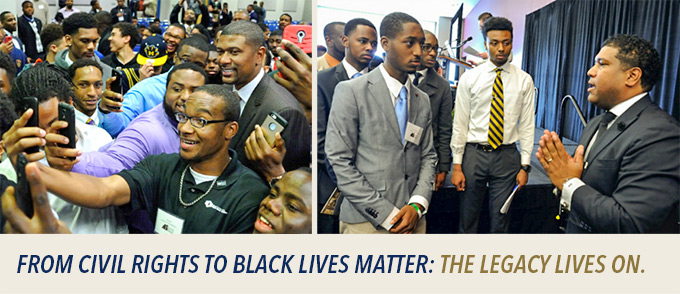 BLACK MALE SUMMIT
Join us April 7-8, 2017, for the 10th annual Black Male Summit, a national platform for best practices and innovative strategies focusing on cradle-to-career success for African-American males.
Four reasons you should attend the summit
Empowerment – The summit annually demonstrates the importance of Black Male success in the classroom, the community and the world. Through dynamic speakers, attendees feel inspired to achieve their goals and empowered to write their own narrative of success.
Enrichment – The summit boasts numerous breakout sessions geared to educating and developing the future leaders of tomorrow. The sessions represent the perfect opportunity for attendees to immerse themselves in the evolving conversations.
Engagement – The summit has achieved national recognition and a yearly gathering of the nation's best and brightest minority students and professionals. The networking opportunities for attendees represent an overwhelming draw to the conference and fosters continued generational relationships.
Encouragement – At the summit, attendees meet other students and professionals with similar stories, successes, shared interests and common challenges. The bond that is created moves beyond the weekend of the summit, building brotherhood and lasting connections.
Share your knowledge at this year's summit!
CALL FOR PROPOSALS NOW OPEN — Join nationally renowned speakers this April in examining the critical issues impacting Black Males in higher education. Share your knowledge in a breakout session at the summit. More than 1,300 attended last year!
---
Quick Links
Event Registration
Conference Agenda
Speaker Abstracts
Hotels and ground transportation
Thank you to our Event Sponsors: