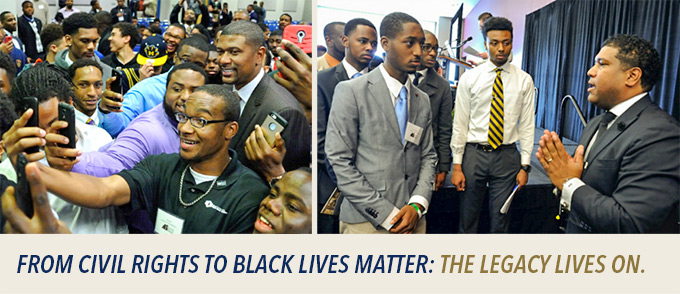 BLACK MALE SUMMIT
A national platform for best practices and innovative strategies focusing on cradle-to-career success for African-American males.
Black Male Summit date changed; Black Male Symposium to be held
As part of efforts to enhance and expand support services to University of Akron students – with a particular emphasis on African-American male students – UA is refocusing its programming surrounding the Black Male Summit and shifting its 10th annual Summit to Sept. 29-30, 2017. It originally had been planned to be held April 7–8, 2017. UA will host a special one-day event, the Black Male Symposium, on April 7 that will provide an opportunity for African-American male high school and college students, educators and community members to engage in open dialogue about issues that impact their lives.
UA President Matthew J. Wilson explained, "We believe that the Black Male Summit should serve as the capstone of our year-round efforts to increase the opportunities for success of black males at the University. When our new chief diversity officer, Jolene Lane, arrives on campus later this semester, she will lead a review of our different initiatives with a goal of strengthening these vital programs, increasing student retention, and implementing measures to boost student graduation."
An important component associated with the Black Male Summit is the Black Male Summit Academy, which helps high school students familiarize themselves with a college experience. That initiative was launched in October 2016. The momentum continued with another event held in November, and another one is scheduled for Feb. 18, 2017. "We are excited to provide community outreach by teaching college academic study skills through various topics, including African American history and culture," said Shaddrick Stinson, program director.
In addition to the Black Male Summit Academy, UA continues the support services of the African American Male Learning Community. As a result of financial support from the Knight Foundation, the Office of Multicultural Development was able to create this initiative. It continues to provide academic support services to black males while fostering their academic growth, success and graduation from The University of Akron.
Along with these program initiatives, UA will hold its highly acclaimed Rethinking Race: Black, White and Beyond program which runs from Feb. 3-17. This is the 10-year anniversary of the forum, which brings the University community as well as the public together for discussions of race and race-related issues to develop better understandings of these important topics. Two nationally renowned speakers will be featured in sessions that are free and open to the public. On Feb. 6, Jane Elliott, an internationally known teacher, lecturer and diversity trainer, will focus on how prejudice and bigotry is based on purely arbitrary factors. Then, on Feb. 9, Dr. Mahzarin Banaji, the author of the best-selling book "Blindspot: Hidden Biases of Good People." will address unconscious thinking and feeling as they unfold in social contexts. Both lectures will be held in E.J. Thomas Performing Arts Hall and registration is required.