Series of career fairs planned for spring semester
02/16/2017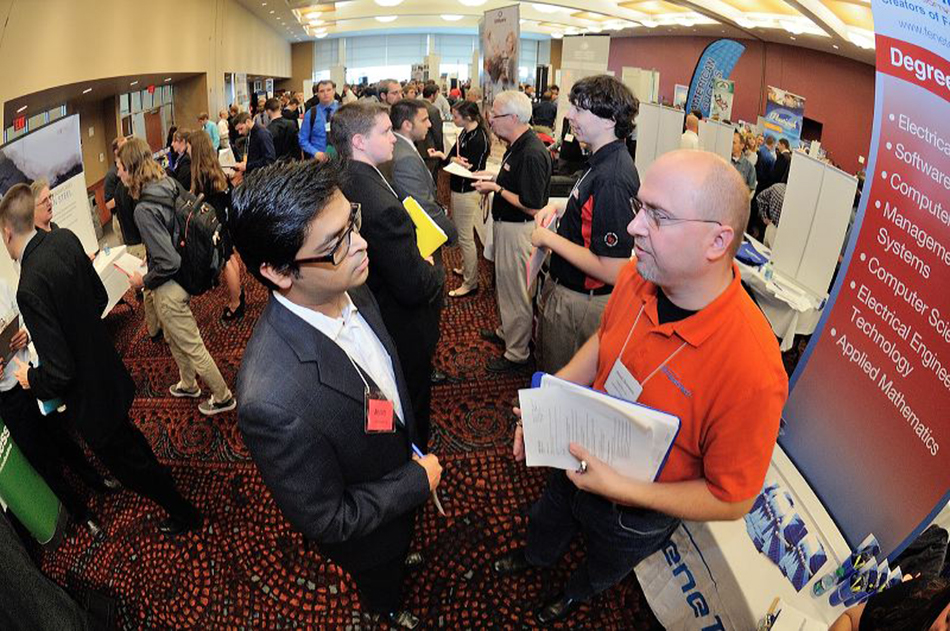 ---
In the weeks ahead, The University of Akron will host representatives from hundreds of companies, organizations and school districts at career fairs — giving UA students opportunities to explore their options for jobs, internships, or co-operative education assignments.
The spring "Career Fair Season" gets under way on Tuesday, Feb. 21, with the Engineering and Engineering Technology Career Fair on the third floor of the Student Union from 10 a.m. to 3 p.m. Hosted by the College of Engineering Co-op and Placement Office, it is open to students with any major in the engineering and engineering technology fields.
On Wednesday, Feb. 22, the Internship and Career Fair will be held in the Student Union Ballrooms from 10 a.m. to 2:30 p.m. Hosted by Career Services, it is open to all majors, including students in the computer, math and science fields.
In addition to these main career fairs, which are offered fall and spring, there are fairs targeted to specific fields.
'Opportunities to network and engage'
"The main career fairs reached employer capacity each semester, so we needed to develop additional opportunities for employers to network and engage with our students," explains Laura Carey, director of Career Services. "More opportunities for students to meet with employers help the students explore prospective career paths while learning about different industries and potential internship, co-op and employment opportunities."
For students, preparation is key to making the most of a career fair.
Career Services offers a variety of workshops for students — everything from how to dress professionally to resume reviews and mock interviews. Handshake — an online job board — lets students and alumni review employers and opportunities.
"Students appreciate the 'prep room' we will provide before and during the Feb. 22 fair, which allows them to use UA laptops to research employers, have a professional photo taken and view a presentation on marketing themselves at a career fair," says Carey. "They can practice their handshake, grab a breath mint and basically receive a jolt of courage so that they can march into the career fair with confidence. Many students secure internships, co-ops and employment from the initial connections they make at career fairs."
What other opportunities are coming up this spring? Here's the schedule.
Nursing Networking Night, Wednesday, March 1, 4 to 6 p.m., Student Union third floor. Hosted by the Student Nurses Association and open to UA nursing majors.
Social Work Career Fair, Wednesday, March 8, 11 a.m. to 2 p.m., Student Union, third floor, Ballroom A. Hosted by the Student Social Work League and open to UA social work majors.
Part-time/Seasonal Job Fairs (part-time, seasonal or full-time non-degreed jobs for students), Tuesday, March 14, and Wednesday, March 22, 11 a.m. to 2 p.m., Student Union, second floor concourse. Hosted by Career Services and open to all UA students and alumni.
Northeast Ohio Teacher Education Day (NOTED) Job Fair, Tuesday, April 4, 8 a.m. to 5 p.m., John S. Knight Center, 77 E. Mill St., Akron, near campus. NOTED is sponsored by a consortium of 12 member colleges and universities in Northeast Ohio, including UA. Only students and alumni of consortium members may attend.
Learn about spring career events and opportunities.
---
Career fairs worth your time, says soon-to-be graduate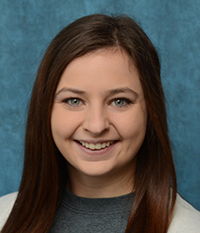 Courtney Bosetti
As a senior set to graduate this spring, I know attending career fairs helped me reach success throughout my four years at UA. I've realized that the career fairs are the most valuable resource to use when searching for an internship or job, as well as a great networking tool.
These are my three reasons why I think it's beneficial for any UA student to attend a career fair this spring:
Practice Professionalism. It's never too early to start practicing professionalism and the best way to get better at speaking to professionals is through practicing. It's helpful to understand the proper way to speak to future employers and to practice giving your elevator pitch. Want some extra help with this? Visit the Career Center for some helpful tips.
Networking. Networking is the key to being successful in the professional world. Networking with professors and professionals could lead to a job or internship or a referral that turns into a job. You never know when you might need a connection.
Future Opportunities. A Career Fair is full of employers from many different industries looking to hire UA students with a variety of majors. However, stepping into the fair might seem overwhelming. What I did to help navigate and prepare for the fair was to review the list of employers that would be in attendance. I planned out which employers I wanted to speak with, based on personal interest, and if they had a position available related to my major.
As an undergraduate student, I once thought I wouldn't benefit from going to career fairs. I quickly learned that I was wrong. Attending career fairs was one of the best decisions I've ever made at UA. Employers are eager to get to know you and want to discuss future opportunities with you. It's time to show employers what Zips have to offer!
— By Courtney Bosetti, communications major — concentration in public relations