Incoming class receives rousing welcome to UA
08/27/2012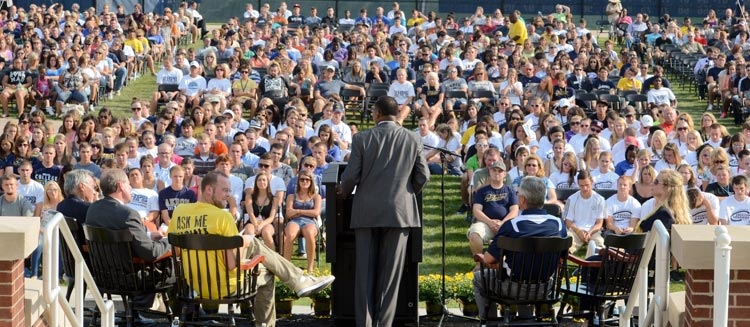 Dr. Sheldon Wrice, professor of technical writing and composition, speaks to new students and their parents at New Student Convocation on Friday.
---
NEW STUDENTS and their parents crowded Coleman Common on Friday afternoon for a spirited welcome ceremony that kicked off their Akron Experience.
"We measure our success by your success," President Proenza told the crowd. He said the decade-long New Landscape for Learning campus-enhancement program and the emerging Akron Experience initiative will provide an optimal learning environment for the Class of 2016.
Provost Mike Sherman congratulated the students for choosing Akron.
"You will accomplish more here than you ever thought possible, " he said. "My colleagues and I are committed to making that possible by providing you with a world-class educational experience. We call it The Akron Experience. It is a college experience like no other. One that you will look back upon with a great sense of appreciation."
A promise made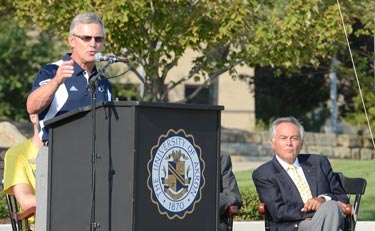 Jim Tressel, left, and President Proenza at New Student Convocation.
---
Jim Tressel, who oversees The Akron Experience in his role as vice president of strategic engagement, made a deal with the students.
He noted that the University has promised them a robust educational experience that includes opportunities for practical experience, research with faculty, cultural events, study-abroad and service projects – cumulatively called The Akron Experience.
In return, he asked for a promise that all in attendance would reunite in four years' time for Commencement.
"It'll be a chance for us to get together to celebrate again," he said.
The ceremony continued with an appearance by Ohio's Pride – the University's marching band --which led rousing versions of "Win for Akron" and "The Akron Blue and Gold." The band and the AK-Rowdies led the students to the March to the Match, a pre-match ritual for the men's soccer team.
Ohio's Pride plays "Win for Akron" in Coleman Common.
---
'UA on Display'
Prospective students can feel this energy for themselves by attending UA on Display, a chance for them to see the University up close and to talk with UA graduates.
"We want prospective students to see themselves in alumni," Tressel said. "For instance, a student interested in psychology can get advice from a graduate who has been through the program here and has experience in the field."
UA on Display will run from 12:30 to 3 p.m. on Saturday, Sept. 15. There will be campus tours and experts from every college will be on hand to answer your questions. Plus, you will receive three free tickets to see the Zips play Morgan State at InfoCision Stadium-Summa Field at 3:30 p.m. See details.
---
See also: