What's new for 2015? We asked our experts
Headline: What's new for 2015? We asked our experts
As we start 2015 and what promises to be another year of rapid changes, we asked our three newest deans, who all arrived on campus in the last few months, to share projections about their fields, and a little bit about themselves as well.
So, here is what Eric Amis, dean of the College of Polymer Science and Engineering; David Gordon, dean of the College of Health Professions; and Matthew Wilson, dean of the School of Law, had to say.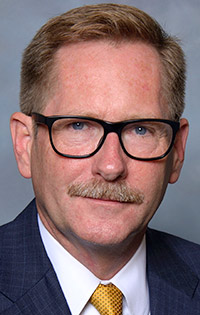 ERIC AMIS
Dean of the College of Polymer Science and Engineering
What does the next 10 years hold for your field?
Polymeric materials have become key enablers across sectors, including transportation, electronics, medicine, food safety, coatings and consumer products. As we see with the application of polymer composites in aerospace, they can change the game for saving energy and the customer experience with bigger windows and better air quality during flight. Polymers have gone from being simple replacement materials to being the key enabler of higher performance, reliability, sustainability and affordability.
Applications will progress in the next 10 years as we continue to extract functionality from the unique chemistry and physics of polymers. Advanced polymeric materials of the future will adjust for the application, adapt to the environment, alter appearance and sensation, resist threats, heal and become stronger, and evolve to become multitalented or multifunctional. In doing so, they will acquire and demonstrate an increasing information content. For the next generation of graduates, the words composites, biomaterials and organic electronics will join the lexicon with rubber and plastics.
What will be the next breakthrough or next disruptive innovation in your field?
Two trends will have a major impact on polymer materials science: customization by design and breakthrough manufacturing. The last 50 years have filled the toolbox with synthetic methods for making molecules and processing methods that can transform those molecules into materials as fibers, films and complex shapes. The challenge and opportunity is to integrate the computational modeling that lets us design materials with the advanced manufacturing methods that produce unique properties.
In some cases, we will continue to follow the traditional path toward improved performance, higher reliability and lower cost that has been the hallmark of polymer applications. But, in addition, we have the opportunity to originate materials for specific applications, with tailored and unique performance, and manufactured by methods suitable for mass customization.
The most obvious applications may be for medical devices, infrastructure repair and construction, and sporting goods, which are the areas where new materials often make their first entries. However, I would never underestimate the creativity of a marketplace that could invent Twitter.
What got you interested in polymer science?
As a pre-law undergrad I discovered chemistry and art history. My chemistry professors were more persuasive, so I was on the path for chemistry and graduate school. In graduate school, postdoc and as a professor, I was increasingly drawn to polymer science, probably because of the breadth of the application areas. I say that when chemicals become useful we call them materials, and polymer science sits at the intersection.
How would you describe Akron to the people at your last stop?
A previous stop for me, Washington, D.C., is described as a city of Southern efficiency and Northern hospitality. As a city, I love Akron, so I would describe it as combining stereotypes of Northeast pride, Midwest work ethic and Western casual. It is an easy place to live so I can understand why so many people like Akron and want to be here. For me to be back at a university, I love the diversity of people and points of view. For the College of Polymer Science and Polymer Engineering, I love that we are here because we know what we do is important.
What books are on your nightstand? Why?
Two books right now – the first is Walter Isaacson's "The Innovators: How a Group of Inventors, Hackers, Geniuses and Geeks Created the Digital Revolution" because over my lifetime these scientists, engineers, artists and dropouts turned their creative thoughts into a disruptive reality. The second is Rob Delaney's "Mother. Wife. Sister. Human. Warrior. Falcon. Yardstick. Turban. Cabbage," because this guy has great timing, compassion, sincerity, imagination, mojo and he is seriously funny. I've got to respect a guy who wins the award as "Funniest Person on Twitter."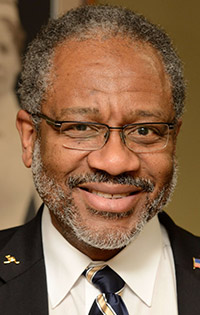 DAVID GORDON
Dean of the College of Health Professions
What does the next 10 years hold for your field?
We need to fulfill the triple aims of health care: Excellent health care for all, improved health status for our populations, plus affordable cost. This is a daunting challenge that our nation faces. The University of Akron needs to do its part to educate the next generation of health professionals to be able to meet these goals.
What will be the next breakthrough or next disruptive innovation in your field?
What I hope we will be able to deliver is true inter professional education and teamwork in health agencies and health care. We still work too much in professional silos (e.g. physicians talking mostly to physicians). For example while we will need more primary care physicians to handle future population health needs, we more urgently need a variety of primary care health professionals (e.g. nurse practitioners, physician assistants,) working in teams with other professionals (e.g. pharmacists, social workers, counselors), to identify and implement what will work best for individual patients and populations. Currently, our financial models reinforce silos. We need the sort of organizational breakthrough that enables truly effective teamwork to happen and flourish.
What got you interested in medicine?
As a kid, I was always interested in science, and majored in chemistry in college. During this time I became aware of biochemistry and felt I would be suited to work on the science related to medical treatments. I was also motivated by much of the suffering my mother endured with cardiovascular disease. I have not been disappointed and for a number of years ran a research laboratory focusing on human arterial diseases. Now I have an opportunity as an administrator to help shape the next generation of health professionals and scientists.
How would you describe Akron to the people at your last stop?
Akron has some similarities to Flint, Mich., being a bit of a post-industrial city with concerns and several socioeconomic unmet needs, particularly with respect to health and health care. There are dedicated people in both cities, struggling to generate new social paradigms for success. I'm hoping that through some of my efforts, lessons learned in one place can help the other, and vice versa.
What books are on your nightstand? Why?
I like reading biographies about various leaders and the challenges they face. I'm currently reading about President Lyndon Johnson (a multi-volume biography), but have been most impressed with Abraham Lincoln's story. There is a lot we can learn from history, not the least of which is realizing that when we feel we are today dealing with tough situations, others before us, often with many less resources, were able to accomplish much facing more daunting circumstances. We have no real excuses for not leaving this world better than we found it, and this goes fort the health status of our nation.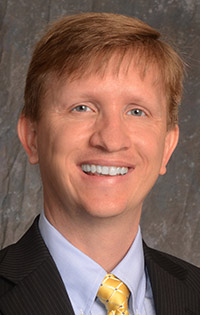 MATTHEW WILSON
Dean of the School of Law
What does the next 10 years hold for your field?
Not only does the law impact every industry, but it also affects every walk of society and personal life.
Living in a society that will always encounter disputes, there will always be opportunities for lawyers to negotiate, mediate, arbitrate and litigate in court. Street crime and white-collar criminals will necessitate the involvement of judges, prosecutors and defense attorneys. In nearly every sector, law school graduates can combine their interests with legal training to earn a living and make a difference in the life of others. Areas of application or specialization include business, health care, finance, tax, intellectual property, international, family law, human resources, sports, entertainment, cyberspace and civil rights.
Over the next decade, the field of law will likely see increased opportunities both domestically and on an international scale. Although the delivery of legal services will continue to be streamlined based on the use of technology and other efficiencies, the number of students seeking a law degree is currently at a 40-year low. This should mean better employment chances for those thinking about a career in law. Although the salaries available to law school graduates vary widely, the Bureau of Labor Statistics reports the median annual wage for lawyers to be around $110,000 per year.
What will be the next breakthrough or next disruptive innovation in your field?
Virtual law offices are likely the wave of the future in the practice of law. Lawyers have the ability to provide services from almost anywhere. The increasing acceptance of the uniform bar examination by many states has provided additional flexibility.
As the practice of law now transcends borders and technology has become the norm for most communications, the need for a physical office and face-to-face meetings with clients is different from the past. Although the traditional law office may not completely disappear, there will be an increasing number of attorneys who abandon tradition in favor of working from home or while they travel to destinations of choice. This will make the provision of legal services more efficient and affordable. The freedom to work in locations of choice may also be quite attractive for future lawyers.
What got you interested in law?
When I was about 4 years old, I used to wander around my neighborhood after church on Sundays to strike up conversations with certain neighbors. One of the stops on my regular route was a widow named Alice. I vividly remember sitting on her flower-patterned couch lined with homemade afghans and having a conversation about my future.
I asked Alice what she thought I should become when I grew up. Her answer was "Matt, you have a talent for talking so I think that you could become a lawyer, teacher, or a politician." Although I don't remember everything about that conversation, I distinctly remember Alice telling me that lawyers had the ability to help people. To this day, I still reflect upon this conversation and the fact that lawyers are empowered to help individual citizens and society for the greater good. Although the legal profession is often an easy target for jokes, there is no denying that a law license provides attorneys with a license to protect, preserve and promote the rights of those in need.
How would you describe Akron to the people at your last stop?
Located in a dynamic region renowned for rolling hills, stunning woodlands, famous sporting events, a national park, and more than 150 Fortune 500 companies, Akron is a hidden gem in Northeast Ohio. Since relocating to the area about five months ago, I have found Akron to be the "perfect-sized" city in many respects. It is nice having a metropolitan setting that places one in the heart of a dynamic economy in sync with the pulse of business, government and community.
Akron offers many of the same opportunities that are available in larger cities with the advantages and affordability of small-town living. Also, Akron boasts a rich history and exciting renaissance. The greater Akron area also offers easy access to quality-of-life attractions including sporting events, outdoor recreation, a renowned art museum, symphony orchestra, numerous entertainment venues, and an extensive park system. More than anything though, what truly makes Akron a special place is the warmth and friendliness of its residents.
What books are on your nightstand? Why?
With the demands associated with balancing work, family and life in general, there is rarely time in my schedule for "leisure" reading. Accordingly, I often combine my academic interests with my evening reading. At present, I have two books on my nightstand.
First, I am enjoying the "Jury and Democracy: How Jury Deliberation Promotes Civic Engagement and Political Participation" by John Gastil and others. Often times, people in the United States discount the value of jury service and think of the jury as nothing more than a means of reaching verdicts. Other times, people criticize juries as being inconsistent, unreliable and burdensome. However, my experience as an attorney has taught me that jury service is invaluable, reliable, and consistent. It can also change how citizens think about themselves and their society. Over the past decade, I have advocated about the positive impact of jury service in Asia as Japan, South Korea, Taiwan, and others have integrated citizen participation into their legal systems. As I look to learn more about juries through reading and convey my experience and knowledge about lay participation to other countries, I am constantly in search of a good book in this area.
The second book is "Principles of Negotiating International Business" by Lothar Katz. With the globalization of national and regional economies, knowledge of foreign countries and their respective cultures is imperative. Although I have 25 years experience in international business and law, I am always looking to immerse myself books related to this interesting subject.
​