Recent graduate in Spanish, Chelsea Wolpert talks to us from Peru about the Peace Corps
07/24/2013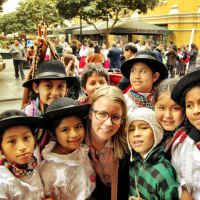 The Peace Corps is an organization of the United States that does volunteerism currently in 76 countries around the world in a variety of areas including Education, Health, Community Development, Environment, Youth in Development and Agriculture. My name is Chelsea Wolpert and I am part of the 21st group to serve in Peru as a Youth in Development (YiD) volunteer. YiD volunteers are sent to smaller communities throughout Peru to work with at-risk youth in and out of schools to promote nutrition (healthy eating, self-esteem, critical thinking), vocational orientation to prepare them for the world of work, and finally, volunteerism to give back to their own community, building a sustainable, long-lasting project to leave behind.
Majoring in Spanish was an invaluable part of my experience at the University of Akron, from all of the classes to study abroad. Not only did I learn another language, but I learned substantial amount of culture and classic literature ranging from Spain to parts of Latinoamérica. All of this knowledge (even the literature!) has come in handy in my Peace Corps experience thus far, and today, being more than comfortable speaking Castellano with native speakers, I am beyond grateful for receiving my Spanish education from such a great program. Toiling over that arduous grammar homework in 403 really is worth it, I promise you! I am forever appreciative of the professors in the Department of Modern Languages for their obvious passion for what they do and for the consistent effort that is put into it.
Out of the 35 volunteers that came down, I am the only person that scored into the Advanced level who did not learn Spanish growing up. There are other people in my group that majored in Spanish at their universities and I think it just shows how truly great the program is at Akron! Gracias a ustedes!