Michelle Dumpe PhD, MSN, RN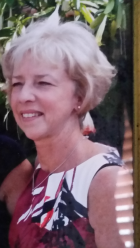 Title: Visiting Associate Professor, Nursing
Office: Mary Gladwin Hall 201L
Phone: 330/972-6907
Email: mdumpe@uakron.edu

---
Biography
Education
Ph.D. - University of South Carolina, Nursing Science/Economics
M.S.N. - Gannon University, Erie, PA, Nursing Administration
M.S. - Gannon University, Erie, PA, Health Services Administration
B.S.N. - Capital University, Columbus, OH
Specialty:
Nursing Administration
Recent Publications
Klein, D. & Dumpe, M. (2010). Pain assessment in the intensive care unit: Development and psychometric testing of the nonverbal pain assessment tool (NPAT). Heart & Lung, 39, 6, (521-528).
Lotas, L, McCahon, C, Kavanagh, J, Dumpe, M, Talty, M, Knittel, K, O'Malley, C. (2009). The nursing shortage: A regional collaboration to address the shortage of nursing faculty. Policy, Politics & Nursing Practice, Vol 9,4, (257-263).
Recent Presentations
October 2010
Dumpe, Michelle Teaching IOM: Implications of the Institute of Medicine Reports for Nursing Education, NEONI's 9th Annual Fall Conference, panel member representing service to discuss these implications for nursing practice. (members: Dana Wade, Cleveland Clinic; Laura Dzuric , Dean, College of Nursing, Kent State University; Michelle Dumpe, MetroHealth Medical Center; Kathy Koppleman, CNO, University Hospitals, Cleveland, Ohio)
October 2010
Dumpe, Michelle "The differing gifts of Clinical Nurse Specialists",
Clinical Nurse Specialist Annual Symposium, Cleveland Clinic, Cleveland, Ohio
---