Looking back at 15 years
of 'transformative leadership'
creating 'extraordinary momentum'
At its August 7 meeting, the Board of Trustees cited President Luis M. Proenza's "exemplary record of accomplishments" as they acknowledged his desire to complete his presidency on June 30, 2014. In a resolution, the Board expressed its gratitude to Dr. Proenza for "transformative leadership and positive impact on the University and its community" that has created "extraordinary momentum" in setting the stage for his successor.
Proenza became UA's 15th president in 1999, and will have served more than 15 years in this role (more than twice the national average) by the time he completes his presidency. He is widely credited with:
Acting as an anchor for innovative research and industry partnerships, UA is cited as a leader in community and civic engagement and an engine for regional development.
A recent article in the New York Times credited Dr. Proenza with helping to instigate the city of Akron's "revival" with many of the university's graduates "working at a number of entrepreneurial high-tech companies in polymer development and engineering that are settling in and around Akron."
---
Right: The National Polymer Innovation Center enables UA researchers, in collaboration with industry, to fabricate materials and devices of the future.

Leading a $640 million capital construction campaign, Dr. Proenza launched what is now known as the New Landscape for Learning, with 22 new buildings and 34 acres of new green space. The campus is literally part of downtown Akron, with colleges, classrooms and student housing leading to a more vibrant urban community.
The University of Akron Research Foundation (UARF) has launched more than 50 start-up companies, is engaged in more than 100 industry-sponsored research agreements, and established a 550-member angel investor network with $100 million in funding. Over the last several years, research expenditures have more than doubled to last year's high of $65 million.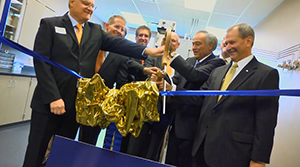 A recent report by MIT credited the University with helping to reduce risk for industry in the development of new products, rapidly move ahead in research and development through sharing of innovative ideas, and develop a human talent pipeline to support regional economic development.
---
Right: The ribbon cutting officially opening the Timken Engineered Surfaces Laboratories (TESL). This open innovation concept creates a tangible space — a place designed to speed the path between discovery and commercialization with students, faculty and industry partnered in the process.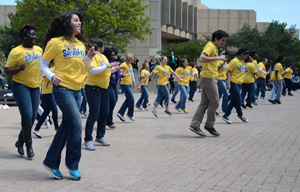 Reaching an enrollment of nearly 30,000 students in 2011, UA saw the fastest-growing enrollment of any public research university in the Midwest during the first decade of this century. As market forces have influenced enrollment growth, President Proenza is overseeing a new enrollment strategy to ensure that students progress from year to year through graduation with reduced student debt and increased opportunities for employment and career success.
---
Right: Students, faculty and staff participate in a flash mob as a way to promote one of UA's newest traditions, SpringFest.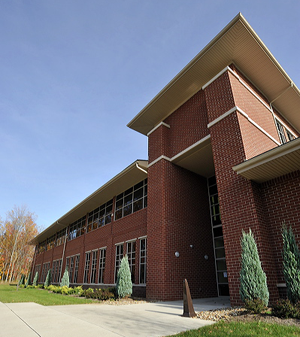 The creation of the new STEM middle school and high school in partnership with the Akron Public Schools, along with Akron Early College, provides a pipeline for promising young students to pursue higher education and successful careers. Partnerships with Lorain Community College and Stark State College, new campuses created in Medina and Lakewood, and the creation of the Confucius Institute have dramatically extended the reach of UA's influence in helping students attain lifelong goals.
---
Right: The Medina County University Center is just one of five additional sites UA offers classes. Other locations include Brunswick (Midpoint), Lakewood, Millersburg (Holmes County Higher Education Center), and Wayne County (Orrville).
During the period of Proenza's presidency, UA has experienced the most rapid growth in resource development, with more than $1 billion attained in gifts and pledges and awards from federal, state and local governments.
Launched the nation's first undergraduate degree program in corrosion engineering (right) and created a national center for applied research with more than $20 million in federal funding; Development of ABIA (Austen BioInnovation Institute) brought exclusive federal funding to Akron (i6 National Innovation Challenge Award) and supports polymer-based biomedical product development and safer medical devices in a new partnership with the Food and Drug Administration (FDA).
Was appointed by the President of the United States to the President's Council of Advisors on Science and Technology; served on the Advisory Board to the Secretary of Energy; serves on the Executive Committee of the Council on Competitiveness; co-chairs the Innovation Forum with an appointment to the Board on Science, Technology, and Engineering Policy (STEP) at the National Academies as well as the Council of the Government-University-Industry Research Roundtable (GUIRR); is an active member of the Association of Public and Land-Grant Universities, Coalition of Urban Serving Universities, National Institutes of Standards and Technology, making significant contributions in the role of higher education to advance science, technology, manufacturing and the economy.