Students can "sleep in a silo" at the Quaker Square Residence Hall. In 2008, the University purchased the complex, and the silos became one of the most distinctive residence halls in the nation, housing 400 residents on eight floors. Starting fall '13 semester, Quaker Square will be exclusively a residence hall facility.
Amenities
Items in bedroom (per person)
Bed (36x80" mattress)
Desk with chair
Dresser
Wardrobe/Closet
Additional Information
Air conditioning
Carpeting in bedroom
Private bathroom in each room
Hardwire internet in rooms
Wireless internet in lounges and lobby areas
One wastebasket
Free laundry facilities located on 8th floor
ZipCard (student id) access on residential floors
Meal plan required
Room Dimensions
24 ft x 24 ft in the round
Additional Details
No. of Floors: 8
Location: West Quad
Gender: Coed by Room
Bath: Suite/Room Bath
Air Conditioning: yes
Cable: yes
Hardwire Internet: yes
Wireless Internet: yes
Computer Lab: yes
Floor Study Areas: yes
Laundry Facilities: yes
Kitchen Facilities: no
Vending Machines: yes
Convenience Store: yes
Disabled Access: yes
Elevator Access: yes
Meal Plan Required: yes
Living Learning Community: no
Photo
Floor plans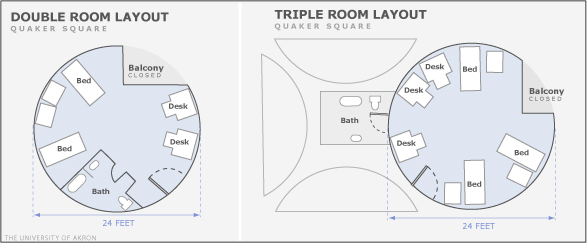 Building plan
Click here to view the layout of the residence hall.
---
Tweets by @UA_ResLife