Hot Topics


---
SEAC's Campus & Community Outreach Committee Conducts School Supply Drive to Benefit Akron Area Children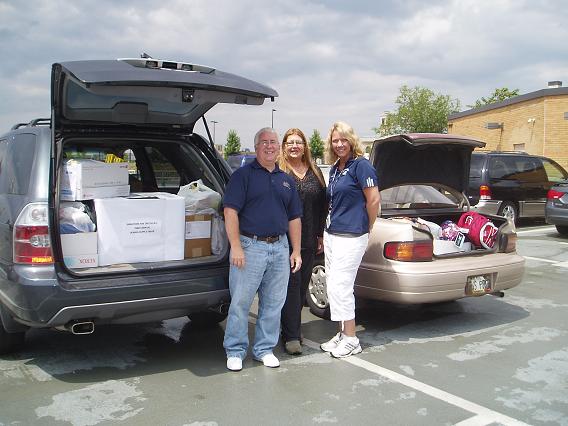 The first annual School Supply Drive organized by SEAC/s new Campus & Community Outreach Committee was conducted from Monday, August 2nd thru Friday, August 6th.
The drive benefits Summit County Children's Services (SCCS), an organization that provides more than 1,000 backpacks filled with school supplies to local children.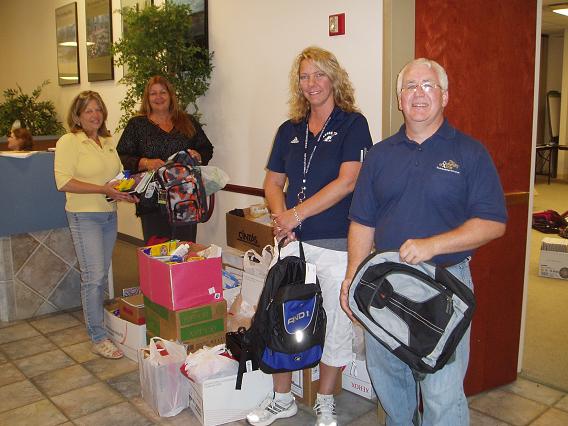 Campus support was tremendous! Donations of glue sticks, crayons, folders, backpacks and more flooded in over the week long drive. Thanks to the efforts of more than 15 campus departments and members of the campus community, many Akron area children will be able to experience the excitement of a bright new backpack full of the supplies they need to help them succeed!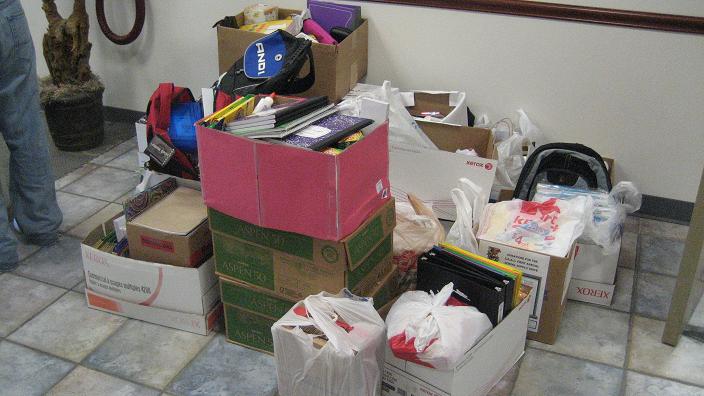 The drive successfully generated more than twenty five boxes stuffed with school supplies, enough to completely fill two vehicles for delivery to SCCS.
Thanks to all who were able to help from your SEAC Campus & Community Outreach Committee!!
---
School Supply Drive Photos: 2012-2013
Santa Returns to the SEAC / CPAC Holiday Social

December 10th, 2009 marks the date when Santa returns to the Student Union for the SEAC / CPAC holiday social. This years social promises to be better than ever with Santa and Zippy, food, bowling, billiards and balloons making for a festive occasion. The fun kicks off at 5pm in the Student Union and runs till 8pm. New this year along with door prizes and our yearly 50/50 raffle to benefit the Haven of Rest, is a canned food drive. Each person bringing in a can of food or a toiletry item will receive a raffle ticket good for entry into our food drive drawing. The grand prize for this drawing is a $500 mountain bike donated by AVI.
The SEAC/CPAC Holiday Social is open to all University of Akron Staff, Contract Employees and their immediate families. Click here to RSVP for this fun event. Each person who RSVP's will receive free tickets to the Cool Yule jazz concert at EJ Thomas Hall. (Tickets will be available at the Holiday Social check-in desk.)
Click here for a printable flyer (Adobe Pdf) to share this info with your fellow Staff and Contract Professionals!
---
House Bill 187 - Friend or Foe?
Ohio House bill 187 is an endeavor to reform Ohio Classified Civil Service law. The 130 page bill allows state universities to remove / replace civil service statues with board approved rules. As part of the bill, the job of setting implementation policies and procedures has been delegated to the Inter-University Council of Ohio(IUC). Guidelines setup by the Council give University Boards the right to setup rules in specifically but not limited to the following areas:
Classification Plans
Recruitment, selection and appointment processes
Performance, Discipline, and termination processes
Layoff and reduction in workforce processes
Paid leave and holiday leave
Appeal processes for classification, reduction, abolishment, and disciplinary actions
Metrics and measures as appropriate for implementation and modernization of the above listed matters of personnel governance
The ramifications at UA to HB187 will be seen only as future events unfold. SEAC as UA's institutional staff committee has identified HB 187 as one of our primary issues for 2008. Several conversations about what is occuring in this area have been transpired between SEAC and the administration, but as of yet, only the ratification of a motion by the board indicating that they would be participants in HB187 has occurred.
An important note is that the IUC has determined that all change should be controlled and incremental with open and transparent communication with institutional staff councils. Slow steady change that hopefully will be for the betterment of the university and its employees!
---
University Group Insurance and Benefits Committee
The University of Akron Group Insurance and Benefits Committee is a newly formed committee under the direction of Dr. F. John Case, Vice President for Finance and Administration/Chief Financial Officer . This committee is comprised of representatives from a broad cross section of the campus. Your Staff Employees Advisory Committee (SEAC) representatives are Tedd Guedel and Laura Spray.
The current scope of the committee is to:
Review current program(s)
Assess options available for health and wellness
Gather preferences and concerns from the representative constituencies
Prepare and review the Request For Proposals (RFP)
Make recommendations to President Proenza and the Board of Trustees for the upcoming Health Benefit enrollment, January 1, 2008 thru December 31, 2009.
Your voice needs to be heard! Please take a couple of moments to send us your thoughts about our health care benefits to either Jeri Farwell at jeri@uakron.edu or Laura Spray at spray@uakron.edu.
Note: Now that Health Care Benefits have been contracted, this committee has turned its attention to wellness concerns. Please forward any wellness ideas or comments to SEAC so that we may forward your information.
Counseling Services Available for Friends and Family of University of Akron Employees
If you have a friend or family member who has expressed an interest in seeking counseling services, the University's Clinic for Individual and Family Counseling in Carroll Hall 128 can help. It offers low-cost counseling for individual, career, family and couples-related issues. Typical concerns include, but are not limited to, dealing with depression, anxiety, anger, relationship concerns, divorce and blended family issues. Services are open to the public. The clinic is located in the Department of Counseling, which is part of the College of Education.
The clinic is a nonprofit counseling center staffed by master's and doctoral-level trainees who are supervised by licensed faculty members. A sliding-fee system is available, but no one will be denied services because of an inability to pay. For more information, or to make an appointment, please call ext. 6822.
​