Baomei Zhao, Ph.D., CFLE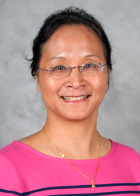 ---
Biography
Dr. Baomei Zhao has been a professor and researcher for more than 20 years in China and U.S. In Aug. 2005, she joined the faculty at the University of Akron. Her research interests are quality of life, family finance and consumption, and health disparity.
As a faculty member, Dr. Zhao tries to incorporate teaching, research, and service to help student establish a close relationship with the community development. She has brought her students from School of Family and Consumer Sciences and School of Social Work to work with service learning programs, providing great support to make a difference to individuals and community.
Currently, she is a member of National Council of Family Relations, American Association of Family and Consumer Sciences, National Social Sciences Association, and American Council on Consumer Interests. Since 2009, she has been a Certified Family Life Educator (CFLE).
PROFESSIONAL INTERESTS
Quality of life
Family consumptions
Family finance
Health disparity
PRESENTATIONS
Zhao, B. (2014). Viewing Globally and Acting Locally at the Annual Health Disparity Conference in Fort Worth, TX.
Zhao, B. (Oct. 2013). Poverty in China, presented for China Week, the University of Akron.
Zhao, B. (April, 2012). Comparison research on teenager tobacco consumption and perception of quality of life in China and U.S. Paper presented at National Social Sciences Association Conference in Las Vegas, NV.
Zhao, B., Liang, X., & Pietzcker, E. (2012). Poverty and TANF Program in the U.S. at the 14th International Conference on Small and Medium Business Development in Hangzhou, China.
Zhao, B. (Nov. 2012). Financial Management for Women at the Honors Colloquium: Social Science: Women & Leadership, the University of Akron.
---
Publications
Zhao, B. (2016). Service learning

in human service classes: leading student's

success.

International Journal for Innovation-Education and Research, 4(3), 1-7.
Zhao, B., & White, N. (2015). Service learning for success--Three cases at the University of Akron. International Journal for Innovation-Education and Research, 3(5), 1-5.
Zhao, B., Wang, S., Glotzer, R., & Robb, J. (2013). Chinese and US teenage tobacco consumption and quality of life. International Journal of Home Economics, 6(2), 320-333.
Zhao, B. (2012). Quality of life research and practice. AkademikerVerlang (ISBN: 978-3-639-45476-5).
Schulze, P., Zhao, B., & Young, C. (2009). Beliefs about infant feeding in China and the United States: implications for breastfeeding promotion. Ecology of Food and Nutrition, 48, 345-368.
Zhao, B., & Wilburn, V. (2008). Gender analysis on perception of quality of life regarding urgent needs and limited resources. National Social Sciences Journal, 33 (1), accessible at http://www.nssa.us/journals/2009-33-1/2009-33-1-20.htm
Zhao, B., Schulze, P., & Wang, Y. (2007). Chinese teenager tobacco consumption & perception of quality of life. Consumer Journal, 3, 81-97 5
Zhao, B. (July, 2007). Quality of life analysis regarding resources for different income levels. National Social Sciences Journal, 30 (2), accessible at http://www.nssa.us/journals/2008-30-2/2008-30-2-21.htm
Zhao, B., Wilson, S., & Li, P. (2007). Chinese adolescent individualism & collectivism in the parent-adolescent relationship. National Social Sciences Journal, 29 (1), accessible at http://www.nssa.us/journals/2007-29-1/2007-29-1-24.htm
Zhao, B. (2005). Community self assessment data assistance and editing, published and accessible at http://www.lexlinc.org/needsassessment/file_list.htm
Zhao, B. (1999). The direction & measures for small and medium business intensive operation in Zhejiang Province. East China Economic Management, May 1999 (Code: CN34-1014/F)
Zhao, B. (1999). Hong Kong second board & new ideas for smb financing. Zhejiang Economy, June 1999 (CN33-1007/F)
Zhao, B. (1998). On establishing human resources markets for entrepreneurs in China. East China Economic Management, May 1998 (Code: CN34-1014/F)
Zhao, B. (1998). On entrepreneurs' human resources capitalization. Zhejiang Economy, June 1998 (CN33-1007/F)
Zhao, B. (1997). To develop resources recycling & promote constant development of national economy. East China Economic Management, April 1997 (CN34-1014/F)
Zhao, B. (1997). Resources recycling and constant development. Zhejiang Economic Management. Feb. 1997 (Zhe01-1065)
Zhao, B. (1996). The five C's pursuit of the Singaporean. Zhejiang Economic Management. April 1996 (Zhe01-1065)
---
Education
Ph.D. in Family Studies, University of Kentucky
M.A. in Economics, Zhejiang University, China
B.A. in English, Zhejiang University, China
---
Courses
1100:101 Student Success Seminar
7400:406/506 Family Financial Management
7400:362 Family Life Management
7400:301 Consumer Education
7400:303 Children as Consumers
7400:602 Family Lifespan Perspectives
7750:276 Introduction to Social Welfare
7750:445 Social Policy Analysis -Social Worker
7750:480 Family Financial management for Social Worker
---