Robin Angell, M.S.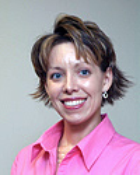 Title: Instructor
Dept/Program: Speech-Lang Path & Audiology
Phone: 330-972-7965
Email: angell@uakron.edu

---
Biography
I joined the University of Akron in 2003, and during my time here have taught several undergraduate courses, as well as supervised graduate students in clinical experiences both on and off campus. I currently serve as the coordinator for admissions to our graduate program in speech-language pathology.
Clinical supervisor, Neurology & Neuroscience Associates, Inc./The University of Akron: off-campus clinic experience for 1st year SLP graduate students. This out-patient clinic provides diagnostic and treatment services to adults with a wide range of neurological diseases and disorders, such as stroke, TBI, Parkinson's disease, ALS, multiple sclerosis.
Clinical supervisor, Audiology & Speech Center, The University of Akron: supervise diagnostic and treatment services primarily for adult clients, often with neurologically-based communication disorders.
Currently teach the undergraduate course Observation & Clinical Techniques, School of Speech-Language Pathology and Audiology, The University of Akron.
---
Background & Professional Experience
Previous experience as clinical extern liaison, working with a university and community extern supervisor in an extended care facility
Externship and CFY supervisor
Co-owner of speech-language pathology private practice
Worked in treatment settings: private practice, acute-care hospitals, long-term acute care, out-patient clinics, home health care, long-term/skilled care facilities, MR/DD school, and home-schooling/electronic learning organizations
Worked with both adults and children
Worked with communication disorders: aphasia, apraxia, dysarthria, dysphagia, cognitive-communication disorders, trach/vent, voice, developmental articulation and language delays/disorders, childhood apraxia of speech
---
Certifications/Areas of Specialized Training
Certified in Deep Pharyngeal Neuromuscular Stimulation (DPNS)
Certified in Facial Muscle Exercise Program/facial e-stim
Certified in McNeill Dysphagia Therapy Program – certified MDTP provider
In process of training for FEES (Fiberoptic Endoscopic Evaluation of Swallowing)
Trained/experienced in Modified Barium Swallow Studies
Trained/experienced with tracheostomy speaking valves
Trained Allen Cognitive Levels
Experienced with Attention Process Training programs
---
Professional Interests
Aphasia
Apraxia, Dysarthria
Cognitive-communication disorders (TBI and concussion)
Voice disorders
Use of neurofeedback in treatment of neurological disorders, specifically TBI/concussion
Documentation
Clinical supervision
---
Presentations
Angell, Robin and Prakup, Barbara. (2009). What's In Your Briefcase? The Anywhere Voice Evaluation. OSLHA annual convention, Columbus, OH.
Angell, Robin, Prakup, Barbara and Wiess, Anita. (2007). Voice Case Studies. OSLHA annual convention, Columbus, OH.
Angell, Robin and Prakup, Barbara. (2006). Making Dining Out Easier for People with Dysphagia. OSLHA annual convention, Columbus, OH.
---
Professional Memberships
American Speech-Language-Hearing Association
Ohio Speech-Language-Hearing Association
---
Publications
Angell, Robin and Prakup, Barbara. (2004). Dining Out: A Guide for the Adult with Swallowing Problems. Interactive Therapeutics, Inc: Stow, OH.
---