Welcome to the Center for Service and Leadership!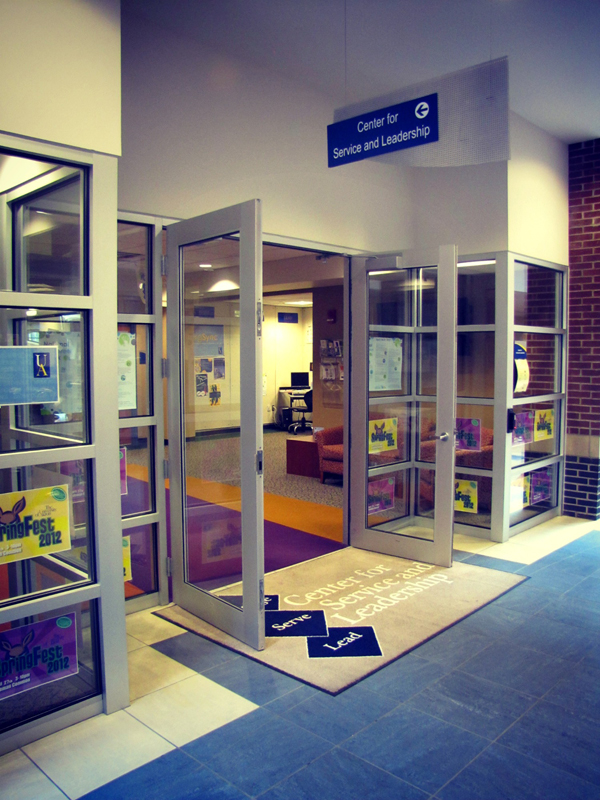 The Center for Service and Leadership (CSL) is your destination for involvement at The University of Akron. You can connect with student organizations, fraternities and sororities, civic engagement programs, leadership programs as well as a variety of our campus programs and traditions. You can begin to navigate your leadership and involvement here at UA by joining us on OrgSync and perusing our over 260 registered student organizations. You can learn about upcoming programs and events, find ways to get involved on campus and make new friends. Stop into the CSL on the first floor of the Student Union across from the Game Room and meet with our staff, visit student organizations that have pods in the Center or find out what's happening on and around campus.
---
---
The Center is comprised of a variety of areas including:
Campus Programs
(Diversity Week, Homecoming, Alcohol Awareness Week, World AIDS Day, Black History Month, Life Awards and SpringFest)

Civic Engagement Programs
(Make a Difference Day, Alternative Spring Break, Super Service Saturdays, Hunger and Homelessness Week)

Fraternity/Sorority Life
(Fraternities/Sororities, Greek Week, Songfest, Community Service and Philanthropic Projects)

Leadership Programs
(Speaker Series, Programs, Workshops and Conferences)

Marketing
(Provide professional graphic design services to the Department of Student Life and to registered Student Organizations)

SOuRCe
(Student organization resource center-Resource Room, OrgSync and Student Organization accounts)

Zips Programming Network
(Campus wide programming board including Traditional Events, Special Events, Adult and Family, Fine Arts, Film and Lecture and Diversity Programs)
For more information visit us in the Student Union or call us at 330.972.7021.

---
Upcoming Events:
View Our Google Calendar of Events
Thursday May-2
Songfest,3-6 pm,EJ Thomas ,FSL
Friday May-3
SpringFest,3pm-11pm,Coleman Common,All Campus Programs
Sun-Wed May 5-8
Study Union (extended study hours until 3AM),until 3am,,All Campus Programs
Movie Series ,10pm-12am,SU Theater,ZPN,Sunday (May 5th)
Mon May-6
Movie Series ,10pm-12am,SU Theater,ZPN
Tuesday May-7
Movie Series ,10pm-12am,SU Theater,ZPN
Wednesday May-8
Movie Series ,10pm-12am,SU Theater,ZPN
#uaStudentUnion
Connect with Student Life...