Photos by Shane Wynn, Kevin Richards and Tim Fitzwater
The University of Akron and the community
The city of Akron offers a vibrant downtown, serene parks, and events and venues that appeal to almost every interest. Here's a taste of what you can discover in Akron and the region:
WHERE IS AKRON?
CONVENIENT TO MAJOR U.S. CITIES: The University is located midway between Chicago and New York City. You can reach either city within two hours by air.
We are 14 miles from Akron-Canton Regional Airport and 40 miles from Cleveland Hopkins International Airport.
Bus service is available to New York, Chicago and most major cities.
Michael and Jess, two University of Akron students, reveal their 10 favorite things to do in downtown Akron. Have you done all 10 yet? [Video by Downtown Akron Partnership]
---
Advantages of city living
Entertainment
Grab a bite at a restaurant downtown. Attend a minor league baseball game. See a show at our E.J. Thomas Hall. There's always something to do within a short walk from campus.
Internships and co-ops opportunities
The university has strong ties with businesses far and wide, allowing opportunities for internships and co-ops.
Networking
Part-time jobs
The university and the city of Akron work together to provide employment opportunities on and off campus.
Weekend trips
Whether you prefer exploring a forest via zip line, canoeing and fishing in the lake or skiing down a snow trail, there are numerous getaway locations within a few hours of Akron.
Sports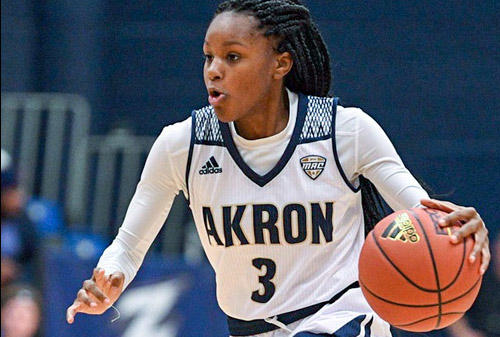 The city of Akron is home to Zips athletics as well as professional and minor league teams. Students of Akron have the best of both worlds; the community involvement in a Division I Athletics program, along with access to multiple major-league teams within 45 minutes of campus.
Arts and culture
Get lost in the abundance of art and culture located in Downtown Akron. No matter your interests, there's something to suit your creative flare.
Theaters/Plays
Art
Summit Artspace - a variety of art-related programming for area individuals, families and groups, classes and schools, businesses and nonprofit organizations, including workshops, lectures, demonstrations, artist as an entrepreneur institute.
Music
Get active
Get up and get moving! Staying active in between classes and studying couldn't be easier in Akron. With endless possibilities around the area, you'll have a hard time choosing which one you want to do first.
Live music
Who doesn't love a live band or concert? Grab your friends and enjoy the talents of local, national, and tribute artists at multiple locations all as unique as the performers themselves.
Blossom Music Center - This famous music venue features national artists and also doubles as a haunted horror attraction in October
Lock 3 - Downtown Akron's outdoor venue offering affordable, family entertainment
Nightlife - No time for sleeping when Akron's vivacious nightlife is within walking distance from campus
Annual events and festivals
Akron hosts thousands of events each year from live concerts to monthly art walks and historic festivals to holiday celebrations. Join other students and citizens of Akron in learning and loving your community.
Museums
The rich history of Akron has been archived in the city's many museums. Students can take advantage of Free Thursdays at the Akron Art Museum, student discounts at the Hower House and so much more.
---
Downtown Akron
If you want to get off campus and discover Akron, downtown is the place to start. Easily accessible and only minutes away, downtown Akron puts you in the center of vibrant cultural amenities, living opportunities, delicious dining options, unique shopping excursions and more.