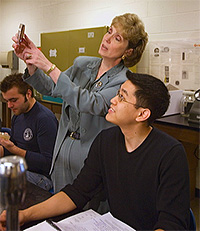 UA Human Resources
Location
Administrative Services Building (ASB)
185 East Mill Street
Akron, Ohio
Show on map.
Mailing address
The University of Akron
Human Resources
Akron, Ohio 44325-4731
Phone 330-972-5988
Fax 330-972-2119
Working at The University of Akron
Thank you for your interest in UA.
UA is one of the largest employers in Northeast Ohio, and one of the best. Several times over the last decade, UA has received the NorthCoast 99 Award, an honor presented to the 99 best places for top performers to work in Northeast Ohio.
"The award signifies what we have long known — that UA is one of the very best places to work in Northeast Ohio, and that our programs, practices and opportunities for employees are on par with the best, enabling us to attract and retain highly talented people," said Dr. Luis M. Proenza, UA's president.
It's a great time to be associated with UA. With nearly 27,000 students and $65 million in research expenditures, UA is among the nation's strongest public universities focused on innovation, entrepreneurship, and investment in community and economic growth.
Our employees have ample opportunities for advancement, development and personal growth. UA offers a vigorous and culturally rich work environment, with activities on campus throughout the year, from athletic events to the Broadway in Akron series at UA's E.J. Thomas Performing Arts Hall.
---
Resources for applicants
---