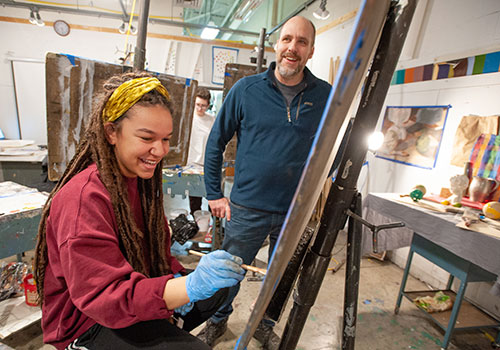 BUCHTEL COLLEGE OF ARTS AND SCIENCES
What makes us great
93% of students who earned a bachelor's degree from the Buchtel College of Arts and Sciences in spring 2018 were employed or seeking additional education within six months.
UA's Master of Applied Politics degree program is one of only five such programs in the U.S. and the only one in the Midwest. The program works in conjunction with the prestigious Ray C. Bliss Institute of Applied Politics, one of the nation's premier bipartisan centers of research and instruction on politics. Many former Bliss interns now hold leadership positions in government around the country.
UA's Northeast Ohio Master of Fine Arts (NEOMFA) consortium is the only creative writing program in the country that merges the faculties of four universities into a single MFA program.
Many biology majors take advantage of UA's pre-professional health advising and support programs to prepare for medical school. In fact, UA students who applied to medical, dental, pharmacy, optometry, veterinary, and physician assistant schools had an average acceptance rate above the national average in 2019.