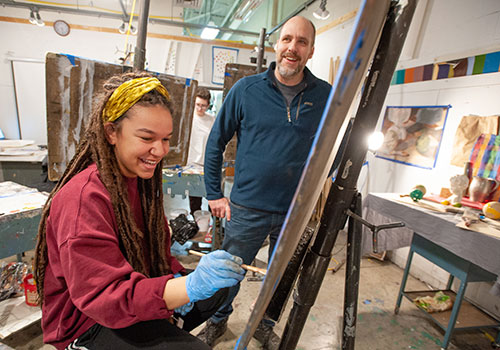 BUCHTEL COLLEGE OF ARTS AND SCIENCES
What makes us great
93% of students who earned a bachelor's degree from the Buchtel College of Arts and Sciences in spring 2018 were employed or seeking additional education within six months of graduation.
The Ray C. Bliss Institute of Applied Politics, a bipartisan research and teaching institute, is one of the nation's premier centers of research and instruction on politics. Many former Bliss interns now hold leadership positions in government around the United States.
The University has the No. 2 Counseling Psychology Ph.D. program in the U.S. according to CounselingPsychology.org, and the Industrial/Organizational (I/O) Psychology program has for decades been one of the country's most respected and prolific producers of scholarship and I/O professionals. Also, the National Museum of Psychology, the only one of its kind in the United States, opened at the University in June 2018. It is housed in The Drs. Nicholas and Dorothy Cummings Center for the History of Psychology, which was accepted into the prestigious Smithsonian Institution's Affiliations program.
The School of Communication is home to the highly rated student radio station, WZIP, and the student-run television station, Z-TV, which has won eight, and been nominated for more than 30, Emmy Awards. Also, the School of Communication's Speech and Debate Team won its fourth consecutive Ohio Forensics Association State Championship in 2019.
UA students who applied to medical school had an acceptance rate above the national average in 2018.
The University is home to the National Center for Choreography, one of only two such centers in the nation, providing world-class facilities and resources to professional choreographers — as well as opportunities for students in the University's dance program to engage with artists who are shaping the future of dance.