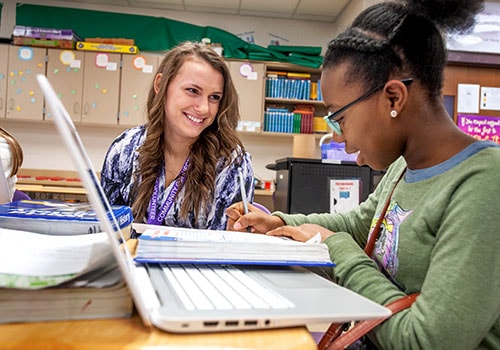 COLLEGE OF EDUCATION
What makes us great
Within six months of graduation, 100% of spring 2018 graduates who earned a bachelor's degree in middle level education in the areas of language arts/math, language arts/science, and language arts/social studies were employed or continuing their education.
After rigorous review, the college of education was reaccredited and recognized for "national excellence" by the Council for the Accreditation of Educator Preparation in 2018.
Students achieved a 94 percent pass rate for all teacher licensure tests, according to the 2018 Ohio Board of Regents Educator Performance Report.
Through the Urban STEM Center, the H. Kenneth Barker Center for Economic Education, and the Center for Literacy, the college equips teachers and community members to provide crucial STEM, economic and literacy education to students throughout Northeast Ohio.
Students learn through hands-on experiences in recently renovated, state-of-the-art facilities with technology-enhanced classrooms and laboratories.