Meet Emma Harmon
Emma is thriving in the classroom, in our research labs and in our Emerging Leaders Program.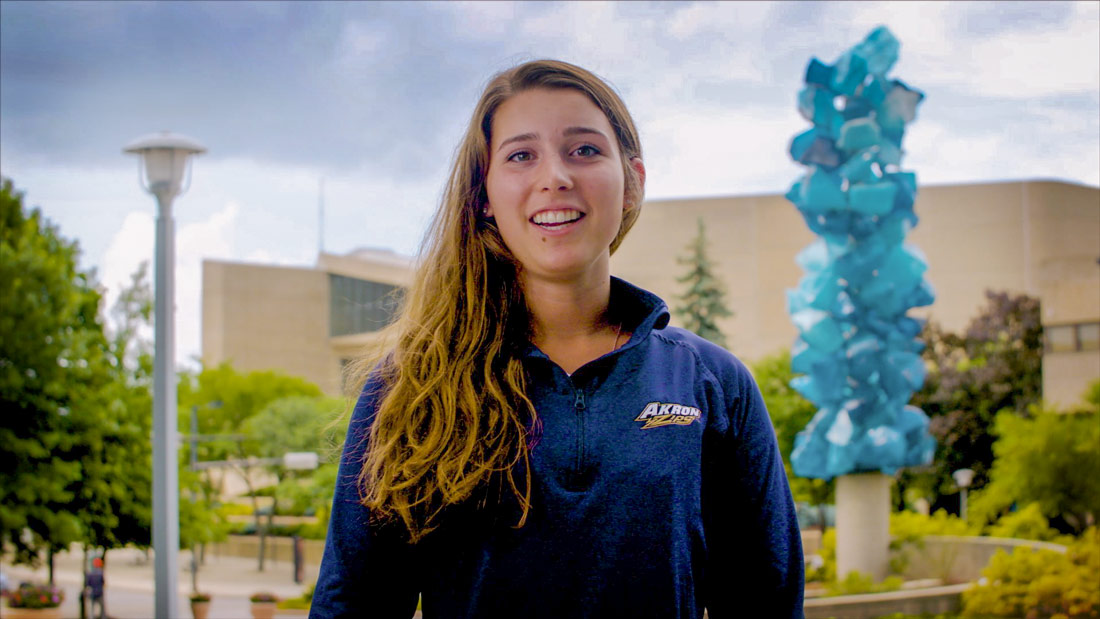 Hometown
Canton, Ohio
High School
GlenOak High School in Canton
Why did you choose The University of Akron?
I chose UA for the programs that UA has to offer. I knew I wanted to study engineering while staying in Ohio, and Akron has a nationally recognized program that was conveniently close to home for me.
However, the factor that officially made me choose Akron was the Emerging Leaders Program. It set my mind at ease knowing that Akron would provide me with amazing academic opportunities, hundreds of student organizations to join, and a Living-Learning Community full of like-minded people who wanted to make their mark on UA.
How would you describe your Akron experience?
My time at The University of Akron has been amazing thus far. I have been able to join so many organizations and meet more people on campus than I can count. I have found lifelong friends, and I've even learned to love organic chemistry!
My most memorable experiences so far have come from my involvement with the Residence Life and Housing Department. I have had the chance to serve as the community service director for Residence Hall Council and now as a Leadership, Education and Programming [LEAP] mentor for the Emerging Leaders Program. Through being a LEAP Mentor, my best memory of UA so far was the Emerging Leaders training week this year. In this week I was able to participate in a headphone disco, help the students all over campus move in, host entertainers and leadership speakers, experience virtual reality, and even watch the Emerging Leaders break a world record.
Since attending UA, I have become a happier and better version of myself. The University of Akron has helped me become so much more outgoing and has helped me gain confidence in myself as a person, student and someday employee of a company. UA has provided me with the chance to meet the friends I always hoped I would find in college, as well as the support to excel in my degree. The University of Akron has been full of very kind and helpful people, who have made me very optimistic by showing me how bright the future will be as a result of earning a degree from UA.
'Since attending UA, I have become a happier and better version of myself. The University of Akron has helped me become so much more outgoing and has helped me gain confidence in myself as a person, student and someday employee of a company.'
Have you participated in experiential learning?
I have been involved in experiential learning through research at UA. I started helping in a research lab in the spring of my freshman year upon wanting to start my honors research project. The most incredible part was how perfect the project was for me. I want to become a dentist someday, and the project I am working on is in the topic of biomineralization in the context of bone or dentin regrowth and biomaterials. The Ph.D student running and heading the project used to be a practicing dentist. Through working on this project, I have learned how to use so many incredible lab instruments for experimentation – instruments that not many freshman students even know UA has.
Are you involved in any extracurricular activities?
The Pre-Dental Club here at UA has allowed me to learn more about how to reach my career goals, which was very important for me, since I am not in a traditional pre-dental major. The club gave me the opportunity to visit dental schools, plan my class schedule accordingly, network with incredible dental professionals and so much more.
Another club that has had a great impact on my experience so far is Delight Ministries. This is a women's ministry club on campus that has connected me with great girls who are some of my best friends and given me the opportunity to make awesome memories.
What are your goals?
After graduating, my goal is to attend dental school, become a general practice dentist or specialize in orthodontics, and someday start a family. UA has given me the chance to accomplish these goals by providing me with multiple advisors who have guided me through scheduling for my engineering/pre-dental degree, introducing me to the Pre-Dental club, and by giving me all of the tools and support I could need to succeed in my degree. UA has allowed me to tour my dream dental school and even talk with faculty from their admissions staff. UA has given me the chance to listen to countless leadership speakers who have taught me the importance of setting these goals, saying them out loud, and doing everything possible to achieve them. Hopefully in three more years I will be able to say I have started to accomplish some of these goals and dreams.
What advice would you give to prospective students?
My advice to students planning to enroll at UA is to dive straight in when they get here, remember that everyone else is just as nervous as they are, don't let the "horror stories" of late nights and hard classes get in their heads, and to remember that four years can fly by. College is a challenge, but it is definitely not impossible, and it is also very fun. My advice to incoming freshmen is just to remember to work hard, but to also enjoy the unique experience they are lucky to have as college students.