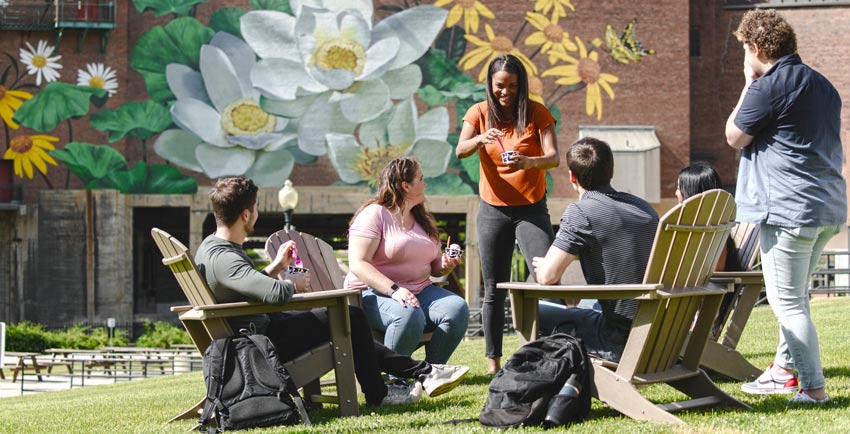 WELCOME!
Small-group, in-person campus tour and information sessions
Each session will include an overview of academics and our admissions process, advice about scholarships and financial aid, and a tour of our beautiful campus. We offer sessions most weekdays and some weekends. Join us!
 We also offer a series of larger Visit Days for prospective students.
Transfer and Adult Students: Please contact the Transfer and Adult Student Enrollment Center at 330-972-7009 or transfer@uakron.edu for an appointment.
Have a question? Call Admissions at 330-972-7100, write to admissions@uakron.edu or text to 330-574-7727.
Safety guidelines for your visit
At this time, face coverings are optional at most locations on campus. Please visit this page for the most up-to-date information.
Anyone who has COVID symptoms or has come into contact with anyone with COVID in the last 14 days should not visit.
For those who are unable or are uncomfortable coming to campus, we will continue to host virtual information sessions. Sign up for one today.
ANSWERS TO YOUR QUESTIONS
Unless otherwise noted in your confirmation e-mail, please plan to arrive at the Office of Admissions located in Simmons Hall Room 109 for your campus visit. Please arrive no more than 10 minutes before your scheduled time.
To better adhere to social distancing guidelines, at this time, tours will be limited to small groups, which may include members of multiple families.
Fully vaccinated individuals are not required to wear face coverings during the campus visit.
If you need a mask, we will be happy to provide one.
We are no longer able to provide refreshments due to COVID-19. We apologize for the inconvenience.
Unfortunately, we are unable to provide on-campus dining options at this time; however, you may order take-out from restaurants in the Akron area. Your tour guide will be happy to make recommendations.
No. We encourage you to take time prior to your visit to consider the state of your health and respond appropriately. We are dedicated to the health of our visitors and staff and ask that you refrain from visiting if you are exhibiting symptoms or have been exposed to someone who has been ill. You can cancel your visit through your confirmation email. We will work with you to reschedule once you are feeling healthy again.
At this time, we are not accepting walk-in visits. We are happy to work with you to schedule a visit through our website so we can ensure that all accommodations are in place for a safe and enjoyable visit.
MORE
MORE COLLEGE VISIT OPPORTUNITIES