Polymer Assembly
The polymer assembly theme focuses on the development of cutting edge synthesis and novel processing to control the structure and properties through assembly aided by applied fields and processing parameters. Key aspects of the polymer assembly theme include:
Expertise in precision synthesis including monomer and small molecule synthesis, polymerization, and post-polymerization modification to enable well defined molecular architectures
Processing and characterization of a wide range of polymer assemblies including blends; statistical, block, and graft copolymers; complex coacervates; dendrimers; and colloids
Novel supramolecular chemistry to achieve complex molecular architectures and/or advance properties difficult through standard covalent assemblies
Multiscale structural characterization of supramolecular materials using scattering and microscopy including multifunctional techniques (e.g. AFM-raman)
The faculty expertise in this theme spans the spectrum from synthesis and design of new materials to the fundamental characterization of structure to engineering scalable processing schemes for assembly.
Key Capabilities
Custom robot for high throughput polymer syntheses
Theme Leaders
Highlighted Resources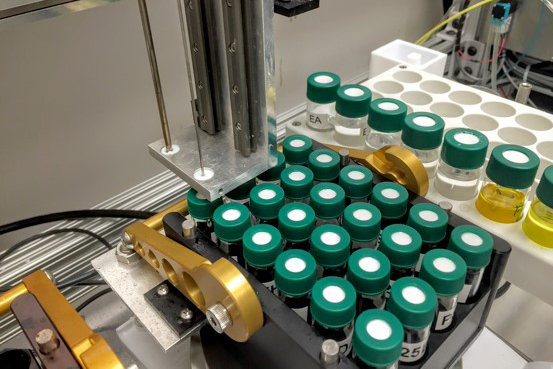 Solution Handling Robot for High Throughput Formulation and Polymerization