"Addictions & Opiates: What's New, What's Next" will be a day filled with innovative and inspirational ideas for everyone from the seasoned clinician to the grassroots organizer, educator and student.
WHAT'S NEW?
Choose from sessions in two tracks — clinical and community — and learn about best practices
from leaders in addiction medicine from here and around the country. Equip yourself with motivating and actionable information that will enhance your perspective and knowledge about addiction.
WHAT'S NEXT?
Discover the next frontier of innovative and integrative approaches to healing and recovery, including the use of virtual and augmented reality in medicine and education.
Luncheon Keynote: "Disconnected Brains: How Isolation Fuels Opioid Addiction"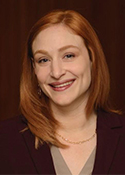 Rachel Wurzman, Ph.D., Director of Science at SeekHealing
Through her nonprofit, SeekHealing, Dr. Rachel Wurzman aims to reduce opioid overdose rates by building communities that are inherently resilient to addiction.
As a neuroscientist, she is passionate about two-way communication between the neuroscientific community and the public to inspire change in how people connect with one another and the world around them. Dr. Wurzman has authored more than 20 peer-reviewed articles and book chapters in the fields of neuroscience, neuroethics and policy.
Registration now closed.
Don't miss out on this unique educational experience! Registration includes the day-long conference and conference materials, continuing education,* continental breakfast and lunch, time to network with others and explore resources in our Next Level exhibit space, and a VR Merge Cube to take home.
*"Addiction and Opiates: What's New, What's Next" has applied for four continuing education credits for social workers and counselors. Attendance certificates will be available for other health professionals.
For more information, please contact Lucky Tisch, tischl@admboard.org or 330-564-4057.

Session Outline:
Registration/Check-in: 7:30 AM - 8:00 AM

8:00 AM Welcome & Opening Plenary

Emcee: Garrett Hart, Creative Content Director, Rock & Recovery Radio, 91.3 The Summit

Music: Mark Lee Shannon

Doug Smith, MD, Chief Clinical Officer, The Summit County Alcohol, Drug Addiction and Mental Health Services Board

9:00 AM Break Out Sessions

Breakout 1A: Behavioral Health Integration

Chadwick Sunday, LPCC-S; Care Alliance Health Center

Paul Coleman, MD; AxessPointe Community Health Center

Breakout 1B: Neurobiology of Addiction (Addiction 101)

Nicole Labor, DO, Medical Director, OneEighty

10:15 AM Break Out Sessions

Breakout 2A: Advances in Pain Management

Karen Hodakievic, CNP, The Spine & Pain Institute,

Cleveland Clinic Akron General

Breakout 2B: Harm Reduction

Jackie Pollard LPCC-S, LSW, CDCA, Summit County Public Health

11:30 AM Networking, Exhibits, Narcan Clinic

12:00 PM Lunch and Keynote Speaker:

"Disconnected Brains: How Isolation Fuels Opioid Addiction"

Rachel Wurzman, PhD, Director of Science, SeekHealing

1:45 PM Break Out Sessions

Breakout 3A: Surviving Addiction

Shah A. Jalees, MD, Summa Health

Breakout 3B: Grassroots Advocacy: Building a Recovery Community

Nell Hurley, National Director, The Phoenix

3:00 PM What's Next: How can Virtual and Augmented Reality be used to help addiction?

New Territory

4:00 PM Networking, Exhibits, Narcan Clinic

*Networking sessions and exhibits include resources such as NARCAN® training, Deterra® safe drug disposal, VR/AR Merge Cube registration/setup help, and other innovative local resources.

Parking
Event parking will be free. Parking passes have been emailed to registrants.
Use the address 303 Carroll Street, Akron when using GPS.
Latest DOT construction updates (for Hwy. 76/77 exits):
Sponsors
Presented by The Akron-Region Interprofessional Area Health Education Center (ARI-AHEC) and the County of Summit Alcohol, Drug Addiction & Mental Health Services (ADM) Board.

This project is/was supported by the Health Resources and Services Administration (HRSA) of the U.S. Department of Health and Human Services (HHS) under grant number U77HP23072: DVDA 93.107 "Area Health Education Centers Point of Service Maintenance and Enhancement - Opioid Supplement" for $23,562, with 50% of total program funding from non-governmental sources. This information or content and conclusions are those of the author and should not be construed as the official position or policy of, nor should any endorsements be inferred by HRSA, HHS or the U.S. Government.