The University of Akron is helping to lead the way in the "new normal" economic realities of public higher education. A relentlessly competitive and challenging global economy is radically revising how higher education and other services are funded at the same time that the importance of education has become the prerequisite for prosperity and well-being individually, regionally, nationally and globally.
Time magazine recently stated, "education is the engine of social mobility." Education also is an engine of economic development. That is why we developed the Akron Model and why we are accepting significant responsibility for the economic, social and cultural vitality of the communities and constituencies we serve. We are assembling talent and resources in order to become more connected, productive and relevant to our communities.
By bolstering the economic vitality of our region, our own institution's long-term competitive and comparative advantages are themselves strengthened.
University viewed as 'tool chest' for economic success
You can best understand the Akron Model by thinking of it as kind of "tool chest" for strengthening community; as a robust and broad-based platform for ensuring economic success in our region. Indeed, a growing number of components best illustrate the Akron Model – a model in which each initiative is the outcome of partnerships demonstrating the power of collective impact.
The Akron Model is a robust and broad-based platform or "tool chest" for economic development.
---
The two most recent examples of this growing platform include our open-innovation agreement with the Timken Company and our Lakewood Higher Education Center, which opened in 2011.
Our agreement with Timken is an unprecedented collaboration. Timken and UA have an open-innovation agreement to combine their expertise in materials and surface engineering, which should yield increased opportunities and developments. This historic agreement, moreover, has the capacity of becoming a new model for university-corporate collaboration.
The second example is a partnership with the Lakewood community, just west of Cleveland, where we have made it easier for adults to enhance their skill sets or return to college, while also expanding our network into Cuyahoga County.
The University as a convener
The Akron Model is comprised of many initiatives in which the University acted as a convener, developer and anchor for clusters of innovation – clusters that generate knowledge and creative capital, train human capital, build social capital, attract financial capital and preserve natural capital.
The total sum of our collaborations is well in excess of 600, but the primary components of the Akron Model are:
We increasingly are asked to share the Akron Model before national and international audiences. In just the past year, we have been invited to tell our story at presentations in in Berlin, Washington D.C., Los Angeles, Waikiki and many, many other locations.
The message we offer at government hearings, conferences, symposia and other gatherings is that a changing economy or changing technological underpinnings of any industry require the institutions, themselves, to change, and that the Akron Model provides a useful framework for such a transformation.
We demonstrate how, through innovative collaborations, initiatives and interactions, metropolitan-sited institutions can play a vital role in sustaining and growing their regions in this global, knowledge and conceptual economy.
Audacious goals and improbable outcomes
And we tell them that, beyond the many statistics and facts that detail our successes, the most important outcome of the Akron Model is the least quantifiable and most intangible.
It is a kind of entrepreneurial optimism, a belief that our collective impact can achieve audacious goals and improbable outcomes.
The Akron Model enables us to believe that we can accomplish bold endeavors because we have accomplished bold endeavors, and we will continue to do so by using the Akron Model as our framework.
---
Related: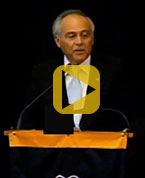 Related:
Video: President Luis Proenza's 2011 State of the University Address: "The Akron Model"
Report to the Community: | The Akron Model