APTS and UARF Assist in Organization of "Innovation Day" at UA
03/22/2018

Eighteen visitors from six countries in one day - Innovation Day, to be exact. This event was created for Smithers-Oasis, a company dedicated to advancing the science of floriculture utilizing innovative technologies. Innovation Day was hosted on The University of Akron's campus on March 20, thanks to several helping hands, including those of Jim Currie, the Manager of Training and Testing at Akron Polymer Technology Services and Barry Rosenbaum, Senior Fellow with the University of Akron Research Foundation (UARF).

Innovation Day, also known as the Smithers-Oasis Innovation Conference, was a day-long series of presentations that celebrated innovation in relevant fields at the University, from biomimicry to marketing and shared information on the process innovation process from UARF, and guest presenters from The Goodyear Tire and Rubber Innovation Team. The eighteen visitors came from China, Belgium, Germany, India, and Korea, as part of an effort by Smithers-Oasis, headquartered in Kent, Ohio, in recognition and celebration of their innovative contributions to the company in the past year. The day was arranged as part of that celebration and to provide greater awareness of the field and of the wealth of innovation assets at the University.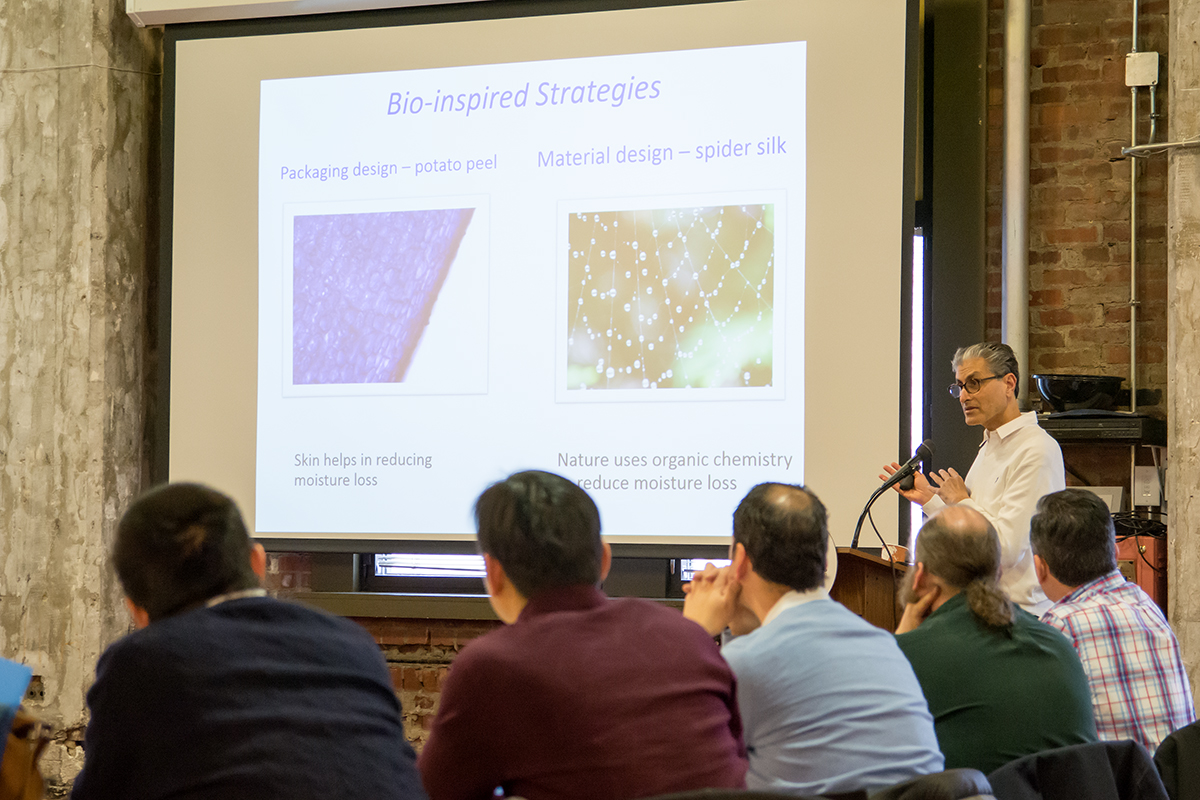 Prof. Ali Dhinojwala, H.A. Morton Professor of Polymer Science, gives a talk on opportunities in bio sciences
The Goodyear Innovation Team spoke on Goodyear's innovation process, Prof. Ali Dhinojwala gave a talk on opportunities in bio sciences, Wil Hemker and Tim Madden introduced new greenhouse hydroponic growing technologies, UA faculty Sydney Chinchanachokchai, Alexa Fox, and Vanja Djuric spoke on three aspects of innovation in marketing, Prof. Peter Niewiarowski and Emily Kennedy presented multiple topics in biomimicry, and Randy Marvel provided a tour of the National Polymer Innovation Center.
Currie said the goal was to "provide a sampling of innovation in various disciplines, but all with some relevance to the business of Smithers-Oasis and all with some aspect of inspiration as well." He added that while this day was limited by the company to those being recognized for their innovative performance, that company leadership has asked to arrange a follow-up visit to pursue some of the topics of the day and to learn more about the University.