Battalion Commander
Cadet Lieutenant Colonel (c/LTC) Eric Owens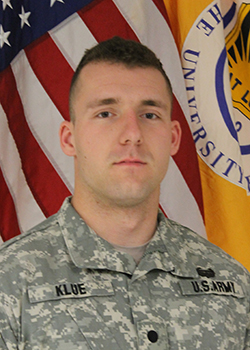 c/LTC Eric Owens is from the village of Baltimore, Ohio where he graduated from Liberty Union High School with honors. While in high school, Eric was a three sport athlete lettering in Football four times, Wrestling four times, and Baseball twice. He was captain of the football and wrestling teams during his senior year. He also served as student council president during his senior year. He received a 3 year A.D scholarship to the University of Akron in the spring of his senior year. Eric is striving to graduate and commission as an officer in the Nurse Corps and receive his Bachelor of Science in Nursing.
In August of 2017, c/LTC Owens graduated the Air Assault School at Ft. Hood, Texas. U.S Army Air Assault School is a course designed to prepare Soldiers for insertion, evacuation and pathfinder missions that call for the use of multipurpose transportation and assault helicopters. After successful completion of course and proven proficiency in rappelling and sling load operations, he was awarded his air assault badge. In July of 2018, CDT Owens graduated from Advance Camp in Fort Knox, Kentucky, where he was apart of 4th regiment D-Company where he received and exceptional rating.
c/LTC Owens awards include: Air Assault Badge, German Armed Forces Proficiency Badge (Gold), National Sojourners Award. Bataan Death March Participant (3rd Place), Superior Cadet Decoration Award, Seventh "Bold Warrior" Brigade certificate of achievement, Ranger Challenge Award, Best Ranger Award (2 awards), Iron Rifles Award (2 awards), APFT Platinum Award (2 awards), Academic Excellence Award, Ranger Company Officer Cord, and Dean's List Award for Academics (5 awards).
XO- Chief executive officer
Cadet Major (c/MAJ) Chuck Kirkpatrick
Cadet Major Chuck Kirkpatrick is from Canal Fulton, Ohio where he graduated from Northwest HS in 2015. In High School Chuck was played football, wrestling, and indoor/ outdoor track. He was an 8 time letter winner and 5 time scholar athlete award winner. He also served as the captain of his football team and outdoor track team his senior year. During his senior year of high school, he won a national ROTC advanced designee scholarship. He then chose to attend the University of Akron and will be graduating in December 2019 with a Bachelor's of Science in Biology.
While in ROTC, Cadet Kirkpatrick has traveled overseas for training every year.
In the summer of 2016 he won a study abroad scholarship through Marquette University. He then attended two semesters of Arabic language training while spending the summer in Muscat, Oman. Attending CIL (Center for International Learning). He continues to take Arabic classes while in Akron and has completed up through the Intermediate level.
During the summer of 2017 Cadet Kirkpatrick was one of the cadets selected to take part in the CULP (Cultural Understanding and Language Program) initiative. His mission was in Tanzania, where he spent a month training and teaching English at elementary schools. While there, he also took classes in Swahili and had the opportunity to climb MT. Kilimanjaro.
During the Summer of 2018 he was chosen to complete a CTLT (Cadet Troop Leading Time) mission. For the duration of his mission he was an assistant Platoon Leader at Camp Humphrey's, Korea for B Co, 2-7 IN, 1ABCT, 3rd ID.
Achievements by Cadet Kirkpatrick while in ROTC include: Gold in the German Armed Forces Proficiency Badge, Top MS3 Cadet, six time ranger challenge participant, 3rd Place in Bataan Death March Marathon, Five time Platinum PT award winner, 5 time Iron Rifle Award Winner, two time academic excellence award, placement on the deans list, and two time placement on the President's list.
Command Sergeant Major
Cadet Command Sergeant Major (c/CSM) Sophia Pang
c/CSM Pang was born and raised in Yangon, Myanmar. She moved to the United States of America in September of 2010 and became a naturalized citizen in May 2017. She enlisted in Ohio National Guard as a 91B (wheeled vehicle mechanic) in early 2017. c/CSM Pang is majoring in Athletic Training and is striving to branch active duty in Medical Service Corps when she graduates with a Bachelor's of Science and commission as a second lieutenant in May 2019.
c/CSM Pang is an SMP (simultaneous membership program) cadet and is learning the roles of a Platoon leader in a military police unit. She was selected for a CULP (Cultural Understanding and Leadership Program) mission and spent a month in Thailand. During her mission, she interacted with the Royal Thai Army cadets, strengthening the friendship and diplomacy between US Army Cadet Command and Royal Thai Army in the summer of 2018. She then went on to Cadet Summer Training and graduated from 7thRegiment Advance Camp on August 5th, 2018.
c/CSM Pang's awards and achievements include: President's List Awards for Academics, Dean's List Award for Academics (2 awards), 1strunner up in women's NCTTA Ohio East Division 2016, Army Marksmanship Weapons Qualification Badge, Sharpshooter qualification certificate, Army Physical Fitness Gold Ribbon, and Americans Veterans Award and Ribbon.
S-1: Personal Officer
Cadet Captain (c/CPT) Joseph Scarpitti
CDT Scarpitti was born in Ashtabula, Ohio on September 25, 1997 to Ernesto and Bernadine Scarpitti. His freshman year of college he was awarded a 3 year AD scholarship from the ROTC program. He is currently a Senior at the University of Akron perusing a degree in Respiratory Therapy and is going to graduate Spring of 2020. Within the University of Akron ROTC program he functions as the S-1 who is in charge of accountability for the battalion. He recently has just completed Advanced Camp training at Fort Knox in the 7th Regiment. He plans to serve in the National Guard after graduation as an Engineer due to his love of home and his love of construction.
Assistant S-1
Cadet 1LT (c/1LT) Audri'Anna Houston
Audri'Anna Houston was born in St. Louis Park, Minnesota, but grew up in Newark, Ohio and then moved to Westerville, Ohio. She holds the S3 assistant position, along with CDT Scarpitti. She is a senior in the nursing program with the hopes of going active duty in the Army nurse Corp. Houston has received awards for grades. She also qualified as sharpshooter. am prior enlisted, so I do not hold a scholarship through ROTC, but through the Ohio national guard. I have had this scholarship for 3 1/2 years.
S-2: Intelligence Officer"
Cadet Captain (c/CPT) Maria Frisone
c/CPT Maria Frisone was born in Akron Ohio and grew up in Suffield Ohio. She Graduated from Archbishop Hoban High School in 2015 and was awarded a National 3 Year AD Nursing Scholarship from the US Army Cadet Command. She came to the University of Akron the Fall of 2015 to pursue a Bachelor of Science in Nursing and attended Advanced Camp 3rd Regiment the Summer of 2018. c/CPT Frisone will graduate and Commission as a Second Lieutenant in the Spring of 2020. c/CPT Frisone looks to branch Active Duty in the Army Nurse Corps.
c/CPT Frisone's awards include: the German Armed Forces Proficiency Badge (Gold), the Ranger Challenge Award, the Expert Marksmanship badge, APFT Excellence Award (Silver), Academic Excellence Award (2), Summit Rifles Officer Cord (c/CO), Deans List Award for Academics (3), Regional Champion of the Air Rifle Post match Competition 2015/2016, Battalion Commanders Award, Color Guard Award, and was awarded the North Coast Health Care Medical Award as the top Nursing cadet of her Advanced Camp Regiment (2018).
S-3: Operations Officer
Cadet Major (c/MAJ) Nick Poghen
Nicholas Poghen is a senior cadet with the University of Akron Army ROTC program. He was born and raised in Cleveland, OH where he went to Holy Name high school and captained the varsity lacrosse team. Poghen is currently the programs S-3 officer and is an Emergency Management/Homeland Security major with an associate in Criminal Justice. He enlisted in the National Guard in 2015 and was immediately selected for a Guaranteed Reserve Forces Duty scholarship upon request. Poghen was recently selected to branch Infantry in the Ohio Army National Guard through a letter of acceptance to the 148th Infantry Regiment, 37th Infantry Brigade Combat Team. He attended 5th Regiment Advanced Camp this past summer. He is also an honor graduate of Basic Combat Training at Fort Sill, OK where he received a Combat Life Saver certification. He has been through combatives training and drivers training on an HMMV, LMTV, and MRAP. Over his career, Nicholas Poghen has earned the GAFPB Gold Award, Army Achievement Medal, Global War on Terrorism Ribbon, National Defense Service Ribbon, Volunteer Service Ribbon, Army Service Ribbon, Ohio Basic Combat Training Ribbon, and Ohio Recruiter Ribbon. He is also a 4 year scholarship cadet. In his free time, Poghen captains the universities Men's Lacrosse Team, works for Monster Energy, and handles supply for the Cleveland Browns. He looks to work as a DEA agent for his civilian career while working as an officer in the National Guard as well.
Assistant S-3
Cadet Captain (c/CPT) Casey McNammee
A/S3 (assistant S3) is Casey McNamee. He was born in Canton, Ohio and grew up and went to high school in Louisville, Ohio. His major here at the University Akron is Emergency Management/Homeland Security. Casey wants to branch Air Defense Artillery. He was in 6 Regiment this summer at advance camp. After advance camp he went to CTLT at JBLM, where he shadowed a LT who was in charge of a Stryker platoon. Coming out of high school he was given a 3 year national scholarship to come to Akron.
S-4: Supply Officer
"Cadet Captain (c/CPT) Richard Desatnik
Cadet Captain Desatnik is one of four siblings from the local town of Chagrin Falls, Ohio where he graduated from Kenston High School in 2014. He received a 4 year Army R.O.T.C. Scholarship, and he is striving to graduate and commission as a Medical Services Officer with a Bachelor of Science in Mechanical Engineering and a minor in Military Science. Cadet Desatnik completed Army Basic Training in December 2014. He went on to get honor graduate at 94F Computer Detection Systems Repair Course in Ft Gordon Georgia May 2015. In July of 2017, Cadet Desatnik graduated the Airborne School at Ft. Benning, Georgia. This summer Cadet Desatnik completed a grant through the University of Akron I-Corp program and completed Advance Camp with Delta Company 10thRegiment. Cadet Desatnik's awards include: Airborne, Iron Rifles, APFT Platinum Award, Military History Award, President's List Award for Academics, and Dean's List Award for Academics.
Assistant S-4
Cadet First Lieutenant (c/1LT) Hollis Helsel
Cadet Helsel was born and raised in Johnstown, PA. She has a 3.5 AD scholarship and is Guaranteed Reserve Forces Duty (GRFD). She is the Recruiting Operations Officer (ROO) and the assistant S-4. She is a biology major who hopes to get into the Interservice Physician Assistant Program, which is the physician assistant program through the Army. CDT Helsel wants to branch National Guard Medical Services. She will attend Advanced Camp next summer. She has been on the Dean's List, was inducted into the National Society of Collegiate Scholars, and has received ROTC awards such as marksmanship and GPA.
S-5: Future Events
Cadet Captain (c/CPT) Devin Shinshock
c/CPT Shinshock was born in Washington Court House, Ohio and lived the majority of his life in Columbus Ohio. This semester c/CPT Shinshock will be the S-5 and an assistant S-3. c/CPT Shinshock is a sociology/criminology and law enforcement major with the intent in becoming a police officer. c/CPT Shinshock has been enlisted in the Ohio Army National Guard since 2016 as a 09R (Officer Candidate) . During the summer of 2016 he attended basic training at Fort Benning. Currently, c/CPT Shinshock is a cadet with the 145th Armor regiment out of North Canton. Since his time spent in the 145th Armor regiment c/CPT Shinshock has attended two annual training's. c/CPT Shinshock has been apart of Summit Rifles, the Air Rifle team, and leadership for Ranger Company. c/CPT Shinshock was apart of 9th regiment during Cadet Summer Training. c/CPT Shinshock desires to be an Air Defense Artillery Officer in the Ohio Army National Guard. Awards include the National Defense Service Ribbon, and the Army Service Ribbon.

S-9: Public Affairs
Cadet Captain (c/CPT) Nikki Hadlock
Cadet Captain Hadlock is one of 3 children from Cleveland, Ohio where she graduated from Saint Joseph Academy in 2015. She received a 3-year Nursing ROTC scholarship from the University of Akron. Hadlock will commission as a Nursing officer in Spring 2019 with a major in nursing and a minor in military science. She attended basic camp in July 2017 and graduated advance camp July 2018. Hadlock attended NSTP at JBLM after advanced camp. Cadet Hadlock's awards include: APFT Platinum Award, Award for Academics, and Dean's List Award for Academics.
Physical Training Officer (PTO)
Cadet Captain (c/CPT) Alex Spangler
Cadet Spangler was born and raised in a little old county named Ashtabula,Ohio. Growing up Cadet Spangler attended Edgewood High School where he was involved with National Honors Society. Cadet Spangler also played football, basketball, and ran track. After graduating high school, he attended Kent state university before transferring to the University of Akron. Cadet Spangler will be graduating this year with bachelors degree in Respiratory Therapy. He is currently unsure of what branch he wants to go into and will be attending advance camp this summer.