Emily Davis Gallery
Gallery Hours
Emily Davis Gallery Hours:
Monday–Friday: 10:00am–5:00pm
History
---

Current Exhibitions
Myers School of Art Alumni Exhibitions: Mike Gable, Joe Bartram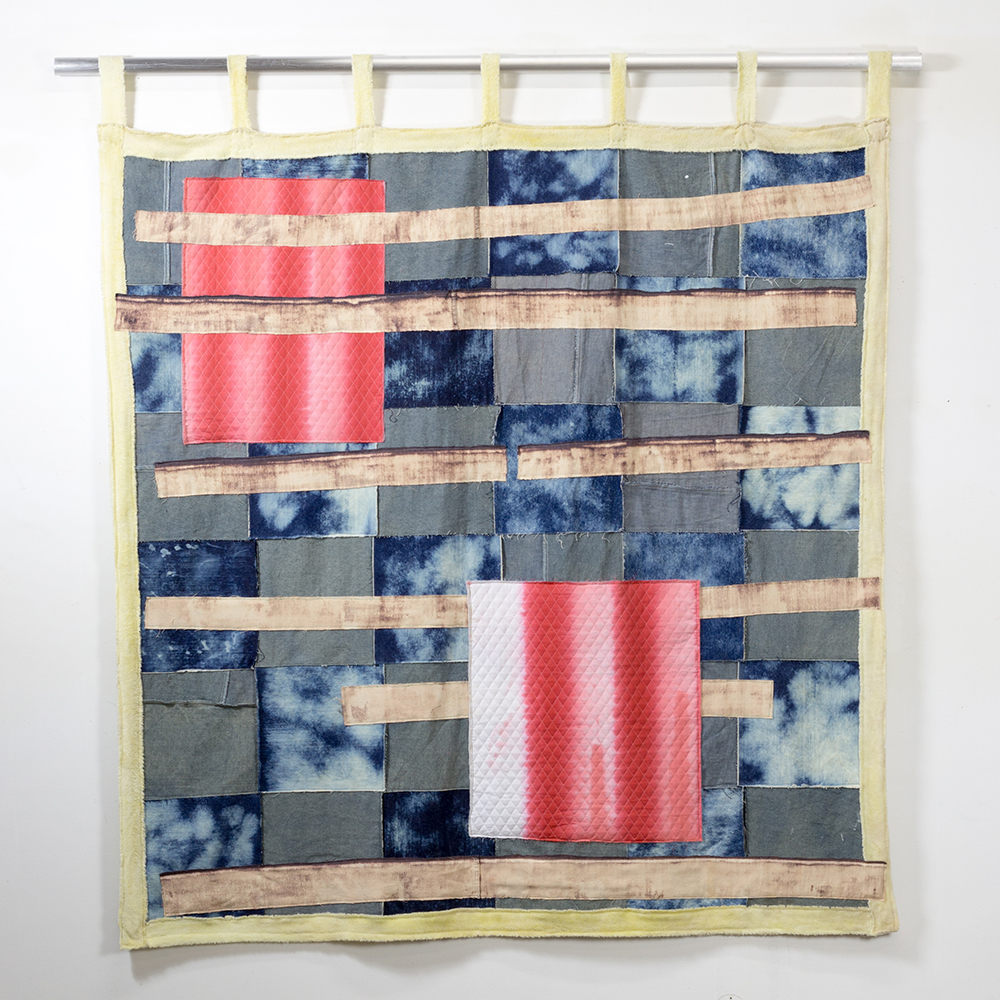 Joe Bartram,
Holy Mountain,
2017
denim, bleach, wool, polyester, canvas, stainless steel, 82 x 76 x 2 in.
The Myers School of Art presents two concurrent solo alumni exhibitions. Mike Gable's special interest, and Joe Bartram's BASSACABEZA will open in the Emily Davis Gallery, October 26, 2017 at 5:00pm and will run through November 22, 2017. Gable earned his Bachelor's of Fine Arts in drawing and painting in 2003; his exhibition will occupy the upper level of the Emily Davis Gallery. Bartram earned his Bachelor's of Fine Arts in sculpture in 2012; his exhibition will occupy the lower level of the Emily Davis Gallery. Each exhibition will feature artwork that reflects the artists' current artistic practice, which builds and expands upon their foundation that began here at the Myers School of Art.
The Emily Davis Gallery is showcasing artistic talent that has emerged from the university to current students and the greater Akron community. These exhibitions give students the opportunity to explore their own possible career in the arts through the lens of contemporary working artists. The two exhibitions will primarily display artwork recently created and curated specifically for the Emily Davis Gallery. Gable known mostly for his paintings will also be exhibiting drawings and photographs. The title, special interest, is a slightly humble and derogatory phrase Gable has been using to emphasize the casual anxiety that runs throughout his recent work. Bartram is an inventive sculptor who will utilize multiple materials and methods for his installation. Installations of sculptures and ceramics are the central focus of his exhibition. He will be displaying some painting as well. BASSACABEZA, roughly translated to "Bass Head," is inspired by Bartram's studio experiments with stereo sound and a studio mate's cabeza taco.
Both artists are Akron natives that have active studio practices. Gable resides and produces art in Akron. His recent exhibitions include: Form Line & Color: exploring contemporary abstract art, The Box Gallery, 2016, and his work was featured in the 2014 Select Fair, Miami Beach with the Philip Bloom Gallery. Bartram worked in Akron until he relocated to Philadelphia in 2013. Recent exhibitions include a 2015 group exhibition With For and Against and a 2016 solo exhibition TURNSTILE UNDERBELLY, both at Vox Populi Gallery, Philadelphia.
Meet the artists at the free opening reception, Thursday, October 26, 2017 from 5:00pm-7:00pm. Free parking is available for the reception, and visitor parking at metered spaces is available during gallery hours.
This exhibition is organized by the Emily Davis Gallery with additional support from The University of Akron Alumni Association.
Mike Gable: special interest
Joe Bartram: BASSACABEZA
Schedule of Events:

All exhibitions and events are free and open to the public.
Dates for exhibitions: Friday, October 27, 2017–Wednesday, November 22, 2017

Opening Reception: Thursday, October 26, 2017, 5:00pm–7:00pm
For more from the artists:
Joe Bartram
Mike Gable
Reviews:
---
The Emily Davis Gallery is open Mon.–Fri. 10am–5pm.
More information about exhibitions or events: 330-972-6030
emilydavisgallery@gmail.com, www.uakron.edu/art/galleries, or www.facebook.com/EmilyDavisGallery.