Emily Davis Gallery
Gallery Hours
Monday – Friday, 10 a.m. to 5 p.m.
History
Read Julie Polsinelli's History of the Emily Davis Gallery for a complete history of the gallery.
---
Current Exhibition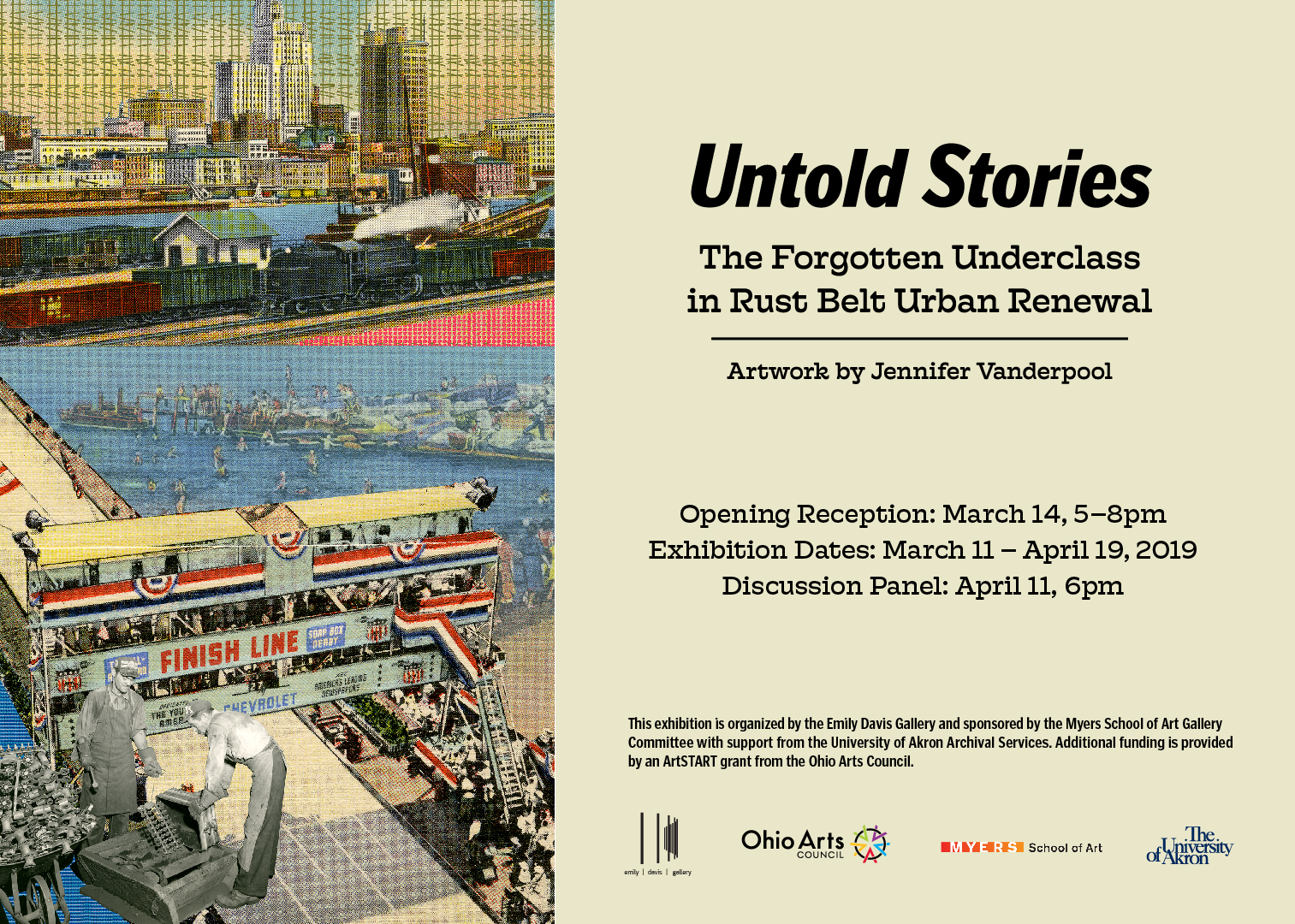 Untold Stories: A Forgotten Underclass in Rust Belt Urban Renewal
Jennifer Vanderpool
March 11, 2019 - April 19, 2019
Mahoning county native and current L.A. resident Jennifer Vanderpool Ph.D presents newly created works focusing on outmoded imagery of "Rust Belt" cities using this imagery as allegory to evoke questions about neighborhood decay, gentrification, segregation, generations of unemployment, and economic redevelopment. Using abstracted elements from numerous archival sources reflective of Akron, Ohio, Vanderpool uses her design aesthetic to craft narratives of imaginary realism to evoke the Rust Belt region. This exhibition includes Vanderpool's digital collage prints and poetic documentary highlighting Akron natives and community leaders to discuss the legacy of Mid-century urban planning and deindustrialization on cities such as Akron, Toledo, Youngstown or Gary.
Untold Futures: A Panel Discussion with Jennifer Vanderpool
April 11, 2019, 6 PM
Join artist Jennifer Vanderpool and a select panel of Akron local community leaders and professionals for a free and open conversation that will dissect the topics and concepts presented by the exhibition, "Untold Stories". This panel discussion invites the audience to contemplate and question issues surrounding working class studies, such as neighborhood decay, gentrification, segregation, unemployment, and economic redevelopment specific to Akron and surrounding rust belt cities.
Panelists:
Jennifer Vanderpool

, artist

Sean T. Posey

, freelance writer, photographer, and historian, Mahoning County

Kimberly A. Irvin-Lee

, Director, Minority Business Assistance Center, Akron Urban League

Jason Segedy

, Assistant to the Mayor, Director of Planning and Urban Development, City of Akron

Bill Lyons

, Associate Dean, Buchtel College of Arts and Sciences, Professor and Director of Center for Conflict Management, University of Akron
---
Emily Davis Gallery Hours
Monday – Friday, 10 a.m. to 5 p.m.
For more information about exhibitions or events: call us at 330-972-6030, email us, visit us online, or find us on facebook.