Welcome new UA Parents and Family members!
The Association is here to help
FALL 2011 ISSUE | IN THIS ISSUE:
PFA CONTACT INFORMATION
USEFUL LINKS
We would like to welcome our new students and their families to The University of Akron. Fall semester is just around the corner and our students and families are working hard to prepare for the start of their next educational experience at The University of Akron. The UA Parents and Family Association attempts to provide timely and targeted information, opportunities for campus involvement, and additional support for our families as they help their students take full advantage of the "Excellence, Opportunity, and Energy" found here.
Information for residence hall students
If your student has received a space in the UA residence halls, your student will be getting a packet of information in early August sharing lots of information confirming room assignment, roommate contact information, move-in dates and instructions, and lots more. The packet contains a "what to bring (and what not to bring)" suggestion. That same list is available here. Residence Life and Housing recommends that you pack light. "'Less is more' until you are able to determine what you truly need in your new home."
Residence Life and Housing will have activities planned and some meals provided once your student moves into the residence hall during our scheduled move-in. The residence hall move-in is scheduled for Thursday (August 18) and Friday (August 19) with a few students moving in prior to that date due to specialized group association.  Be sure to have your student review the materials provided in the check-in folder which contains lots of useful information!
More information is available from The Department of Residence Life and Housing at 330-972-7800 or via e-mail at reslife@uakron.edu or www.uakron.edu/reslife.
Information for off-campus students
Off-Campus Student Services Welcomes You!
Our fall programs provide your students with an opportunity to network with fellow students and campus departments through participation in activities ranging from community service and housing fairs to socials encouraging students to maximize their time at The University of Akron:
During the first week of classes our office will be teaming up with University of Akron Police on Operation ID. To reduce text book theft, students are invited to stop by our table next to the bookstore to get their books marked.
At the end of October we will be hosting the 2nd annual Trunk-or-Treat for the children at Leggett Community Learning Center.
During the academic year your student may:
be searching for a job
be struggling in a class
have questions about campus resources
wish to join a student organization.
Off-Campus Student Services has the resources to answer their questions and help them reach their goals. From first year student to senior, our experienced commuter assistants will be able to relate to their situation.
Off-Campus Student Services is located on the first floor of the Student Union. Encourage your student stop by our office or call 330-972-8690 with questions. Don't forget to become a fan of ours on Facebook! Good luck this Fall Semester and Go Zips!


---
Family Weekend is September 23-25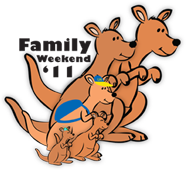 Mark your calendars now to join in the fun at UA Family Weekend, September 23-25.
Various events are being planned to celebrate UA Families on campus! Events will range from an Akron Night Out with appetizers and music around campus to cheering our Men's Football and Women's Soccer teams to victory.
More information about the event and registration is available online at www.uakron.edu/familyweekend.
---
Homecoming 2011
Whether you visit campus often or have not come back in years-you will want to make plans to return October 3rd-8th. Homecoming 2011 features exciting events from arts to Zips!

Bigger and bolder than ever, Homecoming 2011 will include a Spirit Parade on Oct. 6; a "Blue, Gold and Soul" concert by legendary musician Herbie Hancock on Oct. 7; alumni-comedian George Wallace direct from Vegas, the Zips Fest and Akron Football vs. Florida International University on Oct. 8; and much more. For a full calendar list of the events for the week visit www.uakron.edu/homecoming.
---
Looking for an On-Campus Job?
The UA Career Center is the place to start! The Career Center is responsible for coordinating the posting and policy for student on-campus employment. Working on campus is a great way to earn money, gain work experience and meet new friends. More information.
Safety...A top UA Priority
Safety is a top priority at UA, as evidenced by the wide variety of educational programs and safety services in place to help protect, inform and empower our students. Read more.
---
Career Decisions, Decisions!
On September 6th the UA Career Center is presenting "Getting to Know Yourself through FOCUS." FOCUS is an on-line self-assessment tool to help students make informed career decisions. Learn how to use FOCUS to determine skills, interests, values, personality characteristics and more. It will assist your student in defining their initial academic and career goals. Learn more!
---
Academic Success is around the corner!
The Department of Developmental Programs at The University of Akron is located on the 3rd floor of the Polsky Building - Room 334 and Bierce Library – Room 69. Its mission is to prepare UA students to achieve their personal and academic goals. In order to do this, Developmental Programs offers basic academic skills courses and, in conjunction with the Office of the Associate Provost for Student Academic Success, an array of academic support services. Read more.
---
Dates to remember
---
Library Launches New Learning Studios
No matter what professional career plans our students pursue, developing presentations will be in demand and those presentations will require more and more technical savvy. Bierce Library now has fully equipped learning studios where students have all of the latest technology at their fingertips. While students use the learning studio to develop presentations for class or for their student organization, they will be fine tuning the skills desired by their future employers.
In the Learning Studio students use cameras, standard projection systems, Smart Board technology, or HD flat screens to film, edit, view, and share the production. The studio is wireless, laptop based and is configured to address projects by individual students or groups of students. For class projects, students have the opportunity to record and critique themselves before they present in class.
This learning opportunity prepares UA students for present and future professional opportunities. For more information, visit the UA Libraries website.
---
MAP-Works: Setting the Path to Success!
On September 12, all new first-year students and continuing second-year students will receive an email inviting them to participate in a survey called the "MAP-Works Transition Survey". This survey is designed to help students make the most of their college experience. It will help them understand
how they fit in at the university,
what challenges lie ahead,
and what services are available to help them meet those challenges.
After completing the Transition Survey, MAP-Works will provide each student with a personalized report about
how to accomplish his/her goals,
what other students are thinking about their college experience,
how to be more successful in college, and
what campus resources are available.
In addition, MAP-Works provides information to Academic Advisers, Residence Life and Housings, Off Campus Student Services, and Faculty to use in working with students. The MAP-Works report uses information supplied by the student, so each MAP-Works report is unique.

The Transition Survey should take about 20 minutes to complete. Please encourage your student to participate in the survey and schedule a time to meet with an Academic Adviser to review the results and develop a personal plan for success.
---
Five important jobs as a College Parent
Being a college parent is hard work. Sometimes it is difficult work because of the amount of things that you need to do and because you need to be very involved. But sometimes, being a college parent is hard work because of what you need not to do. Sometimes the hard work is standing back and allowing your student to take control of the experience.
College Parent Central would like to suggest five important jobs for college parents. You may not do all jobs equally well. You may not need to tackle some jobs as much as others. You may need to experiment and practice some skills before you become proficient at them. But we'd like to suggest that you have five important tasks as a college parent.
Provide support – As parents, we provide the support system, the safety net, and the encouragement for our students to set out on their own.
Encourage risks – Of course, there are some risks that you do not want to encourage for your student. You may need to help your college student determine appropriate risks and inappropriate risks.
Look for the positive – Because your student is comfortable with you, and you are a safe listener, you may be the person to whom she will vent when things are not going well. You may need to help your student put her experiences into perspective and to look at the larger picture.
Provide constructive feedback – Just as you need to help your student find the positive in his experiences, you may need to provide feedback or give some advice. It is important to remember, however, that your job is to give the feedback or advice and then allow your student to take it or not.
Provide financial guidance –. Letting him know how you feel and what you think and suggest is important. If you approach this as a partnership, your student may be more willing and able to listen to what you have to say.
If you would like to read more, view the complete article.