MEET THE DEAN
Mitchell S. McKinney
A renown political communication scholar, Mitchell S. McKinney, Ph.D., is dean of the Buchtel College of Arts and Sciences.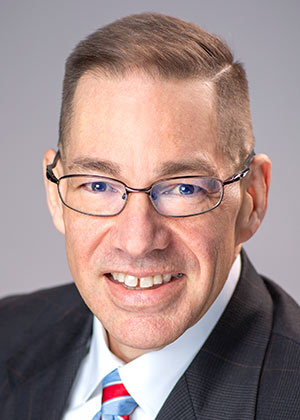 McKinney joined UA from the University of Missouri, where he served as professor of communication and director and founder of the Political Communication Institute. During his tenure at Missouri, he was appointed to several academic leadership positions, including director of graduate studies, and both associate department chair and chair of the Department of Communication, one of MU's largest academic units. He also served as Faculty Fellow for academic affairs in the Office of the Provost.
"It's a tremendous honor to be dean of the Buchtel College of Arts and Sciences" McKinney said. "Colleges of Arts and Sciences serve as the intellectual core of the university; and during such challenging times for higher education, I'm eager to begin my partnership with the outstanding faculty and staff in education, fine arts, humanities, social sciences, and the natural sciences as we serve our students and the Akron and Northeast Ohio communities through our instruction, research and creative endeavors, and engagement activities. I'm anxious to begin work with my UA dean colleagues and other senior campus leadership as we continue building one of our nation's truly exceptional urban research universities."
Mitchell S. McKinney, Ph.D., dean of the Buchtel College of Arts and Sciences, introduces himself to the college and the University on his first day on campus.
In addition to excellence in teaching, McKinney has been recognized by academic colleagues and the national media as one of the nation's top scholars of presidential debates. He served as an advisor to the U.S. Commission on Presidential Debates where his work was instrumental in developing the presidential town hall debate and other innovations in the structure and practice of televised presidential debates in the U.S. He also has served as an advisor to the national election commissions in other countries, including South Korea, Germany, Great Britain and New Zealand as those nations developed their own televised presidential and party leader debates.
Using his training as a political communication scholar, McKinney gained practical political experience by having served as a staff member in the U.S. Senate and at the White House. He also served as associate director of the National Communication Association in Washington, D.C., and as president of the Central States Communication Association. He remains a frequent commentator for national and international news media and has provided expert political commentary for such media as the New York Times, the Washington Post, USA Today, CNN, C-SPAN, NPR and BBC News.
At the state and local level, he has served as a moderator for gubernatorial and congressional televised debates; and consulted with numerous civic organizations in planning state and local candidate debates and forums. He has been awarded approximately $1 million in support of his research and public engagement activities, with funding from the Pew Charitable Trusts, the Ford Foundation and the Donald W. Reynolds Foundation.
In addition to his faculty achievements at the University of Missouri, McKinney also taught at the University of Oklahoma, the University of Kansas, Johnson County Community College, Missouri Southern State University and the University of North Carolina at Chapel Hill.
McKinney earned a Doctor of Philosophy in Communication Studies from the University of Kansas, a Master of Arts in Communication Studies from the University of North Carolina at Chapel Hill and two Bachelor of Art degrees in Speech Communication and Government from Western Kentucky University. He is the author or co-author of nine books and more than 100 journal articles and book chapters.
McKinney resides in the Akron area with his partner Bryan Pepper and their family of three adorable and often rambunctious kitties, Bentley, Alley and Charlie.
McKinney's appointment started July 1, 2021.
NEXT