Clouds and color burst along walls at Bounce Innovation Hub, thanks to Art Bomb Brigade
11/25/2019
The University of Akron's Art Bomb Brigade has stepped out of the cold to create its latest mural series — this time at Bounce Innovation Hub. Located in downtown Akron in the former B.F. Goodrich plant, Bounce serves as a space for creative and entrepreneurial startups.
This fall, UA students worked with Bounce executives to design a mural for the second floor of the building to reflect its mission of supporting local innovators, creatives and collaborative exchanges. Students designed and painted the mural over the course of 16 weeks. The mural spans across four walls and was inspired by Sixties psychedelic rock posters, dreamscape painting and other symbols that represent how ideas can come to life when passion, creativity, determination and "a little help from your friends" collide.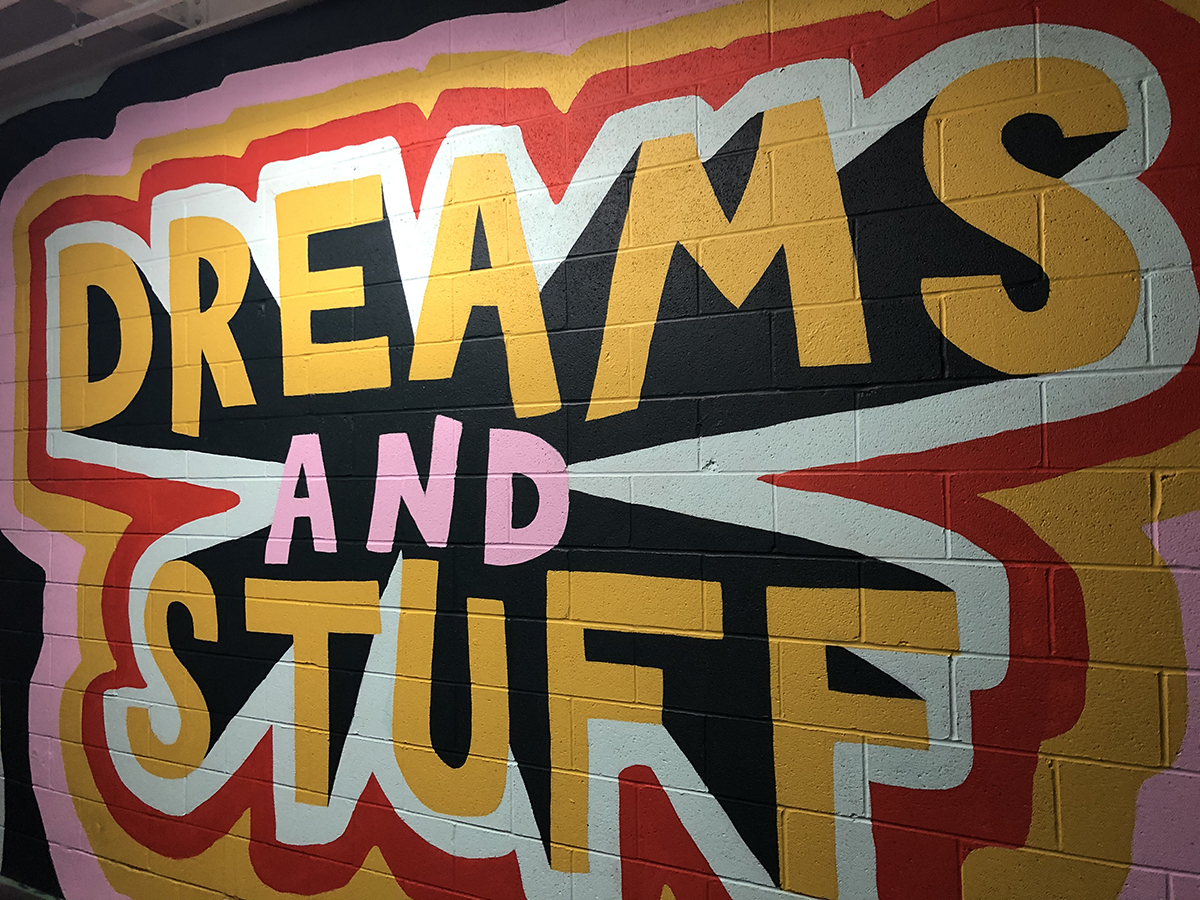 Marissa McClellan, co-director of Art Bomb and executive director of Crafty Mart, says, "This mural is so exciting to me because it marries two organizations I love the most in a super rad way."
The mural exists outside Crafty Mart's headquarters and wraps around its new event space. The mural also leads to Bounce's future second floor Creative Co-op for local artists and makers.
"The students in this project were the most enthusiastic and fun and cool and wonderful and helpful Brigade to date," adds Elisa Gargarella, co-director of Art Bomb and a UA faculty member at the Myers School of Art.
For Jenna Ritchey, an art education major at UA, "Being part of the Brigade has been a super unique experience. It's beautiful to see what can happened in the evolution of a team design! Letting go of personal bias and allowing a larger composition to emerge is so freeing and enables each individual to grow beyond their own perspective."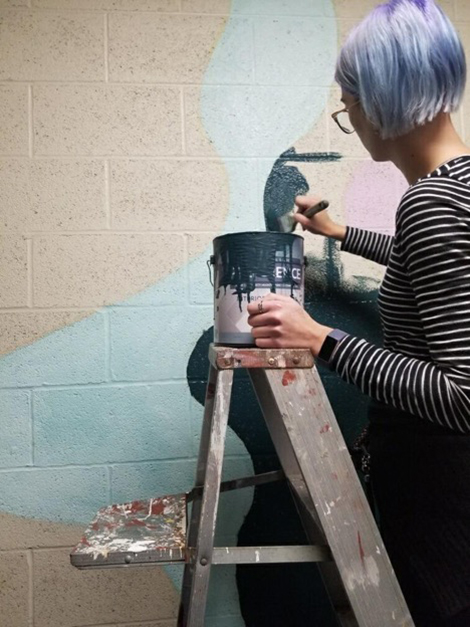 UA art major Brooke-Ellis works on the mural at Bounce.
"We have been so impressed by the Art Bomb Brigade crew," says Jessica Sublett, COO of Bounce. "The students took our words and turned them into a gorgeous, colorful montage that captures everything Bounce is about — hard work, creativity, innovation and, most importantly, giving people a place and the tools to make dreams happen. Thank you, Marissa and Elisa for choosing Bounce and bringing color and life to our second floor. We can't wait to show the rest of the world!"
A public celebration to unveil the mural will be held on Sunday, Dec. 1, at 2 p.m. during Crafty Mart's 11th annual Holiday Market Event at Bounce Innovation Hub, 526 S Main St., Akron.
Throughout the day Crafty Mart will be hosting DIY workshops, giftwrapping stations, food trucks, R. Shea beer flowing everywhere, music, 70 handmade vendors to do all your holiday shopping, contests and drawings. Visit Crafty Mart's Facebook page for more complete information about the two-day Holiday Market.
About Art Bomb Brigade
Art Bomb Brigade is a mural project started by Elisa Gargarella, a University of Akron faculty member at the Myers School of Art, and Marissa McClellan, executive director of Crafty Mart. Gargarella and McClellan operate Art Bomb Brigade as an art education program, and a public arts outfit interested in fostering the next generation of creative leaders and making Akron's cultural landscape "a lot more groovy."
Aimed at giving students real world learning opportunities, Art Bomb Brigade specifically designs experiences for students to be at the center of public art planning, funding, implementation, community building and outreach. The mission of the Art Bomb Brigade is to breathe new life into Akron neighborhoods through high impact public art.
Winner of the 2016 and 2019 Knight Arts Challenge Awards, the Art Bomb Brigade has already completed 17 murals, soliciting local artists to work with UA's students to develop and paint high impact murals. Art Bomb Brigade murals have become part of the local fabric in the region with recent works at the Downtown Laundromat, Chill Ice Cream Company, the Akron Sustainer, Echogen Power Systems, Mill Street Bridge, Community Support Services of Summit County, Akron's Historic Arts and Cultural District, Summit County Public Health, Glendale Steps, Countryside Conservnacy Public Market, St. Vincent St. Mary High School, Kenmore Neighborhood Alliance, the Barberton Library, The Grand Exchange, The Well CDC and now, Bounce Innovation Hub.
The Art Bomb Brigade is a community arts program supported by the John S. and James L. Knight Foundation's Knights Arts Challenge, GAR Foundation, BOUNCE Innovation Hub and many more. For more information, visit the Art Bomb Brigade website, or Facebook or Instagram.
---
Media contacts: Lisa Craig, UA media relations specialist, 330-972-7429 or lmc91@uakron.edu, or Elisa Gargarella, Art Bomb Brigade director, 330-972-8325 or gelisa@uakron.edu, or Marissa McClellan, Art Bomb Brigade assistant director, artbombbrigade@gmail.com.