Art Bomb Brigade explodes into Barberton
10/30/2017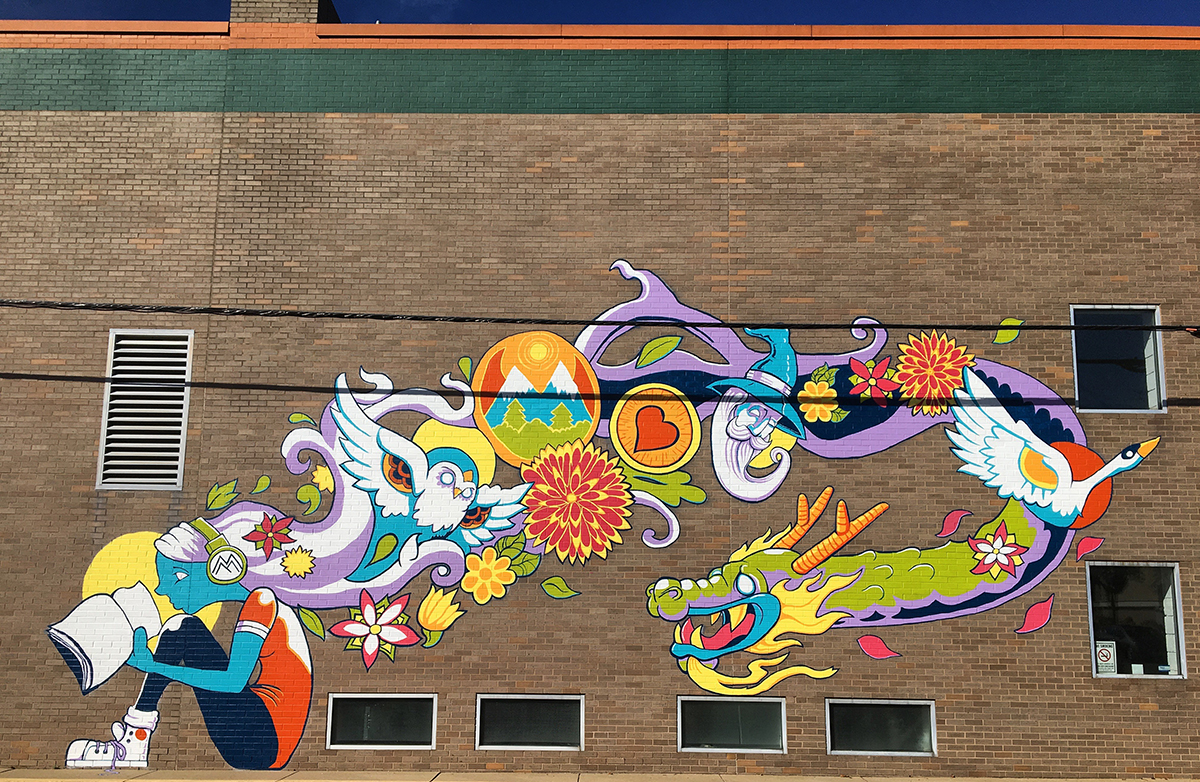 The University of Akron's Art Bomb Brigade has transformed the back wall of Barberton Public Library with a small brigade of alumni, in collaboration with Akron artist, Matt Miller. This is the first mural outside of Akron for the Art Bomb Brigade.
Completed in just two weekends, the whimsical mural celebrates and encourages imagination with bright colors and elements to enhance Barberton's downtown landscape with a design created just for the library.
The free unveiling party is planned on Saturday, Nov. 4, from 1 to 3 p.m. at 602 West Park Ave., in Barberton. There will be food, sidewalk chalk, coloring contests and more.
Barberton Mayor William Judge will be on hand, along with Greta Johnson from the office of County Executive Ilene Shapiro and members of the Art Bomb Brigade.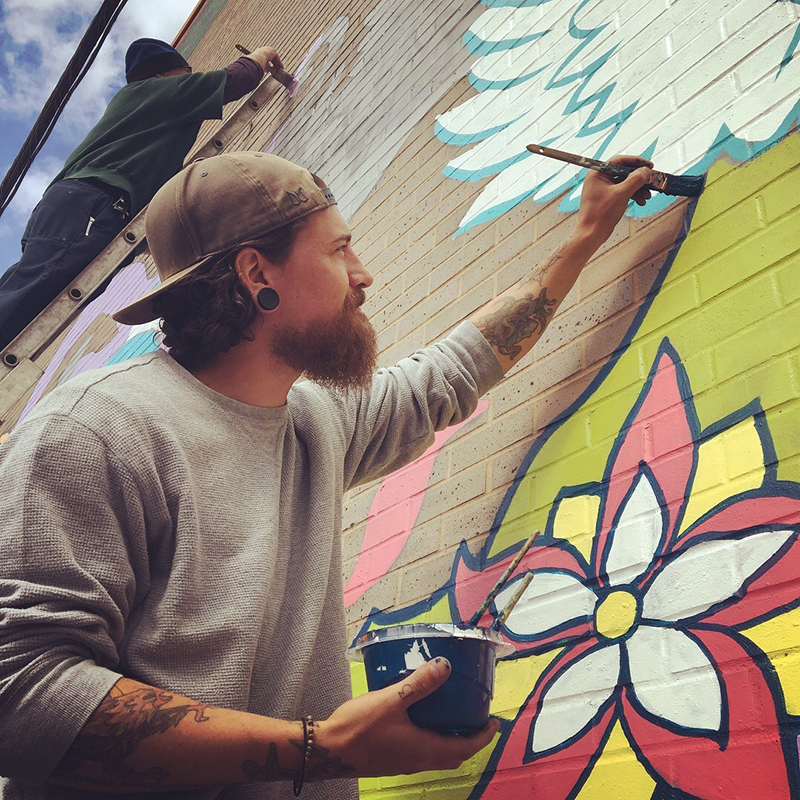 Designer and lead artist Matt Miller works from a ladder as he helps bring his design to life on the back wall of the Barberton Library.
"I am so happy we got to share some public art love with a neighboring community," says Marissa McClellan, associate lecturer and assistant director of the Art Bomb Brigade. "We were pretty excited that the library staff wanted the Art Bomb Brigade to help them execute something the city felt was lacking. We are really proud of this design and we hope that our friends in Barberton love it as much as we do."
Words inspire colorful design
The work was inspired by a love of reading, says Miller, the designer and lead artist of the mural. "The mural celebrates all the magical characters, creatures and places that can be found in the world of books."
He and Art Bomb Brigade members were given a blank canvas with which to work.
"The back of the library, facing Tuscarawas Avenue, is on the border of Barberton's Arts and Entertainment District," explains Julianne Bedel, the library's director. "We wanted a mural as an opportunity to link the library and the Arts District in a very concrete way. The mural is an explosion of color and energy which really brings some life to the space."
Designs enhance their communities
Each large scale image created by the Art Bomb Brigade is executed by a design team experienced in working with community partners. The murals reflect, connect with and enhance the physical landscapes and neighborhoods that surround them.
Art Bomb Brigade is a 2016 recipient of a Knight Arts Challenge Award from the John S. and James L. Knight Foundation, and recently was awarded a grant from the GAR Foundation for general support. For the Barberton Library project, additional funding was provided by the office of Summit County Executive Ilene Schapiro and the city of Barberton.
---
Media contact: Lisa Craig, 330-972-7429 or lmc91@uakron.edu, or Marissa McClellan, Art Bomb Brigade assistant director, at artbombbrigade@gmail.com.