'Decennalia: 10 Years of Myers in Venice' exhibit open at Emily Davis Gallery
10/18/2018

The Emily Davis Gallery presents, "Decennalia: 10 Years of Myers in Venice," to celebrate the Myers School of Art students who have participated in Folk Charitable Foundation Venice Biennale International Travel and Study of Art Scholarship through the George and Karen Daverio Scholarship Foundation. An opening reception with the Daverios will be held today, Oct. 18, from 5 to 8 p.m. at the Emily Davis Gallery. The exhibit continues through Nov. 21.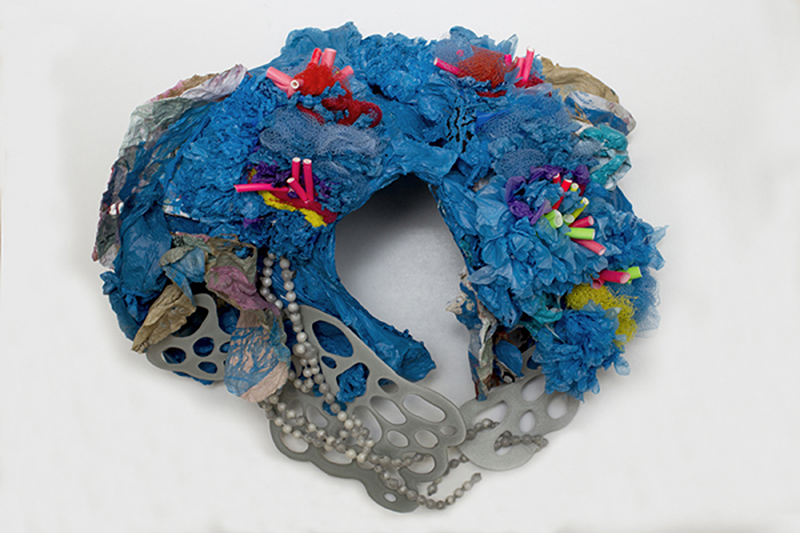 Erica Hoosic '11, created "Tidal Waste Garden."
"Decennalia" highlights the artistic journeys of the students that have traveled abroad to Venice, Italy, over the past 10 years for the Venice Biennale. This curated exhibition will showcase current work of different disciplines from these artists. Contributions from alumni were encouraged in all professional capacities, including curation and marketing; they have been instrumental in the exhibition's evolution. Fifty students have had the privilege to attend The Daverio Biennale Travel Experience in the past decade. Over half of them are participating in the "Decennalia" exhibition.
Myers School of Art's students have traveled abroad to The Venice Biennale due to the generosity of George and Karen Daverio. In 2007, the Daverios were interested in creating an opportunity for students to study art abroad. Through conversations with staff and faculty members of the Myers School of Art, the Venice Biennale was suggested as the destination. This renowned biannual art festival in Venice allows students to immerse themselves within a Medieval European City juxtaposed against a cutting-edge, international arts festival. This exposure allows students to observe and enhance their artistic knowledge, cultural awareness and find further inspiration for their own artistic practice.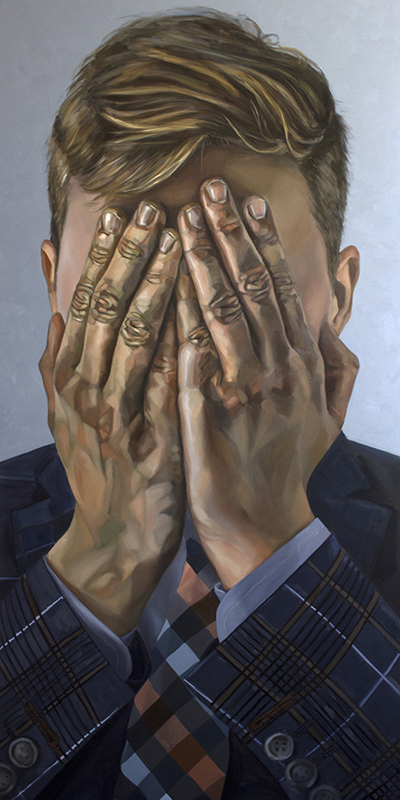 Max Markwald '16, created "September."
The Daverio Biennale Travel Experience requires students to prepare research before the trip, lead daily experiences and prepare a follow up presentation upon their return. "Decennalia" serves as an opportunity for all visitors to see the lasting impact this educational opportunity has had on the participating artists and future Myers School of Art students.
Laura Vinnedge, associate professor of painting and drawing, has chaperoned the trip four times and notes the transformative effect it has not only on students who attend, but also students within the School of Art as a whole. "I noticed an increase in work ethics, volunteerism and community building, quality of studio research, and especially the desire to learn more about international artists."
Robert Huff, professor of art emeritus, has accompanied students on the trip three times and voiced similar observations. "The impact for the students is a combination of the first time out of the country, in Europe, in a Medieval city, to see a major international art exhibition. As far as art education was concerned, it added a huge addition to the breadth of their experience, intellectually because they were being challenged in so many ways, and the cultural change."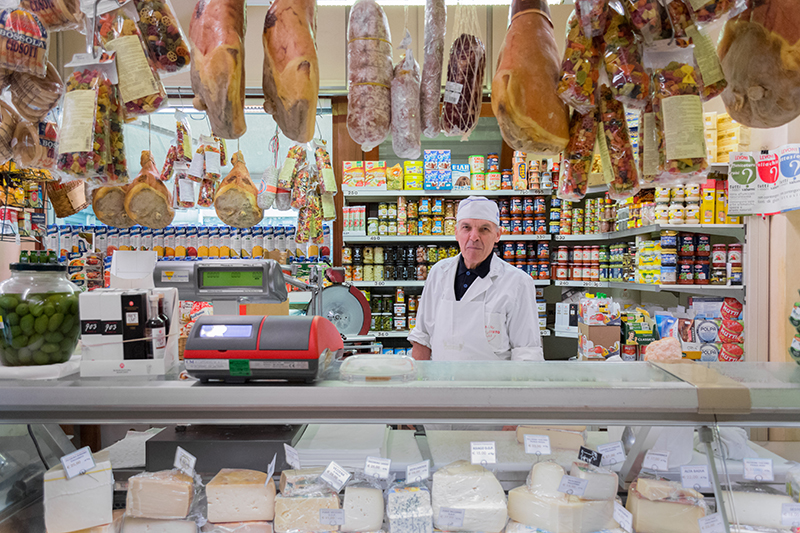 Daniel Hermann '17, took this photograph, titled "The Butcher."
The Venice Biennale has featured artwork from the areas of visual art, theatre, music and cinema since 1895. In 1998, programming was expanded to include architecture and dance. In 2017, The Venice Biennale continued its legacy of being a vanguard of contemporary art with works from artists representing 86 countries.
The exhibition title "Decennalia" references Ancient Roman festivals that occurred every 10 years under the Roman Emperors. The word is Latin based and is significant to Italian culture and historic origins.
Participating Artists:
Alex Bach - Sculpture '14
Emily Brannan - Sculpture '18
Julia Bunn - Printmaking/Painting & Drawing '08
Raven Burdette - Printmaking '16
Katie Butler - Painting & Drawing '16
Mckenna Carder - Painting & Drawing '19
Betsy Cavalier-Casey - Printmaking/Painting & Drawing '08
Daniel Coffield - Printmaking/Painting & Drawing '10 Winnie Daulbaugh - Printmaking '18
Maggie Duff - Painting & Drawing '14
Sarah Ellis – Printmaking '14
Nyki Fetterman - Art Education '18
Eric Ford – Sculpture '15
Daniel Hermann - Photography '17
Erica Hoosic - Metalsmithing '11
Rob Lehr – Printmaking '08
Max Markwald - Painting & Drawing '16
Sarah Murphy – Painting '11
Emily Poor - Graphic Design '14
Nathan Prebonick - Painting & Drawing '16
Elise Radzialowski - Painting & Drawing '19
Ryan Sandy – Painting & Drawing '16
Emily Somoskey, Art Education '13
Stephanie Spyker - Photography '18
Bonnie Stipe - Painting & Drawing '08
Stevie Tanner - Printmaking '14
Christina Turner - Printmaking/Painting & Drawing '12 Chad Uehlein - Printmaking '17
Wm. Tanner Young - Photography '10
---
Media contact: Lisa Craig, 330-972-7429 or lmc91@uakron.edu.