Four researchers inducted into National Academy of Inventors
12/18/2012
Stephen Z.D. Cheng
---
Four University of Akron inventors were honored today as Charter Fellows of the National Academy of Inventors (NAI).
The inductees are:
Stephen Z.D. Cheng, Robert C. Musson and Trustees Professor and dean of the College of Polymer Science and Polymer Engineering;
Alan N. Gent (deceased), former UA dean of graduate studies and research and Harold A. Morton Professor of Polymer Physics and Polymer Engineering;
Joseph P. Kennedy, distinguished professor of polymer science and chemistry;
Alan N. Gent
---
George R. Newkome, UA vice president for research and dean of the Graduate School
The four inventors hold a combined 144 U.S.-issued patents. They will be inducted by the U.S. Commissioner for Patents, Margaret A. Focarino, during the second conference of the National Academy of Inventors on Feb. 22 in Tampa, Fla.
"These individuals have made important contributions to their respective fields as researchers, educators and inventors, and helped to establish a culture of research excellence on our campus," says UA President Dr. Luis M. Proenza.
"I am particularly delighted that this honor by The National Academy of Inventors recognizes the inventive and patentable nature of their good work," adds Proenza.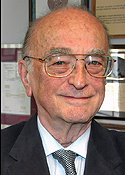 Joseph P. Kennedy
---
Inventors honored as NAI Fellows demonstrate a highly prolific spirit of innovation in creating or facilitating outstanding inventions that have made a tangible impact on quality of life, economic development and the welfare of society, according to the NAI.
George Newkome
---
The 98 innovators elected to NAI Fellow status represent 54 universities and nonprofit research institutes. Together, they hold more than 3,200 U.S. patents.
The academy serves to:
honor and encourage inventors,
enhance visibility of university technology and innovation,
encourage intellectual property disclosure,
educate and mentor innovative students, and
translate the inventions of its members to benefit society.
Read more at: National Academy of Inventors announces 2012 NAI Charter Fellows.
---
Media contact: Denise Henry, 330-972-6477 or henryd@uakron.edu.