New campaigns prompt UA students to explore, support downtown businesses
08/07/2018

Two new campaigns launched by University of Akron senior Nathan Hill will help students explore the area outside of campus and better connect with the Akron community.

The first campaign, #ZipsInvade, piloted in July, uses spontaneous social media alerts to notify students of free items at local businesses. The upcoming sister campaign, #Zips100, will highlight 100 activities for students to do in Akron before they graduate.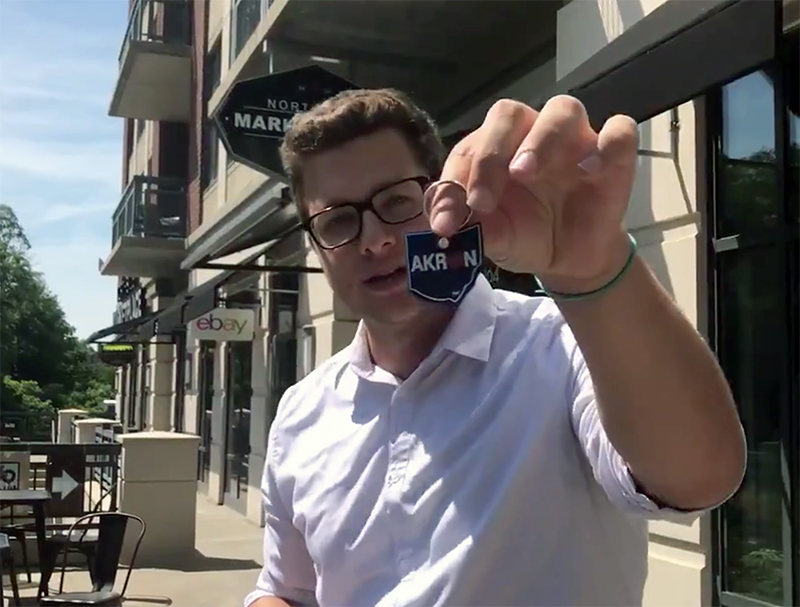 Nathan Hill, who launched #ZipsInvade, is seen here in a short video for social media alerting students to the next event.
Hill conceived of #ZipsInvade during an internship with the John S. and James L. Knight Foundation, which invests in informed and engaged communities. Hill hopes his campaigns showcase Akron and can serve as both a recruitment and retention tool for young people.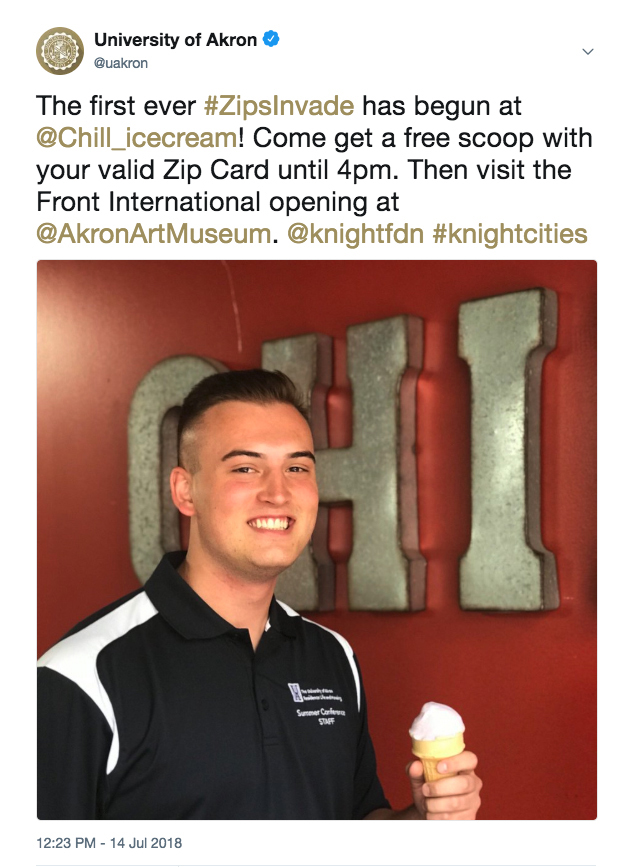 "I truly believe the University needs the city of Akron, and the city of Akron needs the University," said Hill, a political science and criminal justice major. "During my internship at the Knight Foundation, I was inspired to find ways to strengthen the connection between the University and the city. I want to help make Akron not only a place where college students explore, but a place where they want to stay after graduation."
The Knight Foundation is supporting both campaigns as part of its strategy in Akron to attract newcomers and engage residents, with a focus on building vibrancy in downtown and surrounding neighborhoods.
"These campaigns drive interest and investment in the growing downtown area. Our hope is that

University students will feel more attached to the larger Akron community and be encouraged to put down roots following graduation," said Kyle Kutuchief, Knight Foundation program director in Akron.
At the start of his internship with the Knight Foundation, Hill distributed an online survey to current UA students and alumni, asking them what might encourage them to explore around their own urban home. Hill received hundreds of responses, which ultimately informed his first campaign, #ZipsInvade.
The first #ZipsInvade event took place on July 14 at Chill Artisan Ice Cream on Maiden Lane in downtown Akron's historic arts district. News of the inaugural event was promoted on UA's social media accounts (Instagram, Facebook, and Twitter), informing students of free samples being offered from the ice cream store. More than 100 UA students presented their "Zip Cards," the official identification cards for students, faculty and staff, to get a free sample and a coupon to come back.
"Many of the students had never been to see us," said Zachary Jaworski, one of the three Northeast Ohio brothers who created the company. "It was very exciting for us to see so many new faces come out and experience Chill in downtown Akron."
The next #ZipsInvade event is planned for Wednesday, Aug. 8, from 3 to 7 p.m. at Compass Coffee, 647 E Market St., in Akron's Middlebury neighborhood.
---
Media contact: Lisa Craig, 330-972-7429 or lmc91@uakron.edu.