Student sleuths find artifacts from early integrated neighborhood
08/17/2018
To the casual observer, the small piles of rusty nails, glass fragments and broken pieces of brick and mortar on a lab table in Olin Hall look like, well, forgotten trash.
To the group of students and Citizen Science volunteers carefully cleaning and doing an inventory of the found items, these are artifacts of a bygone time, and they will tell a story.
They were painstakingly recovered this summer, along with a house foundation remnant, by students in the Department of Anthropology's Archaeology Field School. The dig site was located at the foundation of a home on Honeywell Drive, off Cuyahoga Street, in North Akron.
"This neighborhood was an example of early integrated housing in Akron," says Linda Whitman, visiting research scholar and instructor for the field school.
Dr. Megan Shaeffer, left, cultural resource coordinator for Summit Metro Parks, works with archaeology major Anthony Stover, in the blue cap, and anthropology major Jim Brenner to excavate one of the units.
Since 2015, the property has been owned by Summit Metro Parks. Before that, it was the site of the Valley View Golf Course. But, just after World War II, the land offered a chance to own a piece of the American Dream.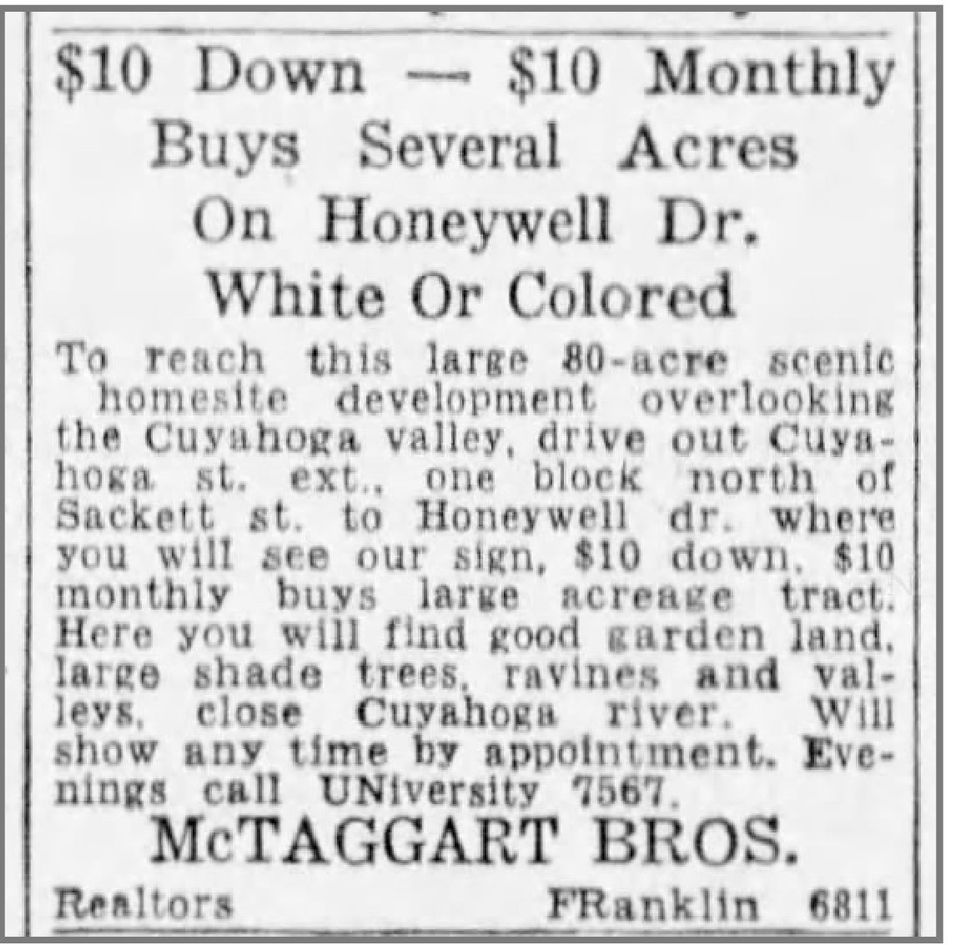 An advertisement for the lots on Honeywell Drive that appeared in the Akron Beacon Journal.
Akron was still very much segregated by neighborhood and fair housing laws did not yet exist when advertisements appeared in 1946 for Wheelock Cuyahoga Acres. L.H. Wheelock had subdivided land he owned into "an 80-acre scenic homesite development overlooking the Cuyahoga Valley," with "good garden land" and "large shade trees." He offered lots ranging from two to four acres for $10 down, and $10 a month. The advertisements specified, "White or Colored."
The new development was racially integrated — some of the families who moved there were African-Americans who had migrated north for better opportunities, like Willie Mae and George Prather, who came from Alabama. He worked at the Goodyear Tire & Rubber Company for 27 years. Their home, like most of the others, was a small structure.
Life on Honeywell Drive was never easy. It remained a private road and the subdivision lacked public services like water and sewer, or even electricity in the early years.
By 1978, only one home remained occupied. By 1987, there were no Honeywell Drive addresses in the city's directories.
Yet traces of some structures remain, including the foundation of the Prather home — the site of this year's dig.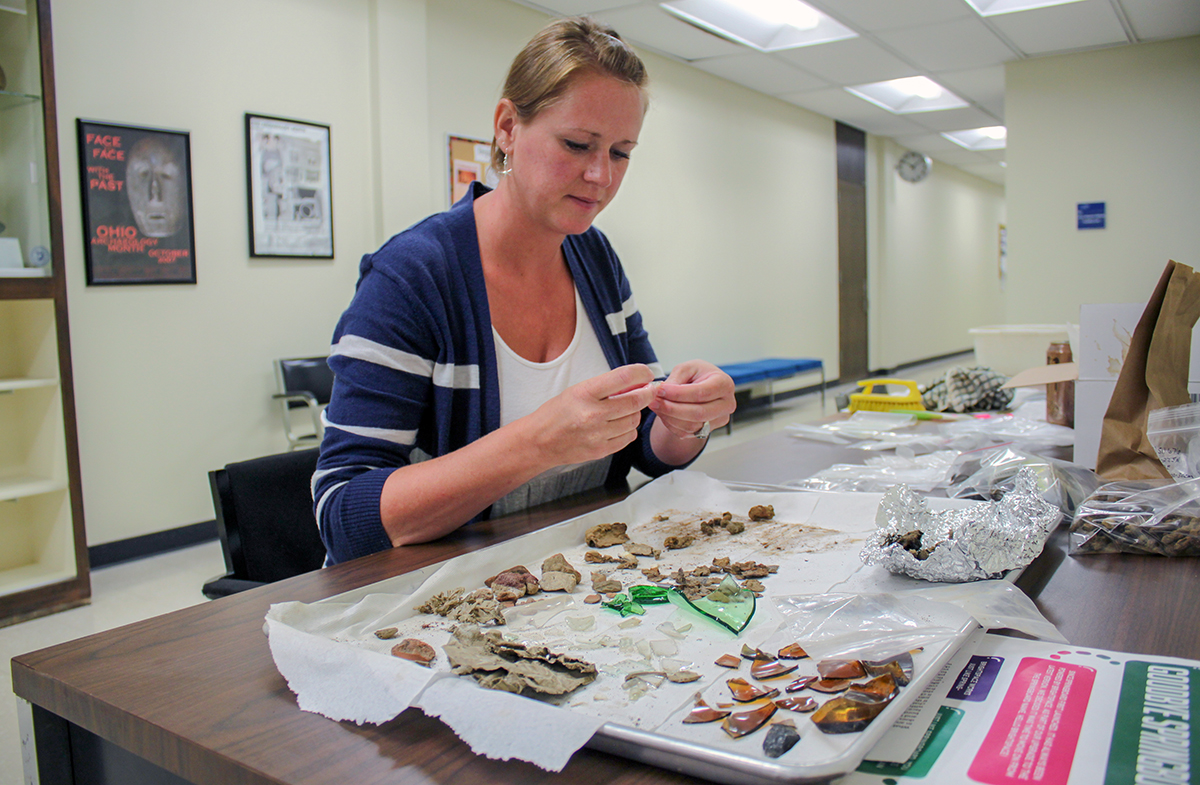 Anthropology major Tasha Hunter sorts artifacts recovered from the foundation of the Prather home at the Archaeology Lab in Olin Hall.
"The field school is an opportunity to teach students methods and techniques of archaeological fieldwork and for them to participate in ongoing local research," says Whitman, who retired from UA two years ago as an archaeologist, and now is a part-time cultural resource specialist with Summit Metro Parks. She and her Metro Parks colleagues have interviewed people who grew up there and they have also spent hundreds of hours digging through archival materials, city records and newspaper clippings to learn about life on Honeywell Drive.
"This project presents the opportunity to study a much underrepresented population in archaeology," adds Whitman. "Artifacts like bottles and ceramics can provide clues to ethnic, gender and socio-economic status."
The students worked in pairs on the site in 2 by 2 meter units, excavating the soil at 10 centimeter levels. Everything found on one level went into the same bag. The contents of each bag, along with the type of soil and the materials mixed in with it, were documented. Students then had to make a drawing of the "floor" of their unit before continuing on to the next level.
"In archaeology, you are destroying your site as you create your database, so you need to document all observations to be able to reconstruct the scene in writing," explains Whitman.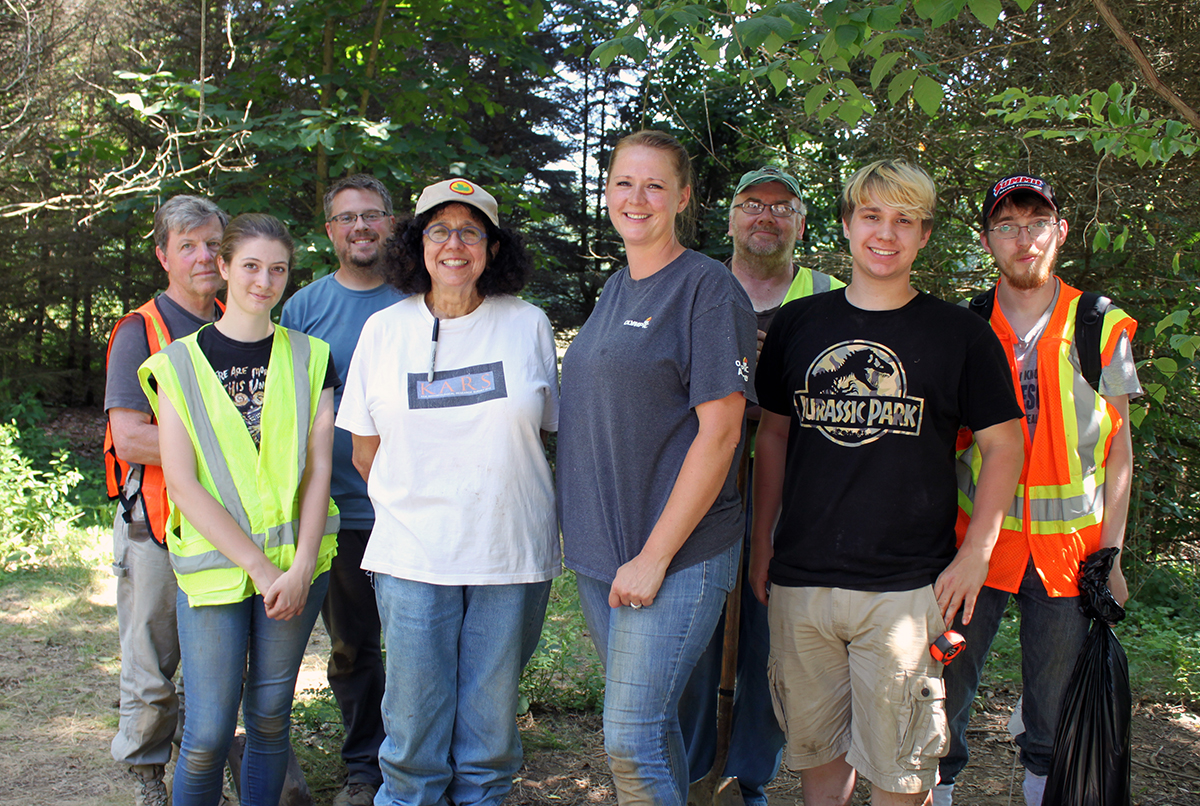 The UA sleuths who participated in the dig on Honeywell Drive this summer include, from left, Jim Brenner, Aubrey Baldwin and Damon Mullen with Linda Whitman, who led the Archaeology Field School, and Tasha Hunter, Anthony Stover, Anthony Greenway and Gage Hamey.
Among the students at the dig site was Anthony Stover, a senior majoring in archaeology.
"It was hot and punishing on the knees, but it was enjoyable," says Stover of the meticulous work. He began his studies at UA after a career in the U.S. Army and working in construction.
He can pinpoint his interest in archaeology to early childhood when his family lived in Germany during his father's military service. "He took me to the military base one day where an excavation was being done," Stover recalls. "Someone handed me a Roman sword to hold in my hand. I've been hooked on digging in the dirt ever since."
Photos by Charlotte Gintert, a private contractor with Summit Metro Parks Cultural Resource Management Department. She earned a B.A. in Anthropology here in 2006.
Whitman hopes the field school can be held on Honeywell Drive again next summer, even as the Summit Metro Parks works to restore the acreage to a natural state. It will take years, but the area will ultimately be known as the Valley View Area of Cascade Valley Metro Park — connecting Sand Run, Cascade Valley and Gorge Metro Parks.
When that happens, part of Valley View's interpretive display will include the artifacts recovered by UA students, including Tasha Hunter.
A love of history led her to choose anthropology as her major, with a focus in archaeology, she says. The field course was her first full excavation experience.
"Yes, there were some hot days, and it was hard work, but I didn't mind that much," says Hunter, who plans to continue her education after graduating next May. "The excitement of finding cultural artifacts, things like nylons and the sole of a shoe, painted pottery, and literally a bag of 50-plus nails, helps keep your momentum going.
"What better way to explore history than a hands-on approach through archaeology," adds Hunter, who hopes to teach and have opportunities to continue preserving history. "You're not just reading about history, you are actually locating it, digging it up and holding it in your hands. I find that fascinating."