MEET WITH YOUR ACADEMIC ADVISER
Walk-in Advising Hours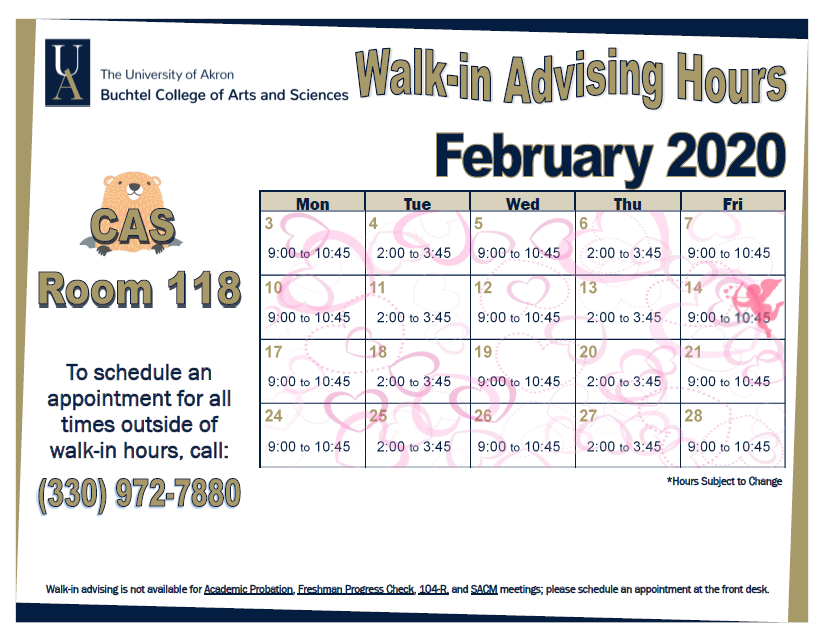 Important Dates to Consider:
last date to add a course (with instructor, adviser, and dean's signature)
last day to drop a course (without a WD)
https://www.uakron.edu/registrar/dates/
---
Schedule an academic advising

appointment
Appointments are strongly encouraged so that you can meet with your academic adviser. Availability of advisers does change during peak seasons which are during registration and the beginning of the semester.
Individual appointments may be made with your assigned advisor (after January 25th) and are appropriate for career development, selection of a major, detailed questions/concerns, long-term education, career planning, review of DPR, etc.
30-minute appointments are typically available Monday through Friday
To schedule with your advisor call 330-972-7880
We're located on the first floor in the College of Arts and Sciences Building, Room 118
Please note: If you are 15 minutes or more late to your appointment, you may need to reschedule.
Important Dates:
Last date to add a course (with instructor, adviser and dean's signature)
Last day to drop a course (without a WD)
Find those

dates and more here
---
Walk-Ins
Student walk-ins are appropriate for quick questions, scheduling issues or concerns that need immediate attention.
During walk-in hours:
Walk-ins cannot request a specific academic adviser, you must see whichever adviser is available
15-minute walk-in sessions are typically available:

Mon, Wed, Fri: 9 a.m. - 11 a.m. (last walk-in at 10:45am)
Tues, Thur: 2 p.m. - 4 p.m. (last walk-in at 3:45pm)
---
Meeting with Advisor
When you meet with your advisor, you should prepare for the meeting by first reviewing your Degree Progress Report which can be found in your My Akron.
Students that are in their degree programs should meet with their faculty adviser each semester.
Note: Once you're admitted to the department of your major, you will have two advisers.

A faculty adviser in your major field of study (referred to as a faculty mentor)
A college adviser