Computer Information Systems (CIS)
CIS offers associate and baccalaureate programs that introduce students to basic computing concepts while allowing them to develop the basic skills required to begin a career. Courses start the student along the path for professional certifications. Options, minors, and certificates are also available. CIS courses are taught in computer labs so students can learn and practice skills.
---
► Download the Computer Information Systems Information Sheet
---
The CIS program offers high level training for computer programmers and microcomputer application specialists. Schedules offer a range of day, evening and weekend classes.
Graduates of the AAB/BS CIS program are expected to qualify for such positions as programmer trainees, programmer/analysts, software developers, computer operators, or network specialists in business, industry, and government organizations.
See the job outlook for computer and information systems managers from the U.S. Department of Labor.
---
Degrees that we offer
We offer the following educational pathways for our students:
Associate Degrees
CISCO Networking Track ACBSP Accredited
Programming Option ACBSP Accredited
---
Bachelor Degrees
CIS - Networking Option ACBSP Accredited
CIS - Programming ACBSP Accredited
NEW!
Bachelor's degree in cybersecurity
Businesses are straining to find experts who can protect their data, computers and networks from an array of threats.
To help meet that need, The University of Akron is offering a bachelor's degree in cybersecurity. UA is the only public university in the state to offer such a degree.
---
Cracking the code of college: Cybersecurity student rewrites and unlocks himself at UA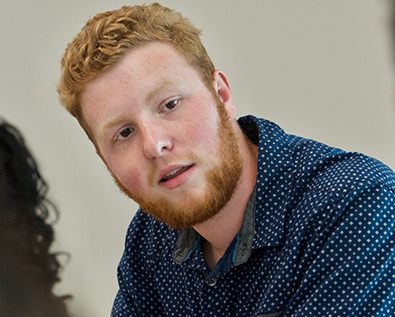 "Hackers" — those who delight in solving technological problems — spend a lot of time looking at computer code, often long repeating strings of 1s and 0s.
"Another number" is what Spencer Csaky, a self-described "hacker" (not to be confused with a cyber criminal), feared he would be if he enrolled at The University of Akron: one anonymous face among more than 22,000 students, streaming through campus like lines of impersonal code.
But there was a bug in the system — a surprise. Read more.
---
Minor Degrees
Minor degrees will be awarded only at the time a student receives a baccalaureate degree and only if the overall GPA for the minor courses is at least 2.0
Computer Maintenance and Network Technology
---
Certificates
---
Regional/Local Cisco Networking Academy
The Cisco Networking Academy Program centers on teaching students to design, build, and maintain computer networks.
Students receive hands-on experience with state-of-the-art networking equipment to prepare them for the 21st century workplace.
The program also prepares students for the Cisco Certified Network Associate exam.