Danica Houl&eacute, M.A.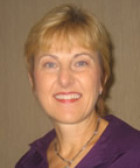 Title:
Coordinator, Administrative Services
Dept/Program:
Dean's Office
Office:
CBA 427
Phone:
(330) 972-7442
Email:
dhoule@uakron.edu
---
Education
---
Professional & Academic Experience
Summary of Duties:
Provide administrative support for the CBA dean and associate dean and plan, coordinate and implement special events and projects for the Dean's Office.
Education:
B.A. Slavic and German, Lawrence University, 1975
M.A. Educational Administration - Higher Education Administration, The University of Akron, 2012
Hobbies:
Golf, reading, hiking, and gourmet cooking
Professional Affiliations:
The University of Akron Women's Club
Notary Public of Ohio
Comments:
I am delighted to work at the CBA and enjoy contributing my time and talents to the College of Business Administration and The University of Akron.
---