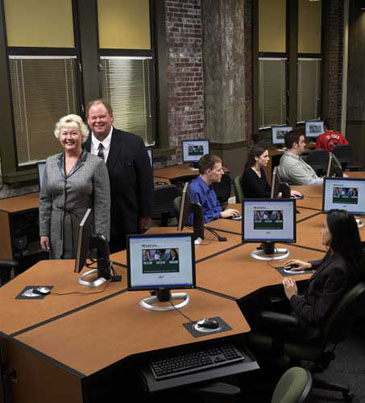 The Taylor Institute was established in 2004 through the vision and generous support of UA alumni, Gary L. Taylor, founder and chairman of InfoCision Management Corporation, and his wife, Karen.

The Taylor Institute is where theory meets practice and where the University of Akron's College of Business Administration's curriculum focuses on e-marketing, direct response advertising, direct marketing management, multi-channel marketing, integrated marketing communications, direct mail applications and telemarketing services. Undergraduate and graduate degrees are offered from the University that focus on emerging marketing trends that will better prepare graduating students for the ever changing world of marketing.

The Taylor
History...
Gary & Karen Taylor
Our Benefactors & Friends
Gary Taylor received his Bachelors degree in Marketing from The University of Akron in 1975. He served as a Graduate Research Assistant in the Marketing Department while earning his MBA from the University in 1977. He has more than 30 years experience in direct marketing, fundraising, advertising, and the teleservice industry. In 1982, working out of his home, he started InfoCision Management Corporation (IMC) as the only employee.
For the first three years, IMC operated as a consulting company that developed outbound telemarketing programs for their clients, utilizing an independent telemarketing contractor. In 1985 InfoCision began making telephone calls internally, starting with just four "Communicators" on the phones. Today InfoCision has grown into the second largest privately held teleservice company in the world, employing more than 4,000 people.
InfoCision raises more money for nonprofit organizations than any other teleservice company. InfoCision is also a leader in providing direct marketing and commercial teleservice applications for some of the largest Fortune 500 companies. InfoCision provides inbound and outbound teleservices, and has the most sophisticated inbound/outbound call-blending solution in the industry.
InfoCision's hallmark is its unequalled reputation for quality. IMC won the inaugural MVP Quality Award in 1993 and was recognized by Customer Inter@ction Solutions magazine as the highest quality teleservice company in the world. InfoCision is the only teleservice company to win an MVP Quality Award every year since 1993 and has won the MVP Gold Award for highest quality in thirteen of the last sixteen years.
InfoCision has won numerous awards for quality, fast growth and public service. Under Gary Taylor's leadership, InfoCision has ranked in the top 100 on the Inc. 500 List, recognizing the fastest growing privately held companies in the country. The NorthCoast 99 Award has consistently honored IMC as one of the best places to work in Northeast Ohio. In 2006, 2007, and again in 2008, InfoCision was named one of the 10 best companies in Ohio to work for, moving higher up the list each year.
In 2003, Gary Taylor received the Pioneers Lifetime Achievement Award for the positive impact he has had on the teleservice industry. The University of Akron awarded him the prestigious Simonetti Distinguished Business Alumni Award in 2003, and the Alumni Honor Award in 2006, the highest honor awarded to alumni by the University.