2018 Honorees

Joining the College of Business Administration in 2012, Dr. Eric Brisker, assistant professor of finance, is widely recognized as an elite teacher. He is a diverse scholar and an innovator in the classroom, using technology to add value to the learning experience. Dr. Brisker has converted three finance classes to the hybrid format and one finance class to fully online delivery.
Research Excellence – Li Wang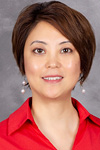 Dr. Li Wang, associate professor of accounting, has demonstrated excellence in her research since joining the CBA in 2007. In the last five years, she has published a total of nine high quality papers. Of these, two have been accepted for publication in A+ rated journals.
Service Excellence – Jill Bisco

Dr. Jill Bisco, assistant professor of finance, joined the CBA faculty in 2014. During her tenure at the University, she has made meaningful contributions to the university, CBA, and to the community. It is her efforts in developing degree programs in the area of risk management and insurance and correspondingly working with students to establish a finance honorary chapter on campus where her service to the department and its stakeholders has been exemplary.
Staff Excellence – Matt Dowd

Joining the College of Business Administration's staff in 2002, Computer Lab Support Specialist Matthew Dowd is all about how he can best contribute his talents and expertise to meeting CBA's technology needs. Most commendable is Matt's interaction with students and departments to provide excellent customer service, ensuring technology issues are quickly resolved.