Tweet
Is an MBA right for you? Learn more at information session March 30
03/21/2012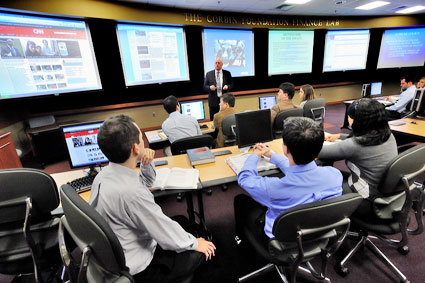 Now is a great time to consider pursuing a master's degree. Find out if The University of Akron's nationally ranked Flexible MBA or Saturday MBA programs are right for you at an information session on Friday, March 30, from 5:30 to 7 p.m. in UA's College of Business Administration, Room 12, 259 S. Broadway.

The Flexible MBA Program, which was ranked by U.S. News and & World Report among the top part-time MBA programs in the nation, accommodates students' busy schedules by allowing enrollment on a full- or part-time basis, and offering courses during the day, evenings and Saturdays. A new interdisciplinary concentration allows students to customize individual programs with graduate-level courses from any area of study, and students admitted to any UA graduate programs can shorten the MBA by applying coursework from their current programs. New concentrations in Global Technological Innovation and Leadership and Organizational Change are now available.

The Saturday MBA Program is available at UA's Lakewood and Medina locations. Classes meet every other Saturday, and participants are placed in a cohort upon entering the program. The cohorts take all classes together and are on a set plan to graduate as a group in two years. The next cohort begins in August.

UA also offers high-quality AACSB accredited programs in the following areas:
M. Taxation - a highly acclaimed specialized program for accounting and tax professionals;
M.S. Management - a specialized program with concentrations in information systems and global technological innovation;
M.S. Accountancy - provides preparation in professional accounting necessary for CPA certification;
Certificate Programs - 15 credits in IT project management, supply chain management, health care management and more (No GMAT required!);
Joint Degree Programs with UA's School of Law for the Flexible MBA and M. Tax programs; and
Accelerated Programs – B.S./M.S. Accountancy and Accelerated MSM Information Systems programs can be started while pursuing a UA undergraduate degree.
An undergraduate degree in business is not necessary to pursue master's or certificate programs in business at UA. At the information session, advisers will be on hand to discuss program requirements, such as the GMAT, as well as answer other questions.

Register to attend the session online at MBA Information Session or call 330-972-7043.
---
Media contact: Sarah Lane, 330-972-7429 or slane@uakron.edu.